"A few days ago, while using Outlook, I received a warning indicating that my mailbox was nearing its storage limit. Initially, I dismissed the warning a couple of times, but today, when I attempted to open Outlook, I encountered severe issues. It informed me that there was insufficient memory to operate the program, and I was unable to expand folders while sending or receiving emails. I've tried deleting some emails to free up space, but the problem persists. I'm seeking assistance in resolving this issue, as well as any recommendations on how to prevent it from occurring again in the future."
The user is currently experiencing storage issues in their Microsoft Outlook application. This problem arises when the memory allocated to Microsoft Office becomes full due to a large volume of emails and various other data items. The straightforward solution for addressing this issue is to remove unnecessary data from the application.
However, it's worth noting that simply deleting a few emails may not yield significant results, as the problem might persist due to the sheer number of emails stored in the mailbox. To effectively free up space and resolve the issue, it's advisable to delete a substantial number of emails, particularly those that are consuming a significant amount of storage.
You have two distinct strategies to address the issue of freeing up space and resuming Outlook functionality. The first approach involves partially cleaning up some space to enable you to start using Outlook again. Within this approach, you can also implement methods to ensure that space is regularly cleared, preventing a recurrence of the issue.
The second approach entails clearing all the memory and space currently occupied by your Outlook profile. In this scenario, your most recent emails will remain accessible, but any emails that were moved to a PST file for backup, recovery, or archiving purposes will be deleted. If you opt for a full cleanup, you won't be able to view those emails. Thus, it's essential to consider which approach aligns better with your specific needs and preferences.
Clear Partial Memory in Outlook
Step 1- Open Outlook.
Step 2- Click on the File option on the top left corner.
Step 3- Now click on the Tools option besides the Mailbox Settings.
Step 4- Now, from the drop-down box, select Mailbox Cleanup.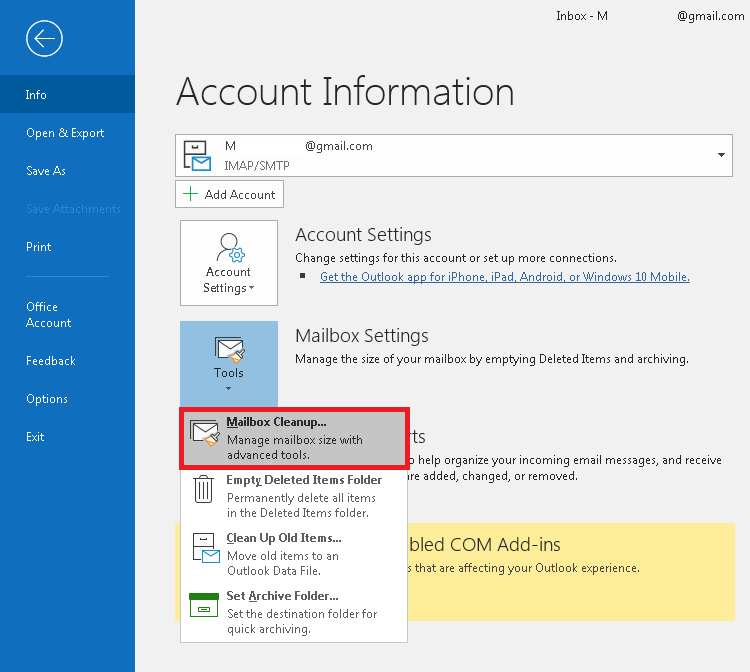 Step 5- When you open the Mailbox Cleanup window, you'll find several methods available to clear space from your mailbox. Let's guide you through each of these options and how to use them effectively.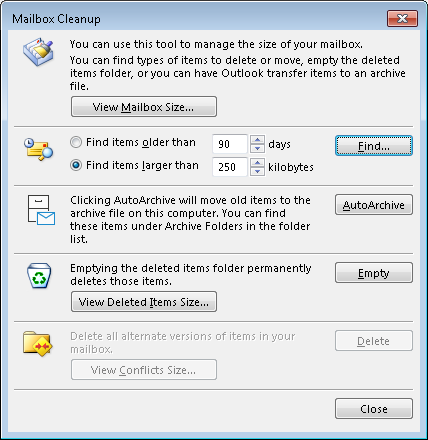 View Mailbox Size: By selecting the "View Mailbox Size" option, you can calculate the size of your mailbox and determine the space occupied by various elements such as emails, calendar items, contacts, and more. This feature enables you to pinpoint the specific areas where your mailbox is consuming the most space. It helps you identify which Outlook items should be cleaned up to free up sufficient space and resolve the issue.
Find Items: The "Find Items" method is highly useful during the cleanup process as it can identify and list Outlook items that you may consider deleting. It offers two criteria for identifying such items: based on their size and based on their age. This feature helps you quickly locate and manage items that are consuming unnecessary space in your mailbox.

Find items older than option is suitable when you want to identify and delete files older than a specific number of days.
Find items larger than option is suitable when you want to find out the items that are huge in size and using a lot of space.

AutoArchive: The AutoArchive option is a highly useful method for managing the size of your mailbox. It enables you to automate the process of moving old emails from your Outlook mailbox to your local disk, helping you free up valuable mailbox space. AutoArchive offers a range of customization options, allowing you to specify the frequency of the auto-archiving process, determine the age at which Outlook items should be archived, and choose the folders where archived items should be stored. This flexibility ensures efficient mailbox management and prevents it from becoming overloaded with old emails.
Empty Deleted Items Folder: When you delete an email or calendar item in Outlook, it's not permanently removed; instead, it's moved to the "Deleted Items" folder. These items still take up space within your Outlook storage limit. Regularly cleaning out the "Deleted Items" folder can help you free up a significant amount of space. You also have the option to automatically empty the "Deleted Items" folder every time you exit the Outlook application. However, please be aware that the "Deleted Items" folder can serve as a safety net for recovering emails deleted by mistake. So, consider your preferences and needs before deciding whether to empty this folder automatically or manually from time to time.
Delete alternate versions of Items: The "Upgrade to Color Categories" option can be especially helpful for Microsoft Exchange and Exchange Active Sync account users. It allows you to delete redundant copies of specific Outlook items. Outlook sometimes displays the most relevant version of an item when multiple conflicting versions exist. However, it retains the other versions as well, which can consume storage space. With this option, you can opt to delete the alternate versions of all conflicting items. The usefulness of this method may vary depending on individual Outlook usage patterns and needs.
Clear Full Memory in Outlook
Occasionally, circumstances call for a different approach, and simply deleting a handful of emails won't suffice. One such scenario arises when you're transitioning to a new email account and need to erase all the data from the old one. Let's learn how to completely clear the program's memory:
Step 1: Get the Profile
First, locate the profile from which you want to remove data. For this, follow the below-mentioned steps:
Open Outlook.
Click on the File tab on the top left corner of the Outlook.
Click on the Account Settings, and from the drop-down, there select Account Settings.
In the Account Settings dialogue box, select the Data Files category.
Now, you will get a list of all of the PST files.
Select one and click on the Open Folder Location option.
Now, when you are at the location of the PST file, minimize that window.
Step 2: Open Mail Setup Window
To open Mail setup Window, follow below-mentioned steps:
Close Outlook if it is open.
Click on the Start button and open Control Panel from the list available there.
In Control Panel, locate and select Mail option.
This will open the Mail Setup- Outlook Window.
Step 3: Get all Profiles and Remove the All Profiles
After getting to the Mail Setup window, follow the steps mentioned below:
Click on the Show Profiles option.
This will open a window with all the related profiles with the Outlook Profile you selected.
Select one and click on the Remove button to remove the profile.
Repeat the process until all profiles are removed.
Step 4: Remove PST Files from the Main Folder Location
After you've removed all the profiles from the Mail setup, proceed to the next step: open the minimized window from the initial step and delete all the PST files located there as well.
By following all these four steps successfully, you will achieve the desired results.
What if you accidentally deleted something you shouldn't?
It's possible that in the process of removing all that data from your system, you accidentally deleted some important files, causing you some stress. Don't worry; mistakes happen, and there's always a more straightforward way to rectify them. If you've permanently deleted some of your emails from your system, all you need to do is install the Kernel for Outlook PST Repair tool on your system. Yes, it's that simple. Just have the software on your system, run it, and recover all your lost data in just a few easy steps.
Still skeptical? Why not give it a try with the free version of the tool and experience it for yourself! Visit the tool's webpage and download the trial version to recover and save a limited number of emails. Here's a screenshot of the tool's interface to give you a preview.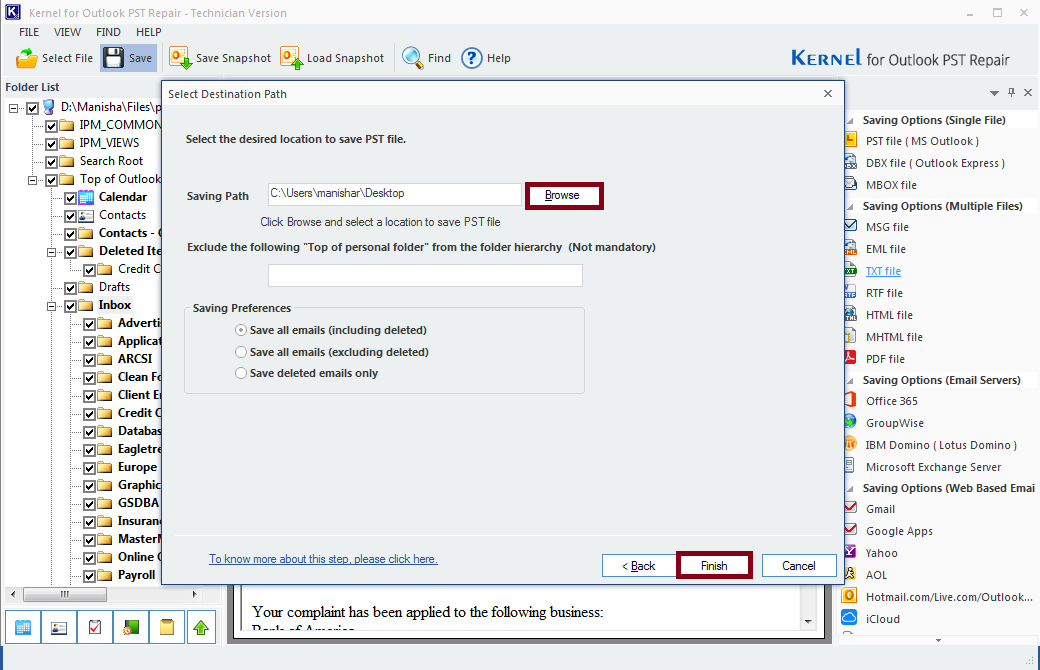 Conclusion:
In this blog, we've outlined the straightforward steps to clear either the full or partial memory from Outlook. Following this comprehensive discussion, we've also provided guidance on recovering accidentally deleted emails and items using the Kernel for Outlook PST tool.