Kernel SQL Backup Recovery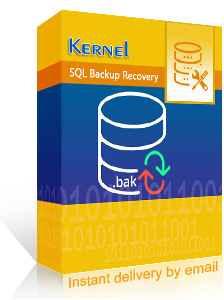 Restores corrupt/healthy SQL Backup files to Live SQL/Batch file
Restore data to Live SQL/Batch file from SQL backup files
Recover MDF/NDF files from .bak files of any size
Preview of SQL backup database files before saving
Export SQL Backup file data to Live SQL Server swiftly
Save backup data to a batch file using SQL scripts
Repair corrupt .bak files and recover SQL data from them
Offers automatic detection of SQL Server versions
Maintains the structure & integrity of SQL data throughout
Works with SQL Server 2017, 2016, 2014, 2012, 2008 R2, 2008 and 2005
Supported Versions
Operating systems - Windows 10/8.1/8/7/Vista/XP/2000/98/NT/95 and Windows Server 2016/2012 R2/2012/2008 R2/2008/2003 R2/2003
MS SQL Server 2017/2016/2014/2012/2008 R2/2008/2005
Basic Requirements
Pentium class processor
Minimum 64 MB RAM (128 MB recommended)
50 MB for Software installation
Prominent Features of Kernel SQL Backup Recovery
Recover MDF & NDF Files from BAK Files
The tool recovers MDF & NDF files form SQL backup (.bak) files. It can recover all the database objects like tables, stored procedures, defaults, rules, triggers, functions, etc. from backup files.
Recovers SQL Data from Corrupt BAK Files
The SQL database backup recovery tool offers recovery of data even from corrupt SQL back up files. It extracts inaccessible SQL data from corrupt backup files and saves to a live SQL Server or batch file.
Recover Specific SQL Database Objects
The SQL Backup Recovery tool offers selective recovery of database objects like tables, triggers, etc. You can select the required SQL Backup data in the preview pane to export them selectively to the desired destination.
Export Data to Live SQL Server
The SQL Server data recovered by the software can be exported to a Live SQL Server. With the SQL login credentials (Windows/Server authentication), you can export the SQL Server backup data to the live SQL Server.
Save Backup Data using SQL Scripts
The tool also saves SQL backup data to a batch file (by SQL Scripts) at any desired location. This mode does not require a live SQL Server. And this batch file can later be used in an SQL Server.
Automatic Selection of SQL Database Version
The tool automatically detects the SQL Server Database version. Also, you can select the SQL Server Database version manually. This manual selection option can be used when the SQL Backup file is severely corrupted.
SQL Backup Recovery in Simple Steps
The Kernel tool offers SQL Backup recovery in three steps – select the backup file, preview the SQL data, and save in the desired destination. And because of the simple interface and on-screen descriptions, even non-technical users can use this tool without difficulty.
Free Preview with the Trial Version
SQL Backup Recovery tool offers a complete preview of SQL database objects like functions, triggers, tables, stored procedures, etc. with all the details. The preview facility is available in even in the free version of the tool.
Evaluate Free Trial Version
The Kernel SQL Backup Recovery Tool Free version allows to Preview recovered SQL Backup database objects for free.
Supported Versions
MS Outlook - 2016/2013/2010/2007/2003/2002/2000/98 and 97
Windows OS Platforms - Windows 10/8.1/8/7/Vista/XP/2000/98/NT and 95 and Windows Server 2016/2012/2008 R2/2008/2003 R2/2003
Basic Requirements
Pentium class processor
Minimum 64 MB RAM (128 MB recommended)
50 MB for Software installation
Software Features
Trial Version
Full Version
Add corrupted/healthy SQL Backup Files
Recover MDF/NDF files along with all SQL objects - Tables, view, functions, triggers, etc.
Automatic selection of SQL database version
Preview selected backup data objects
Preservers structure & properties of SQL Server database
Support to SQL Server versions 2017, 2016, 2012, 2008 R2, 2008, 2005
Restore SQL backup data to live SQL Server
Restore SQL Backup data by SQL scripts (Batch file)
Money-Back Guarantee Feel Free to Purchase Kernel tools! We are committed to 100% customer satisfaction and thus we provide 30 days money back guarantee. View details...
Steps to SQL Backup Recovery
Kernel SQL Backup Recovery tool operation is quite an easy task for any user. Efficient recovery of SQL backup file data is just a matter of few steps with the tool.
FAQs - Kernel SQL Backup Recovery
I don't have SQL Server installed on my system. Can I still Preview my corrupt SQL backup data?

Yes, you can. It is not required to have SQL Server installed to Preview the data and to save it in a Batch file. But to save or restore the backup data to a live SQL Server, you should have access to the Server.

What are the limitations of the Free version?

With the Free version, you can upload the corrupt/healthy .bak file and preview its objects, but you cannot save it. For export, you need to buy the Full version.

Does the tool supports latest SQL Server 2017 version?

Yes, the tool supports all SQL Server versions. It is compatible with versions - SQL Server 2017, 2016, 2012, 2008 R2, 2008 and 2005.

Does the software integrate an automatic way to identify SQL database version?

Yes, it does have the option to detect SQL Server version automatically. However, you can select the SQL database version manually too.