Free Exchange EDB Viewer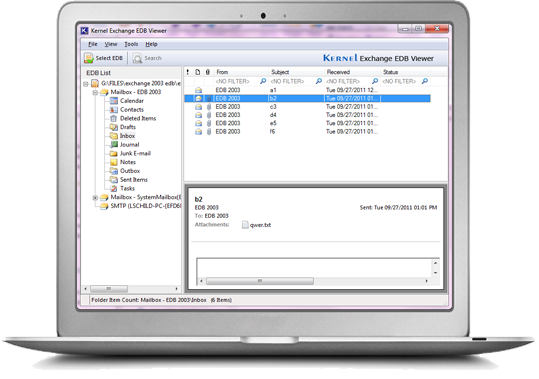 Kernel Exchange EDB Viewer is a free tool that assists system administrators in opening EDB files without the installation of MS Exchange Server. This Exchange Mailbox Viewer tool allows to view mailboxes as well as public folders stored in EDB files. With this free-to-download solution, you can:
View the Exchange data on stand-alone workstations.
Open healthy as well as corrupted EDB files.
View user mailboxes and public folders.
Access EDB files through the network.
Search for specific items in user mailboxes and public folders.
Filter the mailbox data based on various criteria.
Open any number of EDB files absolutely free of cost.
Supports Exchange all version including 2016

* MS Outlook should be installed with a profile
Key Features of Software
Kernel Exchange EDB Viewer is an advanced and professional software for opening EDB files of MS Exchange Server. Some of the prominent features of the tool include:
Process to View EDB File
Kernel Exchange EDB Viewer is optimally designed for rendering rich and intuitive screens which significantly derives the flow-based operations that benefits every user. Every single screen is coded with feature-driven information that ultimately assists in clear previewing of items. Check out the following screens:
Offered easy-to-use, self-descriptive, user-friendly Graphical User Interface makes opening MS Exchange Server EDB files a much easier task. As the software is launched, it prompts user to locate or search the EDB files that needs to be opened using the utility. After selecting the EDB file, the tool starts scanning the file and within few moments, the data enclosed in the file gets listed in hierarchical format in the left pane of the software. The tool facilitates user to easily view Email Messages, Contacts, Calendar Items, Tasks, and so on.
It is to be noted that the Kernel Exchange EDB Viewer only opens EDB files but cannot repair them. The tool cannot open corrupted EDB files and does not let users save the user mailboxes; however, it allows saving information, such as Date, Time, Item Type, From, and Attachment Existence about displayed email items that can be saved in HTML file format and can be shared easily with co-workers.