Kernel Office 365 Backup & Restore
Supported Versions
MS Outlook - 2016/2013/2010/2007/2003/2002/2000/98 and 97
Windows OS Platforms - Windows 10/8.1/8/7/Vista/XP/2000/98/NT and 95 and Windows Server 2012/2008 R2/2008/2003 R2/2003
Basic Requirements
Pentium class processor
Minimum 64 MB RAM (128 MB recommended)
50 MB for Software installation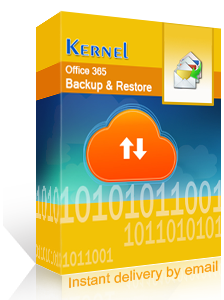 Backup Office 365 mailboxes to PST and Restore
Saves Office 365 mailboxes as PST in any desired location
Backup single or multiple Office 365 mailboxes at a time
Filters Office 365 mailboxes by Date, Item Type, etc
Allows to exclude empty folders or Deleted folder from the backup
Adds multiple Office 365 mailboxes using CSV files
Provides log reports after the mailbox backup process
Imports/restores healthy PST files to Office 365 mailboxes
Suitable for both Office 365 end users and administrators
Salient features of Kernel Office 365 Backup & Restore
Backup single mailbox to PST
Any Office 365 user can backup his Exchange Online mailbox to PST using this Office 365 Backup tool. This can be done without any administrative privileges. And the PST files can be saved anywhere on the user system.
Multiple mailbox backup
An administrator can easily backup multiple mailboxes associated with his Office 365 account to PST. While doing this, he can use a CSV file to simplify the process too.
Adding multiple mailboxes using CSV file
The tool provides an advanced option to use a CSV file to add multiple Office 365 mailboxes for backup. It saves the time and energy and accelerates the whole process.
Multiple filtering options
Various filtering options of the tool let the users filter the mailbox content by date, item type, etc. It also allows excluding the empty folders and the Deleted Item folder. Thus, the tool helps to perform a selective backup.
Saves report after backup
Kernel Office 365 Backup & Restore displays the report of the backup task after its completion. This report can be saved in CSV format for future use too.
Minimalistic user-interface
The tool has quite simple user-interface. So, the user can perform the Exchange Online to PST backup very easily. The entire backup process takes only a few simple steps to complete.
Evaluate Free Trial Version
The free version of Kernel Office 365 Backup & Restore tool saves 10 items from every Office 365 mailbox folder to PST file completely free.
Supported Versions
MS Outlook - 2016/2013/2010/2007/2003/2002/2000/98 and 97
Windows OS Platforms - Windows 10/8.1/8/7/Vista/XP/2000/98/NT and 95 and Windows Server 2012/2008 R2/2008/2003 R2/2003
Basic Requirements
Pentium class processor
Minimum 64 MB RAM (128 MB recommended)
50 MB for Software installation
Software Features
Trial Version
Full Version
Backup Office 365 mailboxes to PST
10 items/folder
Unlimited items
Backup multiple mailboxes
10 items/folder
Unlimited items
Owns filtering options
100% secure Office 365 backup
Detailed reports after mailbox backup
Imports/Restores PST files to Office 365 mailboxes
10 items/folder
Unlimited items
Supports all Office 365 editions & Outlook versions
Free Technical Support (via Live Chat, Phone, & Emails)
Money-Back Guarantee Feel Free to Purchase Kernel tools! We are committed to 100% customer satisfaction and thus we provide 30 days money back guarantee. View details...
Steps to Office 365 Backup
Using the Kernel Office 365 Backup & Restore tool is very easy, and any normal user can complete it quickly. Both backup and restore processes are almost similar and are completed in a few steps.
FAQs - Kernel Office 365 Backup & Restore
Does the tool create a single PST file for all the mailboxes after backup?

No, the tool creates a separate PST file for each mailbox. It reduces the complexity of the backup process and reduces the size of PST file.

What will the tool do with empty folders?

The tool includes a special Exclude empty folder option in Filter Selection page. Users can use this option to exclude empty folders while backing up or restoring.

Where is the backup data stored while using the Kernel Office 365 Backup & Restore tool?

At the user-defined location. While performing the Backup operation, the tool lets the user select a location for saving the PST file.

Is there a free version available for this tool?

Yes. The tool can efficiently work even without a license. But the free can backup only 10 items per folder from the Office 365 mailbox to PST.