Kernel Exchange Backup & Restore
Supported Versions
Exchange version 2019/2016/2013/2010/2007/2003/2000/5.5 and 5.0
Microsoft Outlook - 2019/2016/2013/2010/2007/2003/2002/2000/98 and 97
Windows OS Platforms - Windows 10/8.1/8/7/Vista/XP/2000/98/NT and 95 and Windows Server 2016/2012/2008 R2/2008/2003 R2/2003
Basic Requirements
Pentium class processor
Minimum 2 GB RAM
100 MB for Software installation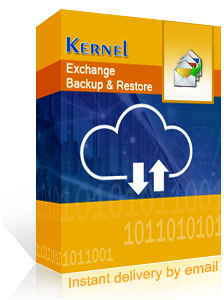 Backup Exchange mailboxes to PST files & import them back
Backup Exchange (on-premises, online, & hosted) mailboxes to PST
Backup multiple mailboxes (primary & archive ) from Exchange databases
Export shared mailboxes/ public folder to PST
Does not need MS Outlook for Exchange backup or restore
Restore healthy PST file back to Exchange mailboxes
Preserve the mailbox folder hierarchy and data integrity
Specify Item Type (emails/Journal/Contact/Calendar) to export them only
Include/exclude mailbox folders (Inbox, Sent Items, etc.) in backup
Exclude Deleted Items folder & empty folders from backup/restore
Migrate multiple mailboxes with the help of a CSV file
Back up even if UPN (mailbox login) and emails IDs are different
Backup & restore Exchange Online (Office 365) mailboxes also
Exchange Backup & Restore Tool– Exclusive Features
Backup Multiple Exchange Mailboxes to PST
Brick-level backup is easy for Exchange administrators now. They can use our tool to back up multiple mailboxes at a time. And the backup process completes in just four steps – select the source, select filters, select the destination, and back up. In the software console, you can view the complete list of mailboxes, and then select the mailboxes as per your requirement. And each mailbox is saved to a separate PST file at the specified location.
Backup Multiple Archive Mailboxes to PST
Just like primary user mailboxes, you can backup archive mailboxes too. When archiving is enabled for a user mailbox, our solution automatically displays the archive mailbox in the software console so that you can select it for backup. And with administrative rights, you can backup archive mailboxes of multiple users too.
Backup Shared mailboxes to PST
Our tool saves even shared mailboxes (accessible to multiple users with different permissions) to PST. To back up, the Exchange account should have a shared mailbox associated with it.
Save Public Folder data to PST
With this tool, you can save public folder data directly to PST. The tool supports complete backup of public folder data (messages, Calendar items, Journal entries, Contacts, etc.). You can backup legacy as well as modern public folders – no matter whether they are in a mailbox database or public folder database.
Restores healthy PST files to Exchange
You can import (restore) a PST file back to Exchange with our tool. Just browse for the PST files, provide the Exchange credentials, filter the data, and migrate. The filters are same for both the backup and restore processes.
Restore user mailboxes from Exchange OST files
The tool also provides the facility to restore offline storage (OST) files to Exchange. So, if you have some missing, deleted, or disconnected mailboxes, you can restore them from the OST files on the user systems.
Use CSV file to add multiple mailboxes
If you have many mailboxes for backup, then you can use a CSV file for convenience. You can download a sample CSV file from the software, input the source & destination details, and then import it to the tool.
Filters to backup only the desired data
The advanced filters of the tool make it easy for you to back up the data as per you needs. You can include or exclude the mailbox folders (Inbox, Outbox, Sent Items, etc.), select item types (Email, Journal, Task, Contacts, Calendar/Appointment), and filter the mailbox items by a date range.
Skip Deleted Items folder & empty folders
The tool allows you skip the Deleted Items folder and empty folders from the backup. This option is convenient when you have a large number of empty folders in mailboxes.
Run multiple instances of tool simultaneously
If a backup process is going on, and you want to either backup or restore some other data, then you can run another instance of the tool. Another instance will run independent of the first one and will not interfere with it in anyway.
Incremental backup
If you do Exchange backups regularly, the Incremental backup feature of the tool helps you save time, effort, and storage space. With this feature, you can skip the previously backed up data from the backup or import process.
Reports in a CSV file
After completing the Exchange backup or restore process, the tool displays the details of the of the process. You can save these details to a CSV file too. The report will have the details of mailboxes, backup destination, and status of backup/restore.
Purchase Full Version
Supported Versions
Outlook PST File - 2019/2016/2013/2010/2007/2003/2002/2000/98 and 97
Windows OS Platforms - Windows 10/8.1/8/7/Vista/XP/2000/98/NT and 95 and Windows Server 2016/2012/2008 R2/2008/2003 R2/2003
Basic Requirements
Pentium class processor
Minimum 64 MB RAM (128 MB recommended)
50 MB for Software installation
Software Features
Trial Version
Full Version
Backup Exchange Server/Office 365 mailbox(es) to PST
10 items per folder
Unlimited items
Import/restore PST file to Exchange Server/Office 365
10 items per folder
Unlimited items
Backup and restore archive mailbox/shared mailbox/public folder
10 items per folder
Unlimited items
Supports backup for Exchange (on-premises & hosted)
Backup/restore multiple mailboxes
Free support (via Phone, Live Chat, & Emails)
Price
Free

Admin License

$499
Money-Back Guarantee Feel Free to Purchase Kernel tools! We are committed to 100% customer satisfaction and thus we provide 30 days money back guarantee. View details...
FAQs - Kernel Exchange Backup & Restore
Can you please brief me how to use the tool?

The tool has quite a minimalistic user-interface which explains every step you need to take. Here is a brief procedure –

Run the tool Kernel Exchange Backup & Restore.
Click Backup icon from Home Screen.
Click Add button to add Exchange mailboxes.
Input the server name or IP address, Exchange ID, and password
Select among mailbox, archive mailbox, and public folder.
Apply appropriate filters and start the backup.
After a successful backup, save the report in CSV format.

CSV files are used to store tabular data. How your tool uses the CSV file?

Yes, the CSV files are used to store tabular data, and our tool uses it for the automated backup of multiple mailboxes. It provides a pre-designed CSV file for you. Here are the steps for using a CSV file for multiple mailbox backup.–

Download the sample CSV file from the software.
Fill all the columns of CSV file by inputting the details of source and destination.
Import the same CSV file back to the software and continue with the backup process.

What prerequisite should I have before using this tool for Exchange backup or restore?

Please, note the following points:–

The Exchange account should be active.
To migrate multiple mailboxes, the account you are using should have full access rights over the mailboxes. If you don't have, you can grant the full access rights to the mailbox.
While restoring (importing), the PST files should be healthy. If your PST files are corrupt, you need to repair them first.

I have a large number of mailboxes in my database. Will this tool create a single PST file for all mailboxes?

The tool creates a separate PST file for each Exchange mailbox.

There are some empty folders in many of my Exchange mailboxes. Can I stop them from being backed up?

Yes. There is an option in the filter page of the tool to skip all the empty folders from the backup.