Kernel Import PST to Office 365
Supported Versions
Outlook PST File - 2019/2016/2013/2010/2007/2003/2002/2000/98 and 97
Windows OS Platforms - Windows 10/8.1/8/7/Vista/XP/2000/98/NT and 95 and Windows Server 2016/2012/2008 R2/2008/2003 R2/2003
Basic Requirements
Pentium class processor
Minimum 64 MB RAM (128 MB recommended)
50 MB for Software installation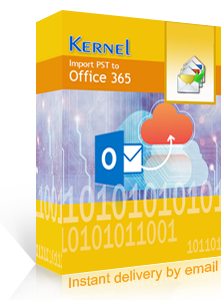 Import Outlook PST & OST files to Office 365 Mailboxes, Archive Mailboxes, & Public Folder
Import PST file(s) to Office 365 Primary Mailboxes
Import PST file(s) to Office 365 Archive Mailboxes
Import PST data to Office 365 Groups
Export PST items to Office 365 Public Folder
Bulk migration of PST or OST files to Office 365 accounts with impersonation
Imports complete PST file items such as: Emails, Contacts, Calendars, Tasks, Attachments etc
Offers Selective migration with smart data filter options: Date, Item Type, etc
Easy mapping of multiple PST files to Exchange/Office 365 mailboxes (manually & using CSV)
Perform Incremental Import – Skip items that are previously migrated
Outlook installation not required for migration
To backup Office 365 Mailboxes, try Kernel Office 365 Backup & Restore
Home License
Corporate License
Technician License

Offer till 24th Sep
$149 $99


Steven WeinerIntraFusion Technologies

" I have to say, your Import PST to Office 365 software saved the day. I started on a Friday night and needed to have all my email imported and tested for Monday morning. When I found the regular exports and imports from outlook weren't doing the trick, I started to panic but then I found your program. I found it very easy to use... Source, Destination, GO! I liked that it showed the status of what it was working on. "
Features of Kernel Import PST to Office 365
PST Import in Four Simple Steps
The tool has a simple user interface that facilitates import in just four simple steps – Add PST file, Add Office 365 account, map PST files to mailboxes, and import PST files. No need of any technical expertise to do this. Moreover, PST files can be imported to Exchange or Office 365 even if you don't have Outlook installed on your system.
Import PST File(s) to Office 365 User or Admin Mailbox
The software can import PST to Office 365 user mailboxes and user groups seamlessly. It allows users to import single or multiple PST files to single user account using login credentials. One can migrate bulk PST files to multiple mailboxes in single attempt. For doing this, you need Global administrator credentials to fetch user mailboxes of admin account. The tool provides options to add and map PST files manually or using CSV file.
Import PST Files to Multiple Mailboxes
The PST to Office 365 migration tool migrates PST files to multiple mailboxes in a single attempt. For this, you need to use an account Global administrator credentials. It also, allows to map the PST files to different mailboxes – manually or using CSV.
Efficient Mapping With CSV File
Office 365 administrators can automate the mapping process with the help of a CSV file. For this, they need to download a blank CSV file, input the required details, and then upload it. The use of CSV file reduces the time and effort required for the manual selection of mailboxes.
Orphaned OST Files to Exchange Server
OST file is an Offline copy of Outlook mailbox available on the Exchange Server. The Import PST tool is programmed to proficiently import OST files to both On-Premise and Hosted Exchange Server safely using the credentials.
Import PST to Exchange Server
Apart from importing PST files to Office 365, the import tool also supports migration of PST files to Exchange Server. It supports both on-premise Exchange and hosted Exchange and can import PST files to any version of Exchange Server.
Import PST Files to Primary Mailboxes
The software offers simple and quick solution which allows users and administrators to import single or multiple PST files to single or multiple mailboxes in one go. You do not require administrative privileges for migrating to single user account whereas for migrating to multiple user accounts you require Global administrative account credentials.
Import PST Files to Archive Mailboxes
The tool allows users and administrators to import PST files to Archive Mailboxes of Office 365 account. You can select destination as Archive Mailbox under Migration Type Selection Window instead of instead of Mailbox. It will create a new folder and import all data inside this folder.
Import PST Files to Public Folder
The software interface facilitates import of Outlook PST files to Public Folder of Office 365 account. Users can choose Public Folder as destination for Office 365 or Exchange Server. In addition, users can also import PST files to Shared mailboxes.
Import Email along with Attachments
The tool works accurately to import emails of PST file with the corresponding attachment. It supports complete migration of Outlook mailbox to Office 365 account such as emails, contacts, calendars, tasks, etc. You can use the tool to smoothly perform PST to Office 365 Migration.
Quick Import with Multiple Instances
You do not need to wait for a single import job to finish so as to start the next one as the software can run multiple instances concurrently. All the instances run separately to complete the task faster.
Skips Previously Imported Items
If you have already imported a PST file, and now wants to import the same PST file with additional data, then you can choose to skip the previously imported items of the PST file. So, there won't duplicate items in the destination.
Advanced Filtering Options
The tool helps to filter the PST data before importing to the Office 365 mailboxes. With its filtering and selection options, users can select a particular date range/item type, and remove or exclude deleted items & empty folders.
Save The Log Report After Import
After the PST import, you can save the report in CSV format to analyze the whole process. The report specifies the number of folders migrated successfully, their type, and errors (if any).
Evaluate Free Trial Version
The free version of Kernel import PST to Office 365 tool migrates 10 items per folder from every PST folder to Office 365 and Exchange Server (on-premise & hosted) mailboxes completely free.
Supported Versions
Outlook PST File - 2019/2016/2013/2010/2007/2003/2002/2000/98 and 97
Windows OS Platforms - Windows 10/8.1/8/7/Vista/XP/2000/98/NT and 95 and Windows Server 2016/2012/2008 R2/2008/2003 R2/2003
Basic Requirements
Pentium class processor
Minimum 64 MB RAM (128 MB recommended)
50 MB for Software installation
Software Features
Trial Version
Full Version
Imports PST to Office 365
10 items/folder
Unlimited items
Imports to multiple mailboxes
10 items/folder
Unlimited items
Imports PST to Exchange Server (on-premise & hosted)
10 items/folder
Unlimited items
Imports PST to Archive mailbox and Public Folder
10 items/folder
Unlimited items
Imports PST content to Office 365 Groups
Advanced Filter options
100% Secure PST Import
Detailed log reports after PST import
Compatible with all Outlook versions & Office 365 editions
24×7 Free Technical Support (Phone, Live Chat, & Emails)
Money-Back Guarantee Feel Free to Purchase Kernel tools! We are committed to 100% customer satisfaction and thus we provide 30 days money back guarantee. View details...
How to Import PST to Office 365/Exchange?
FAQs - Kernel Import PST to Office 365
How to import Outlook PST file to Office 365 online with the help of software?

The following steps will quickly help you to migrate PST to Office 365 mailbox account:

Run Kernel Import PST to Office 365 tool.
Click Add button in Source Pane and choose OST/PST file as Source.
Click Add button in Destination pane and type Office 365 credentials.
Choose Single/Archive mailbox and Map the Source to Destination.
Select amongst mailbox, archive mailbox, and public folders.
Apply a filter for migrating selective PST data items.
Click I am OK, Start Migration, save the log report once it is completed.

Repeat the same process for bulk migration of PST files with administrator privileges.

I want to move only the contact details to Office 365. Can I do that?

Yes, surely you can migrate the contact information selectively. On its Filter Selection window, there is a feature named Item Type filter. Just check the Contacts option and uncheck all the others.

Can I import multiple PSTS to multiple office365 accounts? Which license of the software should I buy?

Yes, the software lets you import multiple PST files to different and multiple Office 365 mailbox accounts. To perform the task, you can simply select multiple PST files as Source and in destination you can add multiple Office 365 accounts using user or administrator accounts for importing to primary mailboxes, archive mailboxes and public folder. Also, you can add user accounts of different Office 365 domains at the same time.

We have 3 different Licenses.

If you are buying the software for personal use then Home User License is suitable for you. The software can be installed on up to 2 computers to import your personal Outlook PST files.
If you are buying the software for your organization then Corporate License is the best choice. The software can be installed on multiple computers within an organization at a single location.
If you are buying the software for providing services to users then Technician License is highly suggested. The software can be installed on any number of computers at different locations.

Is the tool compatible with Office 365 Business only?

No, the import PST to Office 365 tool is compatible with all Office 365 editions.

There are some empty folders in my Outlook account. Will they also be there in Office 365?

If you choose to exclude the empty folders from migration. Just check the Exclude Empty folders option in Filter Selection window.

I was trying to add Exchange mailbox as a destination, but the tool was showing an error HTTP Status 401: Unauthorized. How can I resolve it?

You may get such an error when the Username Principal Name (UPN) is different from the email address. To resolve the error, you need to enter both the UPN and the email address.