An MSG file extension is simply a format to save Outlook mailbox items such as email messages, reminders, contacts, calendars, tasks, to-do-list, and more. It also stores fields such as date, sender and recipient information, message body, subject, etc. FYI, in Outlook, one can save the mailbox items as Outlook Message Format-Unicode which has a .msg extension.
MS Outlook offers several options to save an email item, one of which is an MSG file format. Messages saved in an MSG file format on your system or the cloud can be saved as a draft for later use. In that way, any mailbox item can be shared with ease.
Save Outlook Messages in MSG
For Outlook on Windows: :- To save a mailbox item in an MSG file format, follow the Steps outlined below:
Step 1 :- Launch the MS Outlook desktop client and double-click on the email that you would like to save. Now, the email will open up in a new dialog window.
Step 2 :- Click on the File tab (on the Outlook ribbon)
Step 3 :- Now, click on Save As from the left pane. This will open a new window with additional saving options.
Step 4 :- Provide a new name for the file or stick with the default name. From the menu of Save as type, select Outlook Message Format- Unicode and click on Save.
Note: This applies to Outlook for office 365, Outlook 2019, Outlook 2016, Outlook 2013, Outlook 2010, and more.
For Outlook on Web and Outlook.com:
Step 1 :- Click on New message.
Step 2 :- Now drag and drop the selected mail in the message body.
Step 3 :- Your email is now attached as an MSG file. Now you can share it with anyone.
Convert Outlook PST to MSG
Professional tools like Kernel for Outlook PST Repair allow you convert Outlook PST emails to MSG format. From the Outlook mailbox, you can directly select any email message(s) or search for email messages to convert them to MSG format. It can save emails in EML, TXT/RTF, PDF, and HTML/MHTML formats too.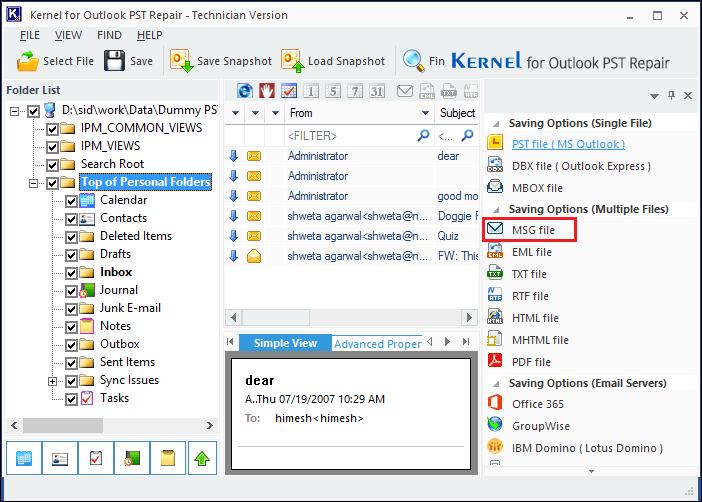 Summary
It is quite convenient to create and save email items in an MSG file format. These files can easily be saved on the local system or can also be shared or uploaded to the cloud, making it accessible from anywhere. It is also possible to save email items for Outlook for Windows and Outlook on the web.