In this article, we will explore the manual configuration of Outlook PST file size limits as a solution to address problems such as insufficient space for incoming messages.
Are you aware of the default maximum size limit for your Outlook PST file? Many Outlook users tend to overlook this aspect. However, when users encounter problems with sending or receiving emails, it becomes crucial to understand the default or specified size limit for their PST files. It's possible that the storage capacity has reached the predefined maximum limit for PST files. You can check the configured PST file size limit within your Outlook application.
When you attempt to relocate Outlook file items after reaching the maximum limit, you may encounter the following error message:
Unable to relocate the items. The file located at "path > \ > filename > .pst" has reached its maximum size. To decrease the data volume within this file, please choose and permanently delete items that are no longer necessary.
Manually removing items from Outlook files can be a laborious process. Users should explore alternative solutions, such as raising the maximum size limit. Users should explore alternative solutions, such as raising the maximum size limit.
The default maximum recommended size for Outlook PST files differs based on the version of Outlook you are using. For Outlook versions prior to 2010, it is advisable to keep the PST file size below 20 GB. However, for Outlook 2010 and newer versions, the recommended maximum size for PST files is 50 GB.
The question at hand is whether it's possible to increase the default maximum PST size. The answer is affirmative. For instance, in the latest versions of Outlook, you have the capability to double the PST file size limit from 50 GB to 100 GB by making adjustments to the registry entries.
MaxLargeFileSize - You can utilize this registry entry to establish the upper limit for the expansion of Outlook PST files in UNICODE format.
WarnLargeFileSize – You can utilize this registry entry to establish the upper limit for data storage in Outlook PST files, specifically those in UNICODE format.
MaxFileSize – Functions similarly to the MaxLargeFileSize registry entry, but specifically for ANSI format PST files, which were used in earlier versions of Outlook's file format.
WarnFileSize - Functions similarly to the WarnLargeFileSize registry entry, but specifically for ANSI format PST files.
Now, let's go ahead and manually utilize these registry entries to set up size limits for Outlook PST files.
Manual Process To Configure PST File Size Limit in Outlook
To access the Registry Editor, begin by closing your Outlook application. Next, initiate the Run dialog by simultaneously pressing the Windows button and the letter 'R'. Afterward, input "regedit" and select 'OK'. This action will open the Registry Editor.
Locating the PST File
In the Registry Editor application that you've opened, navigate to the following location depending on your Outlook version.

MS Outlook 2003:
HKEY_CURRENT_USER\Software\Microsoft\Office\11.0\Outlook\PST
MS Outlook 2007:
HKEY_CURRENT_USER\Software\Microsoft\Office\12.0\Outlook\PST
MS Outlook 2010:
HKEY_CURRENT_USER\Software\Microsoft\Office\14.0\Outlook\PST
MS Outlook 2013:
HKEY_CURRENT_USER\Software\Microsoft\Office\15.0\Outlook\PST
MS Outlook 2016:
HKEY_CURRENT_USER\Software\Microsoft\Office\16.0\Outlook\PST

To generate DWORD values, proceed by right-clicking within the left panel's empty area. Next, choose the option "New > DWORD (32-bit) Value."
Please specify the registry name as "MaxLargeFileSize."
Adding File Size Limit Right-click on the created DWORD Value and click Modify. Here, select the Decimal option as Base and enter the value as per your requirement. The value which you enter is in MB. (we have entered 75 GB here by calculating 1024*75 = 76800MB). Click OK.
Similarly, you have the option to generate a DWORD value named "WarnLargeFileSize" and set its value. It is advisable to configure this value at 95% of the established Mailbox File Size Limit. To illustrate, let's assume the limit is set at 70GB in this case.
1024*70 = 71680MB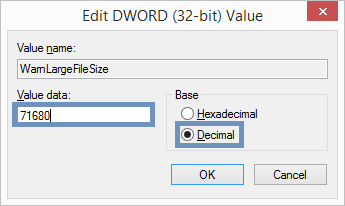 When dealing with ANSI Format files, make use of registry settings like MaxFileSize and WarnFileSize. Keep in mind that if you select Decimal as the base, you should input values in bytes. It's important to note that the recommended default size is limited to 1.8 GB, with a maximum allowable size of 2 GB. Any value beyond this limit will be disregarded to prevent potential corruption problems.
Reduce the actual mailbox and PST file size
As you utilize your Outlook account for sending and receiving emails, your mailbox expands over time, eventually reaching its maximum capacity. Users are aware that larger mailboxes tend to respond more slowly to inquiries. However, it's worth noting that the PST file doesn't automatically decrease in size. Nevertheless, Outlook offers methods to reduce its size and make room for additional emails.
Mailbox Cleanup Tool
Outlook includes a Mailbox Cleanup feature that enables you to monitor both your mailbox's overall size and the sizes of individual folders. This tool can be employed strategically to locate and eliminate older, large email messages that are no longer needed. Frequently, deleted email messages continue to take up space in your mailbox, causing it to expand in size. With the Mailbox Cleanup tool, you can easily identify and remove these deleted emails. Here's a step-by-step guide on how to use it:
Navigate to the Toolbar's File menu, followed by accessing the Tools drop-down menu, and opt for the Mailbox Cleanup option.
Once you access the Mailbox Cleanup tool, you'll discover a range of features such as viewing mailbox size, locating older items, setting up AutoArchive intervals, and clearing the deleted items folder. Utilize these functions to efficiently eliminate unnecessary content and reduce the size of your mailbox.
Compact the Outlook PST file
The streamlined approach for PST file reduction removes any whitespace present within the file.
Follow File > Account Settings > Account Settings.
Navigate to the Data File tab, select the data file you wish to compress, and then click on the Settings option.
Select the Compact Now option, and Outlook will initiate the data file compression. Please note that this operation may require a significant amount of time when dealing with large-sized files.
How to fix Outlook PST corruption due to large file size?
As you've seen, configuring Outlook file size limits through registries isn't a particularly complex task. Nevertheless, it does require a degree of attention and some technical know-how. It's important to note that exceeding these limits can potentially lead to the corruption of PST files. For users facing PST corruption after attempting this method or already suffering from any PST related issue, we would suggest you trust Kernel for Outlook PST Repair tool. This tool has all the features needed for quality PST solution. Its standout features include a user-friendly graphical interface and sophisticated filtering options. You can experience its capabilities firsthand by trying out the live demo version available on the website.