Read time 8 min
If you're using IMAP settings with your Outlook account, it becomes handy to manage the whole bundle of data consisting delicate information in a single Outlook PST File. You can export, backup, restore, and password protect a PST file using Outlook itself.
Many Outlook users like to keep their PST files password protected to ensure the possibility of snooping to zero. You can password protect any PST file in Outlook by selecting the distinct data file (PST) in settings.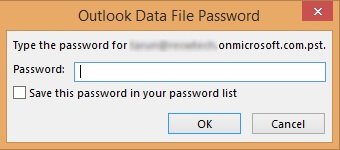 Instant Solution
Try Kernel Outlook Password Recovery tool to quickly unlock password protected Outlook PST file. The software supports Outlook 2019, 2016, 2013, 2010 and all the previous versions.


The call for a solution sounds in scenarios when you forget the password you put on the PST file, and you don't have access to that PST file anymore. It is a painful task to unlock the PST file again. Read below comments from a user and an expert.
"I forgot the password I set on my primary account's PST, can't open the file. It has invoices & bills. I'm frustrated after trying a couple of tricks; nothing worked," Microsoft Community User Comment.
"Microsoft support professionals cannot assist you, under any circumstances, in the breaking of passwords applied to files and features in Microsoft programs."
Though, you cannot get any help from Microsoft if you forgot the PST file password, in this article, we'll walk
through methods with which you can access your PST file again.
A workaround – pst19upg utility to remove PST passwords
As cited above, there is no official approach for breaking through a locked PST file. But you can follow the step-by-step procedure below to find a possible resolution for the problem. Before proceeding further, make sure Outlook is closed, and you have a backup of the locked PST file.
Run SCANPST.EXE on the backup of the locked PST file.
Note: Find the EXE at given paths for different Outlook Versions.

For Outlook 2007
32 Bit: C:\Program Files\Microsoft Office\Office12
64 Bit: C:\Program Files (x86)\Microsoft Office\Office12
For Outlook 2013
32 Bit: C:\Program Files\Microsoft Office\Office15
64 Bit: C:\Program Files (x86)\Microsoft Office\Office15
For Outlook 2016
32 Bit: C:\Program Files\Microsoft Office\root\Office16
64 Bit: C:\Program Files (x86)\Microsoft Office\root\Office16

Note: If you are already using the backup file of the original one, avoid the backup option in SCANPST.EXE.

Launch the ScanPST tool on your system and click the Browse button to select the password-protected PST file.
After adding the PST file, click the Start button.

Check the checkbox, 'Make backup of scanned file before repairing.' And if the tool shows 'errors were found in this file,' then click the Repair button.
Once the file is repaired, click OK to exit the tool.
Now, launch command prompt,
Type the path of PST in the command prompt like: C:\My Documents\pst19upg.exe – user.pst.
A copy of PST file with .psx format will be created. Now, rename the backup PST file similar to the old PST file.
Launch Outlook and import the new password removed PST file.
Unfortunately, this utility will work only in older versions like Outlook 2003.
Unlock password-protected PST files
If the above workaround didn't work as per the expectations, then you would need a more reliable fix for the problem. Kernel Outlook Password Recovery is the best tool you can try in this situation. This software helps you unlock password-protected PST files. It recovers forgotten PST passwords, removes old passwords, and create a new password for highly encrypted PST files. Moreover, it is an easy-to-use tool.

Using this utility not only you can remove password from the PST file, but also can set a new password and recover the old one. This is how you can do this:
Launch the tool – below is the main screen you'll encounter first,
Click Add Files, select the PST file, and click Open,
Once the file is loaded in the tool, you can select from any of the given options,

Note: We'll use Remove Password, here.

Before unlocking the PST file, the tool will ask to back-up the original PST. So, make sure of it. Once you're sure, click I have the backup, continue button.
In less than a minute the password would be removed,
Click OK. Also, you can save the process log report in CSV format.
However, if you want to set a new password for the PST file, then it can also be performed with the same tool.
Change the Password of a PST File
Changing the Outlook PST password with Kernel Outlook Password Recovery is pretty simple and easy. You just need to follow the below steps:
Launch the software on your system and click Add Files to add PST files.
After adding the file, click Set New Password, and you will be prompted to make a backup of the PST files before moving ahead. Choose an option as per your requirements to continue.Note: We recommend you to create a backup for future purposes.
Provide the desired password for the PST file in the Set New Password window and click OK.
Once you change the password, a message will appear on your screen with confirmation. Click OK to finish the process.
This way, you can easy modify the password for the Outlook PST file.
Conclusion
Here, we have discussed about how one can recover passwords to open password-protected PST files easily. We have discussed a manual method using the Command Prompt and an automated method by using a third-party tool like Kernel Outlook Password Recovery. When the PST file is password-protected, and you don't remember the password anymore, Kernel Outlook Password Recovery is an absolute savior. Apart from password removal, the tool offers facilities like password recovery and reset.

Video Tutorial to Unlock password-protected PST files