Read time 8 minutes
For many organizations and users, MS Outlook is the primary email client for communicating with their clients and partners. And, when it comes to trust and performance, Outlook has no replacements and workarounds. It is a highly professional and business-oriented email client for all your needs like emailing, calendaring, contact management, etc.
At times, you may face the issue of removing duplicate items in Outlook. The issue of duplicate contacts leads to storage issues and degraded performance. It overloads Outlook and may cause an application crash.

Unfortunately, there is no undo process to remove duplicate contacts instantly. Hence, to resolve and remove duplicate contacts in Outlook we should first know the reasons behind the issue so that it can be prevented in the future.
Reasons Behind Duplicate Contacts in Outlook 2016
The common reasons due to which duplicate contacts are created in Outlook 2016 are listed for you to understand the scenarios and avoid repeating them.
Message dragged to Contacts folder: If the email messages are dragged to Contacts folder, a new contact gets created in Outlook automatically. It is a major cause of duplicate contact creation.
Same person with different email accounts: Another reason for duplicate contact is when one user uses different email accounts with the same name. So, a new contact will be created for the same person.
Contacts Synchronization: To find people easily and keep everything synchronized, you synchronize contact of Outlook with your laptop or mobile device and at times with social platforms like Facebook messenger, LinkedIn, Twitter, etc. which ultimately leads to duplication of contacts.
Multiple address books on Exchange: This is a scenario with many organizations that maintain several address books on their Exchange Server.
Effective Methods to Remove Duplicate Contacts in Outlook 2016
The methods described here apply to Outlook 2019, Outlook 2016, Outlook 2013, Outlook 2010, Outlook 2007, and Outlook for Office 365
Method 1: Delete Contacts One by One (if they are less in number)
You can easily delete your contacts one by one manually if they are less in number.
STEP 1: Launch Outlook, look at the bottom left of the Outlook window to find the highlighted People icon and click on it.

STEP 2: Look for Current View group in the top horizontal ribbon of Outlook and click on Phone.

Please note: You can simply use this method to scan contacts to find duplicates.
STEP 3: Now, hold CTRL key and click on duplicate contacts one by one and press Delete.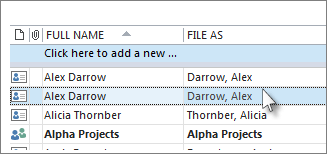 Method 2: Export and Import Duplicate Contacts (if they are large in number)
You cannot delete thousands of duplicate contacts one by one as it will eat a lot of time and it is a very complex task to perform. Hence, the best way is to use export all the contacts to a new folder with the help of Outlook feature that excludes duplicates while exporting. And, once exported you can import the new one to Outlook
instantly.
Follow the step one by one as mentioned.
STEP 1: Start Outlook and click People in the lower left corner of the Outlook window.

STEP 2: You will see Contacts under My Contacts; simply right-click and select New Folder.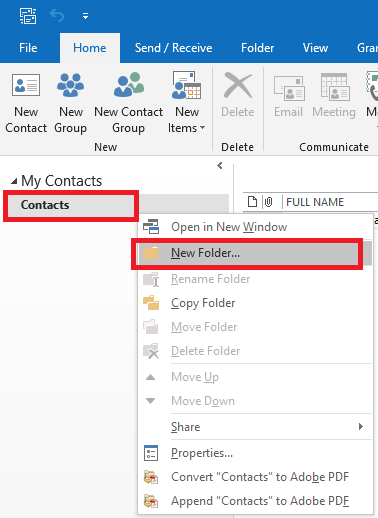 STEP 3: Enter the name of the new folder, say 'Remove Duplicate Contact.'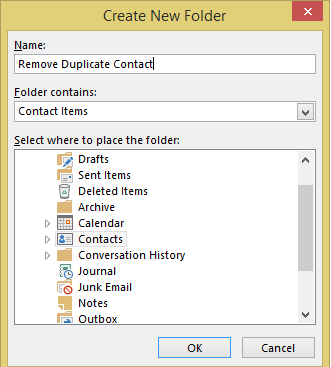 STEP 4: Go back to the original Contact folder and click to expand contacts list, select all contacts using CTRL + A, and drag the contacts to the 'Remove Duplicate Contact' folder.
Please note: When you drag and drop or move contacts to a new folder, the main contacts folder becomes empty.
STEP 5: Now, go to File >> Open & Export >> Import/Export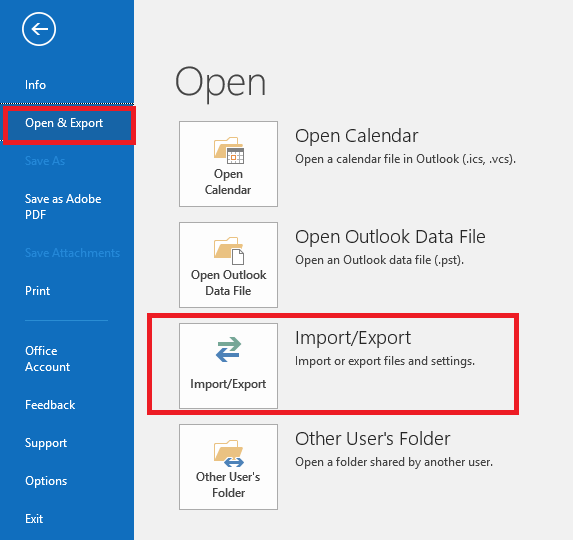 STEP 6: Select Export to a file from the list under Choose an action to Perform and click Next.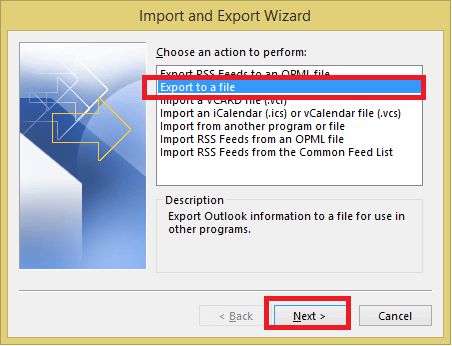 STEP 7: Next, choose Comma Separated Values under Create a file of type and click Next.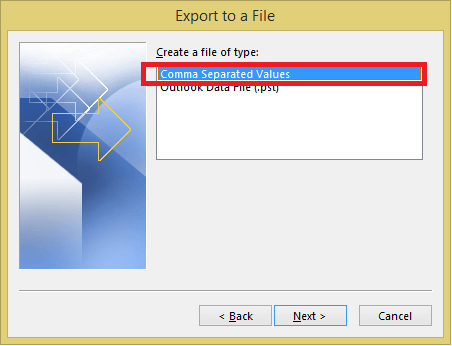 STEP 8: Select the Remove Duplicate Contact folder and click Next.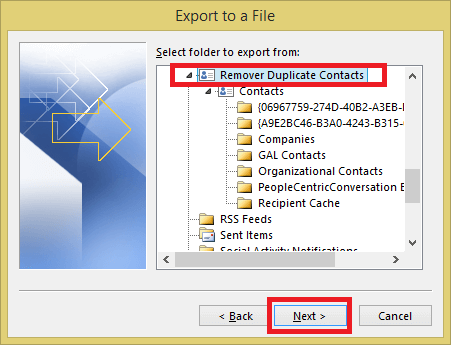 STEP 9: At the end, click Browse for the desired location to save the file, click Next and click Finish.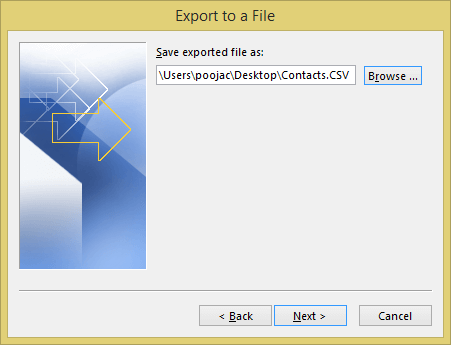 Steps to Import Contacts back to Outlook
STEP 1: In Outlook, click File >> Open & Export >> Import/Export.
STEP 2: Now, choose Import from another program or file from the list and select Comma Separated Values.
STEP 3: Click Browse and select the location where you saved the exported file. Also, choose Do not import duplicate items from options and click Next.
STEP 4: Lastly, select the default Contact folder as a destination for importing and click Finish.
Automated Method to Remove Duplicate Contacts in Outlook
If you are looking for a quick method to clean the duplicate contacts in Outlook, you can simply opt for an automated professional third-party tool, i.e., Kernel for Outlook Duplicates Remover. The tool works fabulously to remove duplicate items from Outlook data files which include emails, contacts, calendar, etc. It has a very interactive and easy-to-use graphical user interface.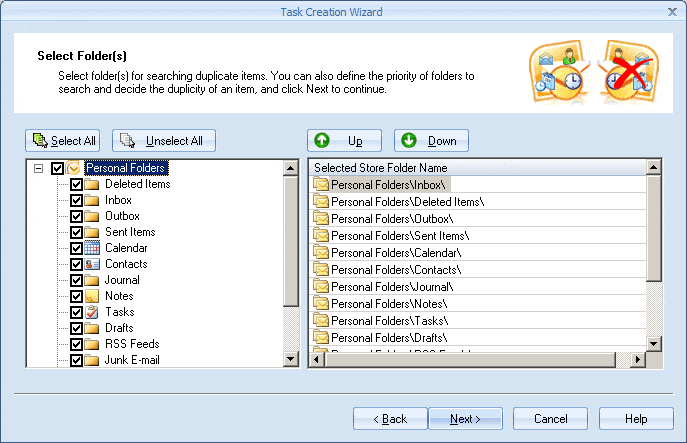 Final Words
There are many ways to remove duplicate contacts in Outlook, but we mentioned the methods that worked for us with 100% accuracy and security. Therefore, if you are facing duplicate contacts issue or duplicate Outlook data items, you must try the above methods.
Watch Video to Remove Duplicate Contacts in Outlook 2016