Read time 10 minutes
Summary: One fundamental benefit that MS Outlook provides to a user is that it does not ask for credentials repeatedly once you have connected your account with it. The Outlook Password Prompt issue withdraws this benefit and asks the account's password unnecessarily. It is frustrating to face such issues and in this present article, we will tackle it with some Outlook-based troubleshooting methods.
There you are, sitting at your computer, trying to get some work done, and suddenly you get a prompt for your Outlook password. You try to type it in, but nothing happens. You try again, and still nothing. What's going on?
It turns out that there is a problem with your Outlook password. But don't worry – we're here to help! We'll show you how to resolve the Outlook password prompt issue so that you can get back to work.

Instant Solution
Try the Kernel Outlook Password Recovery tool; it helps with the following requirements:
Recover PST password
Remove the password from PST
Set a new PST password
It supports Outlook 2019, 2016, 2013, 2010 and all the previous versions.
Common Causes Behind Outlook keeps Prompting for Password?
There are several reasons why Outlook keeps prompting for a password. Some of the common reasons are:
Outlook is configured to prompt for credentials
Incorrect Outlook password stored by the Credential Manager
Corrupt Outlook profile
Bad network connection
How to Fix the Issue of Password Prompts in Outlook?
Note: Before you start with any of the solutions given below, make sure that you have enabled 'Remember Password' in your Outlook account setting. Once you have enabled it, you will not be asked again and again for the password and will need no more solutions to fix it. Saving your profile username and password would tend Outlook not to ask or remind you for a password every time you open the program. Just open Outlook and follow File > Account Setting > Email > Remember Password.
You can fix the Outlook password prompt issue using the following manual methods. Just follow these simple methods and quickly come out of this exhausting error.
Disable the Setting Outlook Prompt for Logon Credentials
When the User identification settings are enabled in Outlook (configured with an Exchange account), it prompts continuously for login credentials. To get rid of the password prompt problem, you need to disable this setting.

Open Outlook, and go to File >> Account Settings >> Account Settings
In the Account setting select the Exchange account and click the Change button.
Click More Settings in the new dialogue box.
Now in the Security tab of the Microsoft Exchange dialogue box, uncheck Always prompt for logon credentials.

Remove stored credentials from Credential Manager
By removing previously stored credentials from the Credential Manager, you can surely fix the issue:

In Control Panel, click on Credential Manager. Under Windows Credentials, go to Generic Credentials and look for the credential sets that have Outlook in the name.
Expand the set and click on Remove from Vault.C:\Users\shrishs\AppData\Roaming\Output Messenger\EFAAA\Received Files\upldated blogs.
Repeat the steps for all credential sets that have Outlook in the name.

Clear the cached outlook passwords
When the login details of your profile, which are saved on Windows, are incorrect, then Outlook tends to repeatedly prompt you for a password. Thus, you need to remove all the credentials which are saved as cached passwords on your system by following the process mentioned in preceding solution no 2.
Resolve Bad network connection
Bad network issues can arise anytime, and this may happen when Outlook can't connect to the server. A slow or unstable network can lead to the loss of connection to the mail server, due to which every time you try to connect, it asks for credentials. To solve the "Outlook keeps asking for password" issue, you can try switching to a better connectivity environment and see if it solves your problem.
Uncheck the Shared Calendars
Sometimes due to Shared calendars, Outlook credentials get affected. Hence, if you are using a shared calendar, uncheck or deselect it now and see if it fixes the Outlook password problem or not.
Disable Installed Antivirus Programs
Sometimes, installed antivirus interferes with Outlook's operations which might cause the Outlook password prompt error. So, you can try to fix the issue by disabling the antivirus program temporarily on your system.
Create New Outlook Profile to Resolve the Corrupt Profile Issue
If you are repeatedly prompted for your Password in Outlook, your mail profile has likely become corrupted. You can fix this issue by creating a new profile and re-adding your email account(s) to it.

Open Outlook and click File.
Click the Account Settings drop-down and then choose Manage Profiles from the list.
In the Mail Setup – Outlook dialog box, click Show Profiles.
Click Add in the Mail dialog box.
Enter a name for your new profile and click OK.
Choose Prompt for a profile to be used and click Next.

Update Outlook to its Latest Version
If you are facing the issue of constant outlook password prompts, then it is most likely because you are using an outdated version of Outlook. In order to resolve this issue, you need to update your Outlook version to the latest one. You can do this by following the steps given below:

From the Outlook main screen, click on the tab "Office Account" from this menu.
On the next screen, select "Update Options" from the left sidebar.
Finally, select "Update Now" and follow the prompts to update your Outlook version.

Launch Your Outlook In Safe Mode
If you are repeatedly being prompted for your password in Outlook, it could be an issue with your Outlook profile. To fix this, you can launch Outlook in Safe Mode. It will allow you to reset your Outlook profile and hopefully resolve the password prompt issue.
To launch Outlook in Safe Mode, follow these steps:

Close Outlook if it is open.
Press and hold the CTRL key while you start Outlook.
When the Microsoft Office Startup dialog box appears, select Enable Troubleshooting Services and click OK. This will launch Outlook in Safe Mode, which will disable all add-ins that might be causing the issue.
Once Outlook has launched in Safe Mode, try to access your email account again and see if the password prompt issue has been resolved.
The Antivirus program that you have installed in your system may be interfering with Outlook which could be the cause this Outlook password prompt issue. In this case, you can try disabling the antivirus and see if it solves your problem.
Your issue is fixed; Outlook will no longer prompt for a password.
How to Recover the Lost or Forgotten PST Password
The above manual methods will surely help you resolve Outlook password prompt errors. But what if you have forgotten or lost the password of your PST file and are unable to recall it? For the "Outlook keeps asking for password" problem and lost PST password, we have the easiest solution for you, i.e., an automated solution, Kernel Outlook Password Recovery. With the tool, you can recover and remove password from Outlook PST file and set new passwords in a matter of a few clicks.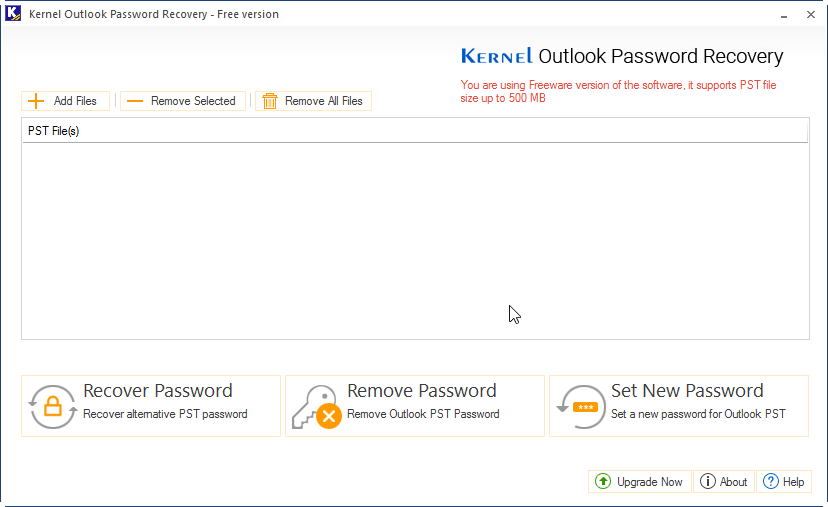 Using this innovative tool, one can easily recover PST passwords as it offers multilingual password recovery with accuracy. Even when in circumstances where encryption and intricacy of the password are quite strong, you can easily recover passwords using this easy-to-use interface.
Ending Words:
The solutions mentioned here will solve the issue of password prompt, and the performance of Outlook will be improved. But, if at any point you feel that Outlook has stopped or you have lost all the data from your profile, consider a commercial solution such as Outlook PST Repair Software. Using this tool, you can get back your data instantly, and your work will not be hampered.
Watch this Video to Quickly Fix the Password Prompt Issue in Outlook