Read time 6 min
MS Outlook is very easy to use and offers smooth performance, but at times due to errors and bugs, it does fail to work as expected. One such error that might occur is the problem of Outlook continually prompting for a password. It annoys the user who is involved in some urgent work like drafting or sending an email with crucial information as every time he needs to enter the password for the Outlook profile to continue the ongoing work. It is not a normal function in Outlook and needs to be resolved to work uninterruptedly with the application. This blog is dedicated to valid reasons behind the continuous Outlook password prompt issue and the possible solutions for the same.
Why does Outlook keep prompting for password?
There are several reasons why Outlook keeps prompting for a password:
Outlook is configured to prompt for credentials
Incorrect Outlook password stored by the Credential Manager
Outlook profile is corrupt
Bad network connection
When Outlook is configured to prompt for credentials
When the User identification settings are enabled in Outlook (configured with an Exchange account), it prompts continuously for login credentials. To get rid of the password prompt problem, you need to disable this setting.

Open Outlook, go to File >> Account Settings >> Account Settings.
Select the Exchange account and click the Change button.
Click More Settings in the new dialogue box.
In the Security tab of the Microsoft Exchange dialogue box, uncheck Always prompt for logon credentials.

Remove stored credentials from Credential Manager
By removing previously-stored credentials from the Credential Manager, you can fix the issue:

In Control Panel, click on Credential Manager.
Look for the credential sets that have Outlook in the name.
Expand the set and click on Remove from Vault.
Repeat the steps for all credential sets that have Outlook in the name.

Outlook Profile is corrupt:
Outlook may fail to remember password due to a corrupt profile. To resolve the corruption issue, create a new profile in Outlook.
Step 1: Open Control Panel, look for Mail and click on it.

Step 2: A Mail Setup – Outlook box will appear, click on the Show profiles button.

Step 3: Now, select Outlook from the profile and click on the Add button to add a new Outlook profile.

Step 4: Add a profile name and click OK.

Step 5: In this step, set your Name, email address and password and click the Next button.

Step 6: Congratulations! Your new profile is ready. Click Finish and proceed to the final step.

Step 7: Now, select the new profile, click Always use this profile and select the new profile from the drop-down list. Click Apply and OK.
Bad network connection

Bad network issues can arise anytime, and this may happen when Outlook can't connect to the server. The slow or unstable network can lead to the loss of connection to the mail server due to which every time you are trying to connect, it is asking for credentials. To solve this issue, you can try switching to a better connectivity environment and see if it solves your problem.

Antivirus programs cause Outlook errors

The Antivirus program that you have installed in your system may be interfering with Outlook which could be the cause for this Outlook password prompt issue. In this case, you can try disabling the antivirus and see if it solves your problem.
Your issue is fixed, Outlook will no more prompt for a password.
Use Third-Party Automated Tool for Password Recovery
Above manual methods will surely help you resolve Outlook password prompt errors. But what if you have forgotten or lost the password of your PST file and unable to recall it? For this problem, we have the easiest solution for you, i.e., an automated solution Kernel Outlook Password Recovery. With the Outlook Password Recovery tool, you can recover, remove password from Outlook PST file and set new passwords in a matter of few clicks.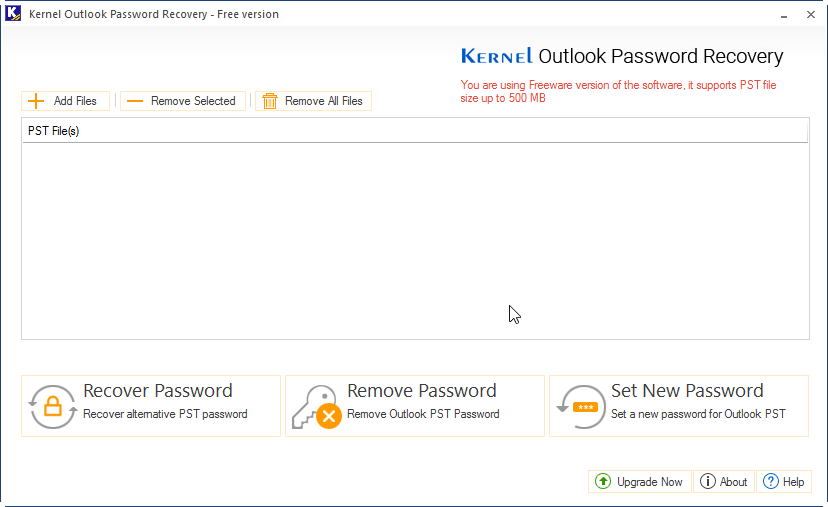 Ending Words:
The solutions mentioned here will solve the issue of password prompt, and the performance of Outlook will be improved. But, if at any point you feel that Outlook has stopped or you have lost all the data from your profile, consider a commercial solution such as Outlook PST Repair Software. Using this tool, you can get back your data instantly, and your work will not be hampered.

View Video: Resolve Outlook Password Prompt Issue