Read time 7 minutes
Summary: Discover a straightforward solution for eliminating duplicate contacts in Outlook. This resource likely offers practical steps or tools to simplify the process of cleaning up your contact list, making your Outlook experience more organized and efficient
When you import contacts from multiple sources or receive them from various contact lists, the likelihood of ending up with duplicate contacts in your Outlook mailbox increases. When importing new contacts from iCloud or Gmail, Microsoft Outlook includes a duplicate detection mechanism that allows you to decide whether to create a new contact or merge it with an existing duplicate.
Yet, when duplicate contacts have already infiltrated your contact folders, there is no automated process for their removal. However, you can utilize a manual approach by exporting all your contacts to a file and subsequently re-importing them into MS Outlook. This facilitates the use of the built-in duplicate checking options to identify and eliminate duplicate contacts.

A Professional Tool for Removing Outlook Duplicate Items
While the Export/Import feature in Outlook can be used to address duplicate items, it's evident that the process can be cumbersome and prone to errors. This is why professional tools are considered essential for efficiently remove duplicate items in Outlook. For this purpose, many Outlook users recommend Kernel for Outlook Duplicate Remover as a reliable solution.
Kernel for Outlook Duplicates Remover swiftly identifies and eliminates duplicate emails within Outlook folders. Furthermore, it offers a range of user-friendly options for managing duplicate Outlook items, making the process seamless and efficient.
Features of the Outlook Duplicate Remover Software
Now that we've discussed the utility of Kernel for Outlook Duplicates Remover, it's important to delve into its key features. Below, we highlight the notable features that this software proudly offers:
Duplicates from Same Folder or All Folders – The Outlook Duplicates Remover rapidly searches for duplicity and has two modes – Standard & Advanced. In the Standard mode, the duplicate items are hunted out in the same folder whereas, in the Advanced mode, duplicate items are searched in all the folders that have been selected.
Different Criteria to Find Duplicates – You, as a user, can easily find out Outlook duplicate items by comparing them by numerous criteria. e.g., Sender name, Receiver name(s), Internet header, Date and time of sending, etc. This is the most laid-back way to find Outlook duplicate emails as well as other items.
Multiple Actions on Duplicates – The tool has many provisions to deal with the duplicity in Outlook. The options range from delete permanently, mark as expire, move to deleted items folder to put a flag, copy to folder and move to folder.
Duplicate removal for a specified period only – Using this tool, you can always look for the duplicity in a specific time period. The tool might be used either with the option "Select predefined period" in which you are able to search for the latest one-week items, latest one-month items, etc. or with the option "Specify time period manually" in which you are able to provide a date-range.
Remove any Duplicate Item – If you're looking to remove duplicate contacts, Kernel for Outlook Duplicates Remover helps in hounding out and removing Outlook duplicate Calendar entries, contacts, emails and so on.
Pause/Remove Duplicate Removal Process – The Outlook Duplicates Remover provides the option for the saving/resuming the task of removal of duplicity. You can save the Outlook removal process as a task. Having done that, you Export it to the desired location in your hard-drive, and it is saved in the .NUTX format. The best part being that you can resume the task at your will, using the Import option.
Duplicate Removal from PST files of all Outlook versions – The Tool works on all versions of MS Outlook.
How to Remove Duplicate Items from PST Files?
With Outlook Duplicates Remover, resolving the issue of duplicate emails in Outlook is a straightforward process, as outlined in the steps below:
Step1: Open Kernel for Outlook Duplicate Remover and create an Outlook duplicate removal task. Click 'Next.'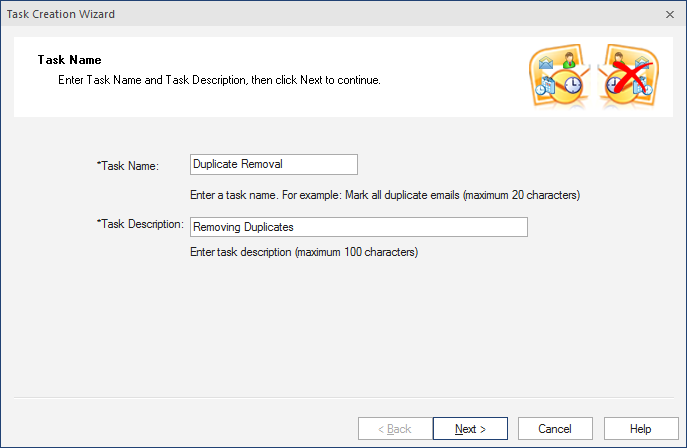 Step2: Duplicate searching mode is to be selected (Standard Mode for searching within a folder and Advanced Mode for searching in all or selected mailbox folders. Click Next.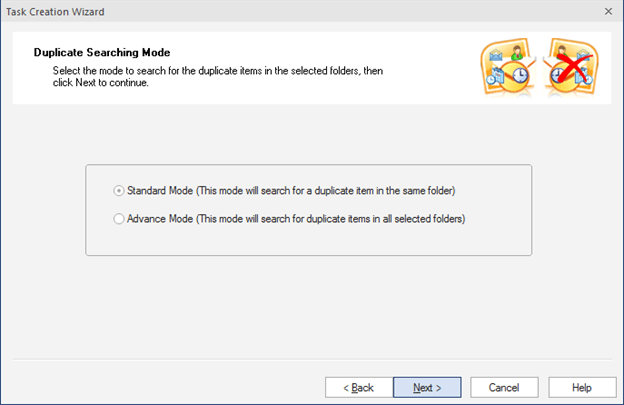 Step3: Select the folders to search duplicate items (to find the duplicate contacts, select the Contacts folder only). Define the priority of folder(s) for searching and click Next.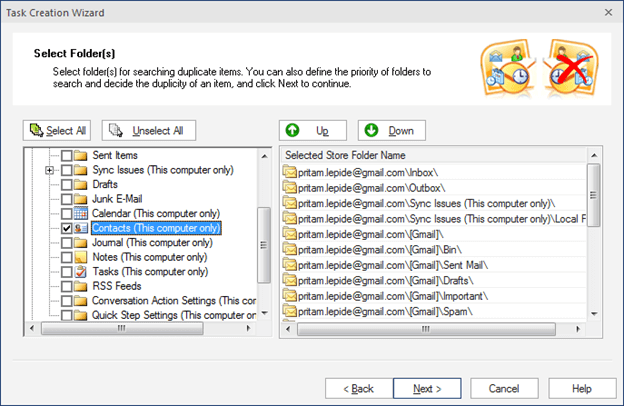 Step 4: Provide the time span for duplicate item removal – here 'Select between predefined' is selected.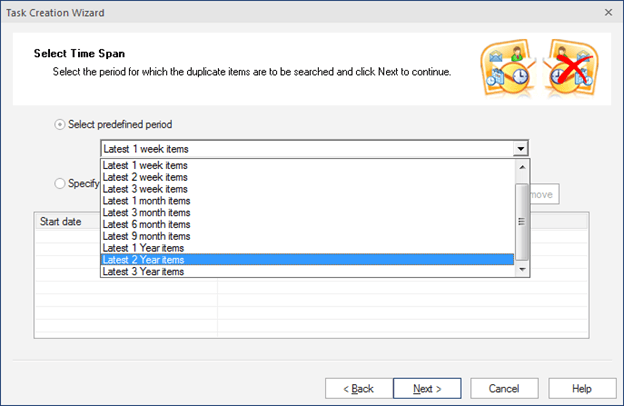 Note: You can specify the time period manually.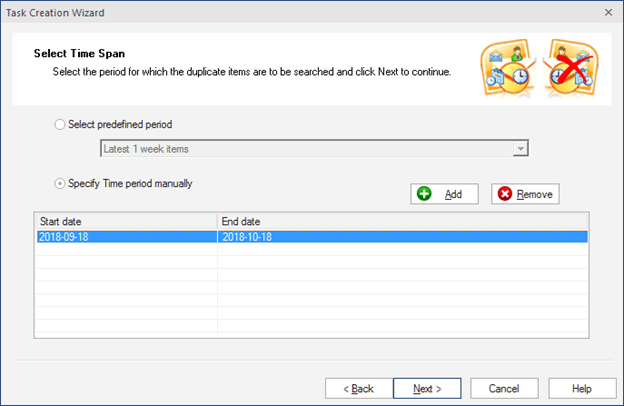 Step 5: Select the operation you wish to be performed on the duplicate items. Click Next.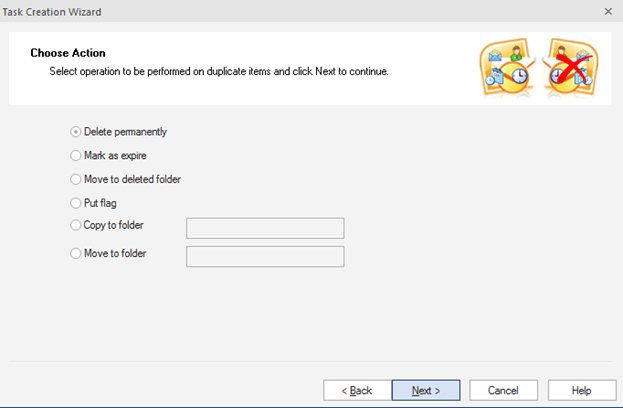 Step 6: Select properties to be used for comparison of emails and other items for duplicity. Click Next.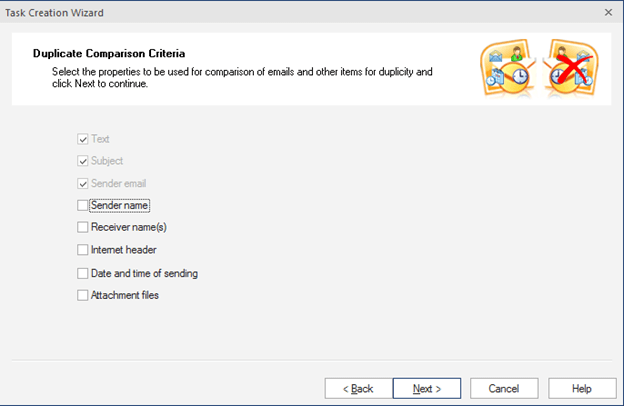 Step 7: The Task Creation Confirmation tab appears. Review the task summary and click Finish.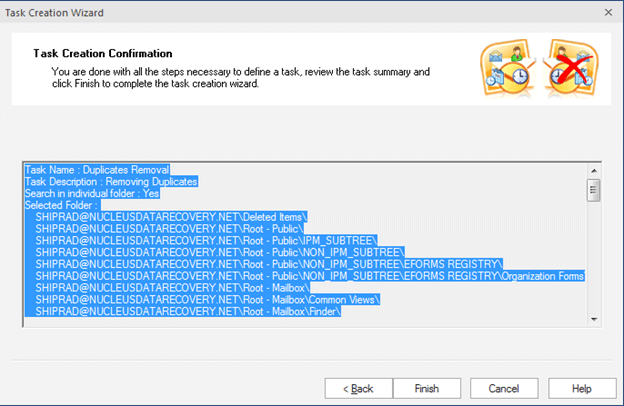 Step 8: The new task is successfully created.

Step 9: Now, select the task from the list and click on Run Selected Task Button.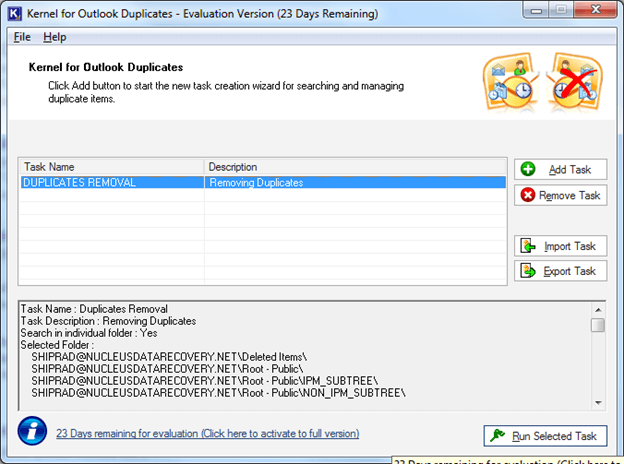 Voila! Duplicates are now removed. Now click Finish.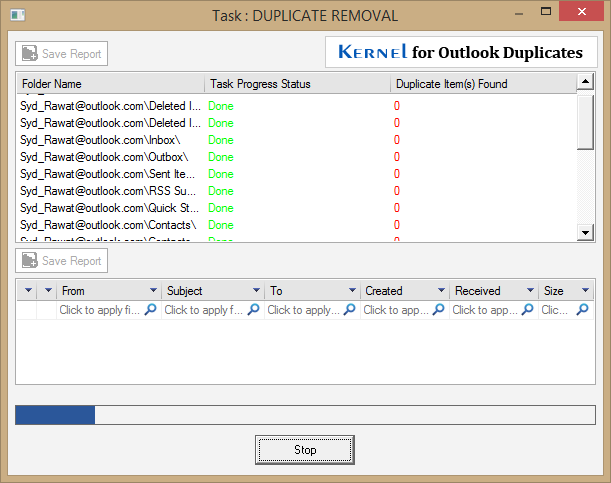 Conclusion
If manual Outlook duplicate removal methods prove ineffective, don't lose hope. Turn to professional tools for assistance. When it comes to tackling duplicate items in Outlook, Kernel for Outlook Duplicates Remover stands out as the top utility for remove duplicate contacts in Outlook.