Read time 11 minutes
Summary: Learn how to efficiently split large PST files in Outlook 2016, 2013, 2010, and 2007 using manual techniques or opt for the reliable and convenient Kernel for PST Split tool, ensuring data accuracy and eliminating data loss concerns.
When the size of your PST file surpasses the maximum file size limit, it can lead to undesirable situations, including data loss and corrupted data items. As a PST file grows larger, it increasingly becomes a significant concern for Outlook users. To mitigate this issue, it is essential to implement effective strategies for managing the size of your Outlook PST file and preventing your system from running out of storage space.
In today's computing environment, PST files are particularly susceptible to corruption, especially when operating in Unicode format. Additionally, maintaining a large PST file can adversely impact the overall performance of Outlook.
Hence, we have provided practical solutions for partitioning a sizable PST file into multiple smaller PST files. These methods are compatible with all versions of Outlook, including 2019, 2016, 2013, 2010, and 2007 mailboxes.
Why You Need Splitting Large PST File?
There are various reasons for dividing large PST files, and some of the most common ones are listed below:
Due to the huge size of the PST file size, the performance and speed of MS Outlook starts to slow down.
Users are denied storing data items to the folders of PST file if the PST file is out of space or it is left with very limited storage space.
A large PST file when exceeds its permissible limit makes the data of PST file inaccessible for users.
Manual Techniques to Split Oversized PST File
MS Outlook does not provide a built-in tool for splitting large-sized PST files. Consequently, we have identified manual workarounds that can effectively address the issue of splitting PST files in Outlook 2019, 2016, 2013, 2010, and 2007.
Method 1: Reducing PST Size with Import/Export Process
The Import/Export wizard serves a dual purpose in MS Outlook. It not only facilitates the movement of data files to and from MS Outlook but can also be utilized to split PST files within the application.
Following are the steps mentioned that will guide you to complete the splitting of PST files:
Step 1: Launch MS Outlook, click File from the menu bar.

Step 2: Navigate to Account Settings >> Account Settings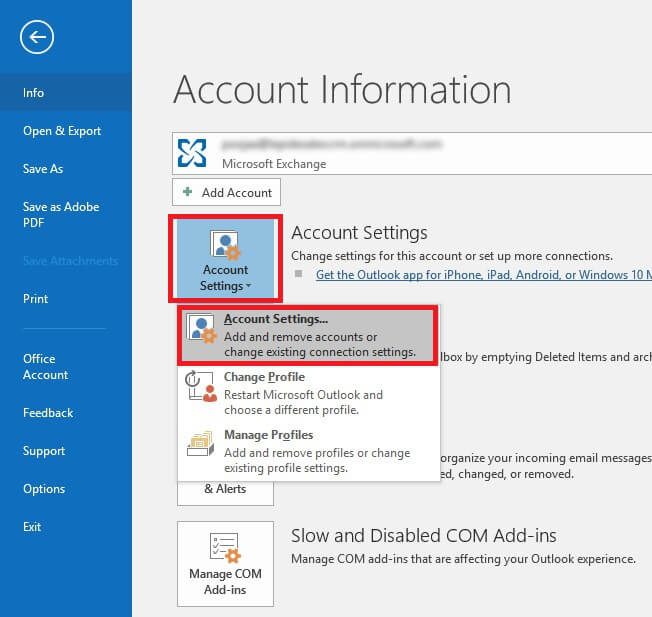 Click Add button under Data Files tab from the dialog box.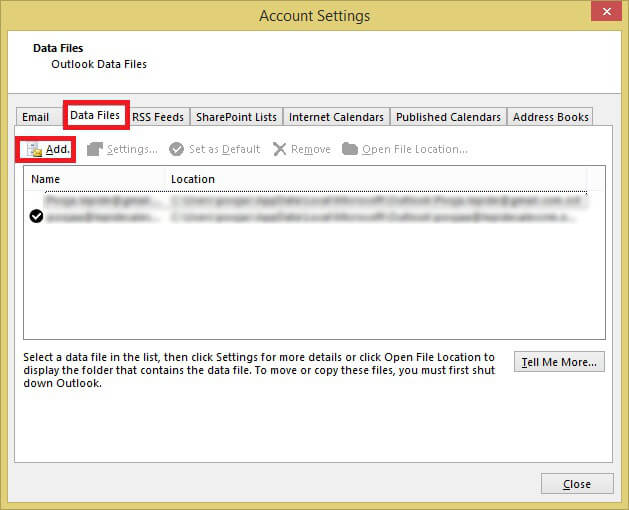 Step 3: Enter name and type as Outlook data file (.pst) and click OK to create a new PST.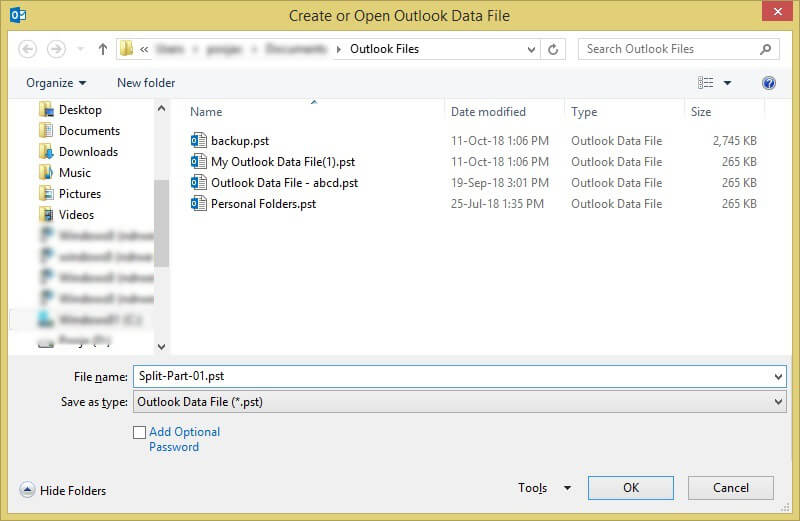 Step 4: You can view the new PST under Data Files
Step 5: Now, click File >> Open & Export >> Import/Export.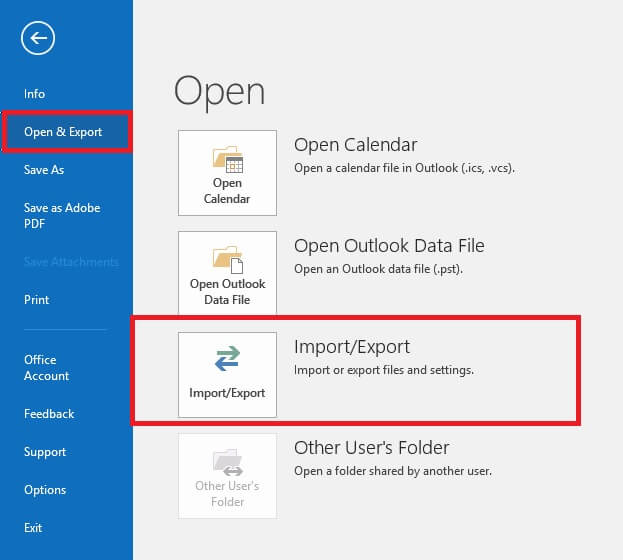 Step 6: Select Export a File in Import and Export Wizard and click Next button.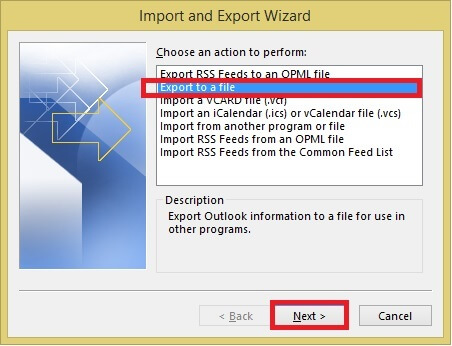 Step 7: In Export File windows select Outlook Data File (.pst) and click Next button.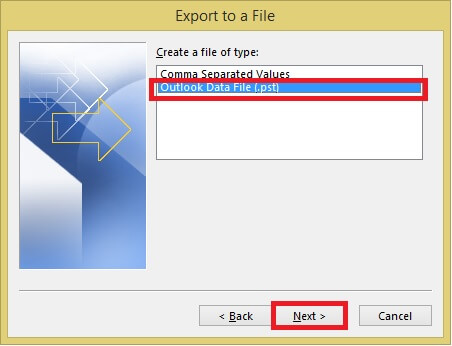 Step 8: Choose folders to export and check the Include Subfolders option if you want to export subfolders.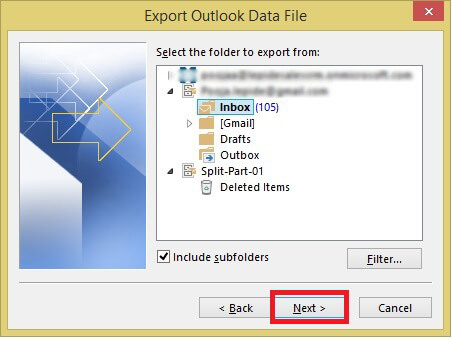 Step 9: Now, browse to select to select the saving location of the exported file and choose from options to disallow exporting duplicates items. And, click Finish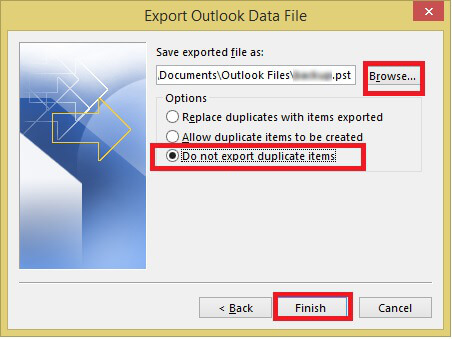 Step 10: Set a password for exported PST file or if you want you can cancel it simply.
Method 2: Use Move to Folder Option for Managing Large PST File
Another alternative method to split large-sized PST files is by utilizing the 'Move to the Folder' option. You can follow the step-by-step procedure outlined below:
Step 1: Launch Outlook, click File tab >> Account Settings >> Account Settings.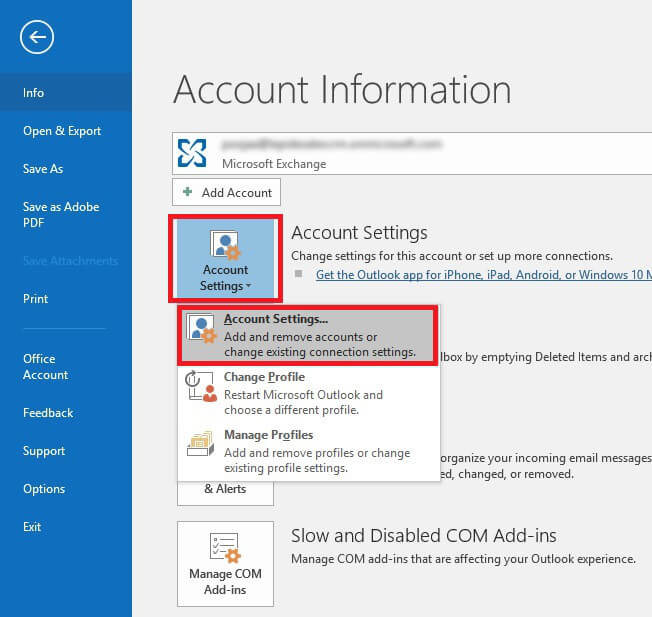 Step 2: Click the Data Files and click on the Add button to add a new PST file.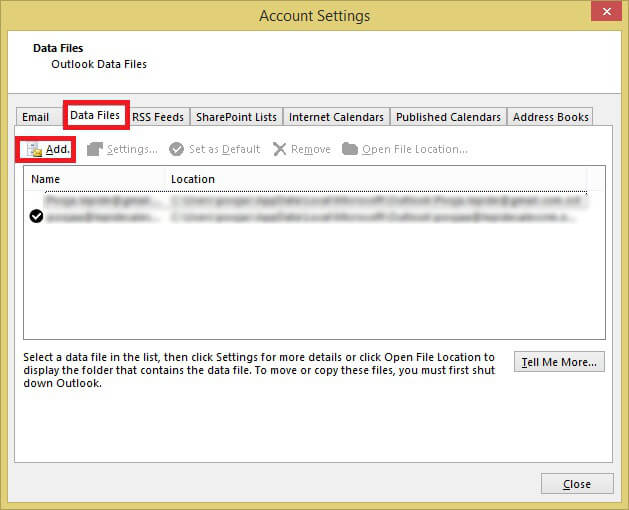 Step 3: Go to Home and open the default PST file of your Outlook profile and select the items you want to move to a new PST file you create in Step 2.
Step 4: To do so, click the Move button from the ribbon and select Copy to Folder.

Step 5: Choose the PST file, so that all the selected data items from the default PST file can be moved to the new one.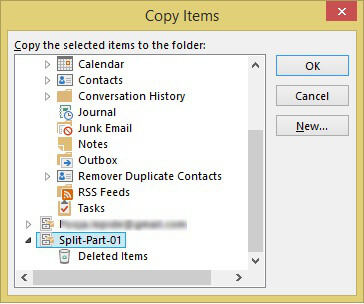 Step 6: You can delete the copied items from the default PST file so that its size gets reduced.
Method 3: Use Archive Wizard for Reducing PST File Size
To split a large-sized PST file in Outlook, you can employ the Archive Wizard. Follow these straightforward steps as outlined below:
Step 1: Start MS Outlook, open File >> Info >> Tools >> Clean Up Old Items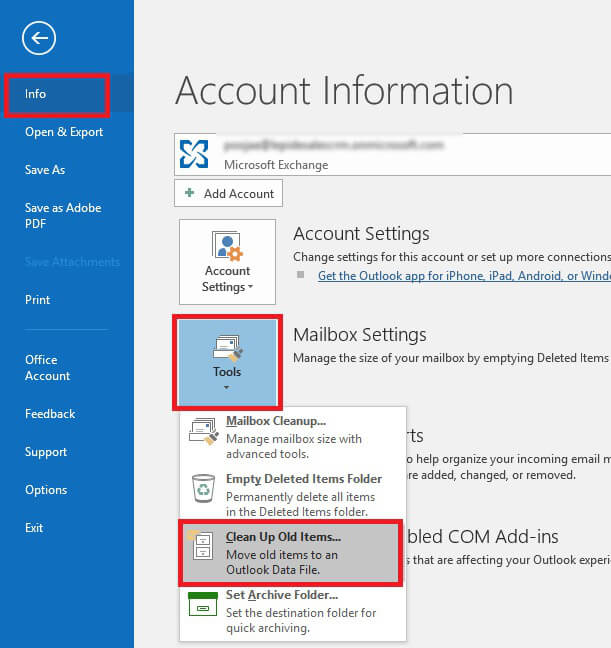 Step 2: Select a folder to Archive, choose a date to Archive older items and click Browse to save the Archive file to the desired location.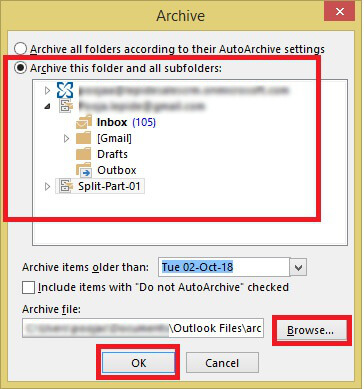 With the help of this technique, you can reduce the size of PST file and save older data items to the desired location one by one within Outlook and use them when required.
Limitations of Using Manual Techniques for Splitting PST File:
The manual methods detailed above for splitting large PST files come with various limitations for Microsoft Outlook users.
The process is time-consuming and lengthy to perform.
Data security and integrity is not guaranteed.
Chances of data loss are high.
You cannot rely on the techniques blindly to split PST file.
Required skilled technical expertise to
Best Technique to Split PST File without Outlook:
While the manual techniques for splitting large PST files are effective and can help prevent corruption and error issues, they may require more time and effort. However, if you're seeking a quick and installation-free solution for splitting PST files, a third-party tool is often the best choice. In the market, you'll find various tools available for this purpose, but one that comes highly recommended and trusted by IT experts for a convenient PST Split procedure is Kernel for PST Split.
This utility serves as a comprehensive solution for splitting PST files with a guarantee of 100% accuracy and without any concerns about data loss. With this tool, you can effortlessly split various Outlook data items, including emails, contacts, calendars, tasks, and more.
Follow the steps given below to split a bulky PST file:
Open Kernel for PST Split.
Click Browse to select the PST data file you want to split and click Next.

Note: If the PST is secured with a password, checkmark the File is password protected option and input password in the same window.

Once the PST is loaded, you'll see all the mailbox folders in the left side of the window.
Select the Split PST file based on date option and click Next.

Note: For demonstration purpose, we've selected Split PST file based on date option; you can select any option as per your preference.

Once you have selected the split option, you can define the parameters to split the file; click Next.

Note: You can define a date range manually as well.

Now, browse for file-save location, and click Ok.
Wait for the splitting and saving to complete.

Note: In case if you wish to make some changes, click Stop.

When splitting and saving is complete, click Finish.
You've split PST file into same size proportions as per the setting in Step-3 & 4.
Final Words:
As previously mentioned, there are several methods available for splitting oversized PST files in MS Outlook, particularly when they exceed the permissible storage limits or are approaching their maximum size. For your convenience, we have provided both manual and automated techniques. While the manual methods serve as temporary workarounds, the professional tool method is the preferred choice for hassle-free PST file splitting.