Read time 10 minutes
Organizations and individuals widely use Outlook as their email client, owing to its simplicity and integration with MS Office and other Microsoft products. Also, it provides Exchange connectivity, which is helpful for enterprise-level email communication.
Though it is a popular email client, users often face many errors while using it. However, amongst many errors, the most frequent error faced by them is "The set of folders cannot be opened." This error often becomes an obstacle for users in accessing their Outlook emails and messages.
The actual reason behind this annoying error is not known yet, as it could appear due to improper setup of Outlook on your system or corrupt PST file linked with the Outlook account. Also, there is no direct solution to solve this error.
But we have figured out some methods that can address this issue effectively. So, let's have a closure look at each of these methods.
Note: Before using any of these methods, make sure you close the Outlook application on your system from the background as well.

1-Start Outlook in Safe Mode
One of the simplest methods to solve this error is to run Outlook in safe mode. In safe mode, Outlook starts without loading the add-ins. To run Outlook in the safe mode, follow this process:
Start the Run command by Pressing "Window+R."
Type "Outlook /safe" and press OK.
A "Choose Profile" dialog box will appear, click "OK."Note: If it asks for account credentials, enter your password and choose "Accept."
If Outlook starts in the safe mode, then there is a problem with the add-ins. To check if Outlook is running in Safe Mode, check the status on top.
Disable add-ins
If Outlook works fine in the safe mode, then you'll have to disable the add-ins. To disable add-ins in Outlook:
Go to File tab and select "Options>>Add-ins."
At the bottom of the window, select "COM Add-ins" in the "Manage box," and then hit the "Go" button.
You'll find a list of all the Add-ins working with Outlook. Deselect all of them and click "OK."
Now, restart Outlook and check if the same error occurs again or not. However, if you still face the same problem, then try other methods.
2-Create a New Outlook Profile
The Outlook profile holds all settings for the MS Outlook application. So, if this profile gets corrupt due to some unexpected errors, it could result in "The set of folders cannot be opened" error. So, try creating a new Outlook profile
Go to Control Panel and Choose "Mail (MS Outlook 2016)".
Select "Show Profiles" from the wizard; a new wizard will appear on the screen.
Hit the "Add" button and give a name to the profile. Also, in the "Auto Account Setup" window, fill the details for your email account to setup up a new profile.
Once you create a new profile, it will appear on the General tab in the Mail dialog box.
In the section "When starting Outlook, use this profile," select the new profile from the drop-down menu of "Always use this profile." And click OK.
After selecting the new profile, restart MS Outlook. And if Outlook starts normally, it means the previous Outlook profile was corrupt. If you're planning to remove the corrupt profile, make sure you create a backup for that profile.
3-Start Outlook from the Taskbar
It is a common fact that users keep their most-used applications pinned to the Taskbar to access is quickly. Well, it has been observed by various users that 'The set of folders cannot open Outlook' error can be avoided by starting the Outlook from the Taskbar.
To do so, make sure that MS Outlook is pinned to the Taskbar on your system. If not, then find the Outlook shortcut on your system and drag it to the Taskbar. Now, right-click on Outlook shortcut in the Taskbar and select 'New Email Message' from the menu.
This way, Outlook will start in a normal way. However, this is just a workaround; it won't fix the error permanently; you will have to repeat the process every time to access Outlook.
4-Use an App Password for Outlook
Most users reported that "Cannot start Microsoft Outlook. The set of folders cannot be opened. The operation failed". error appeared after linking their Gmail account with Outlook. In most cases, it happens when you have enabled two-step verification for the Gmail account.
Two-step verification is a great way to secure your email account from unauthorized access; so, it is recommended to set an App password for Gmail when you link your Gmail account with Outlook.
5-Install the 64-bit version of Office
The 32-bit version of Office doesn't provide that much accuracy and reliability as the 64-bit version. And it is noted that 'the set of folders cannot be opened' error appears mostly in the 32-bit version.
However, if you're using the 64-bit version and still facing the same error, then it is recommended to reinstall the version again. The 64-bit version provides better performance and stability.
6-Remove your Account from the Mail App
Windows 10 is integrated with an in-built email client called Mail, which can be found in Control Panel. It is a great email application to manage and add your accounts, but if you add your Outlook adds accounts directly to the Mail app, instead of adding them to separately to MS Outlook, then it can cause 'the set of folders cannot be opened' error.
But, you can easily fix it by removing your account from the Mail app. To do so, follow the below steps:
Open the Mail app and go to the Accounts section in the left pane.
The 'Manage Account' pane will appear on the screen, select the email account from here.
The Account Setting window will appear on the screen, click the Delete account option below.
A confirmation message will appear on the screen, click Delete to continue.
After removing the account from the Mail app, restart your system, and then access MS Outlook, and you might not face the error again.
7-Remove .XML Files from Outlook Directory
Having XML file in the Outlook directory could be another reason behind 'the set of folders cannot be opened' error. If these files get corrupt, then it can easily cause the error and stop Outlook from opening.
Thus, it is advisable to remove these files from the Outlook directory, which can be achieved with the following steps:
Note: The below method is performed on Outlook 2016; however, the process is similar for every Outlook version.
Press 'Window + R' button and write Appdata in the field, and then click Enter.
The AppData directory will appear on the screen, now navigate to LocalMicrosoftOutlook16*.
Here, find the XML files and relocate them or delete them.
After removing the .xml files, restart Outlook, and you might not face this error again.
8-Repair Outlook Data Files
All the data in Outlook, such as email messages, events, contacts, tasks, etc. are stored in data files (PST). However, these files often get corrupt due to various reasons. So, it can also be the reason behind this error. You can repair such files with the help of Inbox Repair Tool (scanpst.exe). To scan Outlook file with ScanPST, follow these steps;
For Outlook 2016, open

C:\Program Files (x86)\Microsoft Office\root\Office16

Find ScanPST.exe and run it on your system.
Browse the file that you want to repair and hit the "Start" button to scan the file.
Once the scanning process is complete, hit the "Repair" button to repair the file.
Note: If you want to create a backup of this file, then check the checkbox "Make a backup of scanned file before repairing."
The file will be repaired soon, and then you can import it to your Outlook. However, if you're unable to repair Outlook 2016 PST file with ScanPST, then use Kernel for Outlook PST Repair. It is an advanced tool that can repair any corrupt/damaged PST file quickly. For non-technical users, it is a better option because of its simple interface and easy steps. Also, you can use this tool to fix corrupt issues and other Outlook errors in any version of Outlook including Outlook 2019 or any other over versions.
9-Reset Navigation Pane
The navigation pane is the leftmost pane in MS Outlook; it contains all the folders of your Outlook data files and icons like Calendar, Contacts, People, and Tasks. Resetting the navigation pane will remove all the customization of the navigation pane, and it can also solve "the set of folders cannot be opened" error. To reset the navigation pane in Outlook, run "/resetnavpane" command on your system.
Close all applications related to Outlook.
Now, open the Run Command by pressing "Window+R" together.
In the open dialog box, type "outlook.exe /resetnavpane" and press Enter.
If Outlook opens normally after running this command, then your problem is solved.
These are the most effective methods that can be used to solve the error "cannot start microsoft outlook. cannot open the outlook window. the set of folders cannot be opened" in Outlook. In most cases, it is found that this error occurs due to corrupt data file or malware in the computer system. So, make sure your system is secured with antivirus.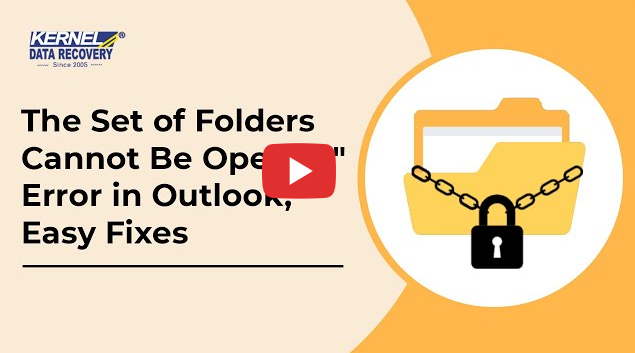 Conclusion
If you are unable to fix the PST errors with the manual methods like ScanPST, then use Kernel for Outlook PST tool. It helps you recover Outlook PST data and save to PST files, Exchange Server, Microsoft 365, Gmail, etc. You can use this tool to fix Outlook errors, PST file corruption, etc. in any version of Outlook.