Read time: 4 minutes
Summary: Backing up your Personal Address Book (PAB) is essential for preserving your important contact information. This guide provides step-by-step instructions on how to create a backup of your PAB, ensuring you can recover your contacts in case of data loss or system issues.
During MS Outlook installation, a default Outlook Address Book is generated, unifying all Outlook Contacts folders. However, it's important to understand that the Outlook Address Book isn't a traditional physical address book. Instead, it operates as a virtual tool, offering a view of your Contacts folder without storing it as a separate file from your data store.
To streamline contact folder usage in a mailbox, Outlook employs a Personal Address Book (PAB). This PAB can hold contact details and email addresses not found in your Outlook Address Book.
Nonetheless, the Personal Address Book (PAB) does generate a separate file on your computer's hard disk drive. It's advisable to ensure that this address book is included in your backup routine. To confirm its backup, always incorporate any file with a .PAB extension into your backup process.
Identify the PAB File Used by Your E-mail Profile:
Launch MS Outlook
Click E-Mail Accounts under Tools menu
Now, click View or change existing directories or address books under Directory and hit Next.
Copy or note path of PAB file as mentioned in the Path box.
For instance: C:\Exchange\Mailbox.pab – this simply indicates that your file name mailbox.pab is stored in the Exchange folder on your C drive.
Click OK and hit the Finish button.
Please Note:You'll require the path information mentioned in Step 4 to locate the PAB file for backup, copying, or transferring contacts to another computer.
How to Copy the PAB File to Another Computer?
Step 1: Close all E-mail programs and launch Microsoft Windows Explorer.
Step 2: Now, follow the path or expand folders as mentioned in Step 4 of Identify the PAB file used by your e-mail profile to locate the PAB file.
Step 3: Now, copy the PAB file to the removable storage device, and use the storage drive to copy the PAB file to another computer.
Additionally, make sure to record the PAB file's path on the other computer.
Say for instance, if you copy the PAB file named Mailbox.pab to a folder that is named Address Book on drive C, the path of the address book is as follows: C:\Address Book\Mailbox.pab
Alternatively, if both the source and destination computers are on the same network, you can easily copy the PAB file from the source computer to another computer through a network share

Please Note: You can save the PAB file in any folder on the destination computer if you remember the location.
Backup Outlook Contacts Folder:
You can create a separate "Backup Contacts" PST file, if you have kept all the contacts in the Contacts folder and your preferred choice is to back up your contacts only.
Firstly, add a new PST to Outlook and name it "Contacts Backup".
For Outlook 2007 and previous – File,>> New >> Outlook Data File.
For Outlook 2010, Outlook 2013 and Outlook 2016 – Home >> New Items >> More Items >> Outlook Data File
To open Contacts Navigation use keyboard shortcut – click CTRL+3.
Now, right-click the Contacts folder which you want to backup and choose Copy Folder.
Select the "Contacts Backup" folder from the dialog that pops-up, set and press OK.
Note: Now, repeat Step 3 & 4 for all contact folders.
Close Outlook and copy the new "Contacts Backup" PST file to your backup location.
Recover Lost Outlook Contacts:
If you've lost Outlook contacts from your profile and are seeking a way to recover them, consider downloading the free evaluation version of Outlook PST Repair software. This tool can repair Outlook PST files and retrieve various data, including contacts, calendars, emails, events, properties, attachments, Unicode characters, images, and even deleted emails. It's a comprehensive solution for recovering lost data from MS Outlook PST files.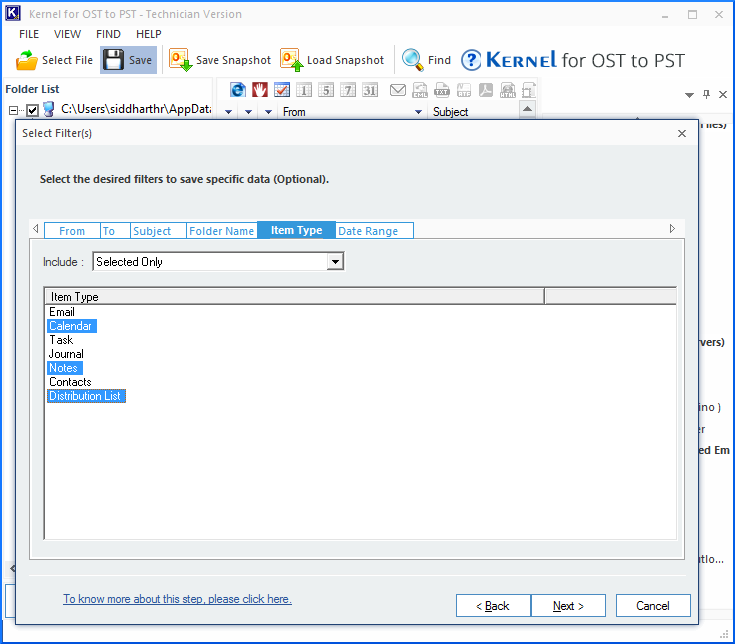 Wrapping Up:
Just for your information, Global Address Lists (GAL) and LDAP lists are stored on connected mail servers or directory servers. This means that even if you forget to back up your address list, they remain accessible. These lists are consistently available and unaffected even if you reinstall your computer's operating system. You can easily reconnect to the server to access the address list.