If you're a daily user of Microsoft Outlook, you know the importance of managing the storage of temporary files. These files accumulate over time and take up a considerable amount of space on your Windows 10 system. Deleting these files can free up valuable space on your storage device and improve the performance of your machine.
In this guide, we'll provide you with step-by-step instructions on how to remove temporary files created by Outlook. It's a straightforward process that anyone can do, and it only takes a couple of minutes. By following these steps, you'll be able to optimize your Windows 10 device for smooth operation of your Outlook application.
What are Outlook temporary files?
Whenever an Outlook user opens or adds email attachments, duplicates of these attachments are saved within a sub-directory of the Outlook Temporary Internet Files folder. Initially, Outlook checks for the existence of the .OLK folder in the registry to store these temporary attachment files. If the folder does not exist, Outlook autonomously generates it. This process is carried out to enhance the security of received attachments by storing them in a separate location.
The basic path location for this temporary internet file for attachments is
C:\Users\%username%\AppData\Local\Microsoft\Windows\Temporary Internet Files\Content.Outlook\
We've discussed the creation of Outlook temporary files, but the question remains: why should we bother deleting them? In the upcoming section, we'll delve into the problems that can arise from these temporary Outlook files, which can ultimately impact Outlook's performance.
Why do temporary Outlook files need to be deleted?
Outlook users encounter the following issues as a result of temporary files in Outlook:
Security risks –
Occasionally, even if you've deleted attachments, opened and closed them, or accidentally closed Outlook, copies of these attachments may still linger in the designated temporary folder. Those familiar with this folder's location can potentially access sensitive information within these attachments. To safeguard your confidential data from potential theft, it's advisable to regularly remove temporary Outlook files from your system.
Disk space –
On occasion, Outlook users encounter difficulties accessing email attachments due to insufficient space in the Outlook temporary files directory. This issue typically arises when a substantial number of attachments accumulate within Outlook over time, and the temporary file folder remains unmanaged. Consequently, this directly impacts Outlook's performance, leading to user frustration. Hence, the user must delete the Outlook temporary files to fix 'Outlook attachments unable to access' issue.
The aforementioned factors underscore the importance of removing temporary Outlook files. Now, let's explore how to locate and subsequently delete these files from the temporary folder that has been generated on your computer.
How to remove temporary files in Windows 10?
Windows 10 offers a convenient built-in cleanup tool for removing temporary and unnecessary files from your system. To do this, simply follow these steps:
Enter 'disk cleanup' into the search bar and then open the utility. Within this tool, you can select the drive on which you wish to initiate the cleanup process.
Select Drive C and then click the "OK" button to reveal a list of available options.
Choose the checkboxes to mark the folder for deletion. This action will display the total amount of data scheduled for removal. Click the OK button, and a pop-up dialog will appear, confirming your intention to permanently delete the file.
Select Delete File. This action will result in the permanent deletion of all files.
Learn to delete Outlook temporary files
Method 1 - Locate temporary files location through Windows registry
This is the primary section for our blog readers. Deleting temporary files after you've identified them is a straightforward task. The entire procedure involves the following steps:
The OLK folder path varies depending on the version of Outlook you're using, and you can obtain it directly from the registry key generated by Outlook. To retrieve the path, simply open the Run dialog by pressing Windows+R, then type "regedit" and click the OK button. The Registry Editor page will get open. Here locate the registry key as per your Outlook versions by following the given paths.
Outlook 2016-HKEY_CURRENT_USER/Software/Microsoft/Office/16.0/Outlook/Security
Outlook 2013- HKEY_CURRENT_USER/Software/Microsoft/Office/15.0/Outlook/Security
Outlook 2010- HKEY_CURRENT_USER/Software/Microsoft/Office/14.0/Outlook/Security
Outlook 2007- HKEY_CURRENT_USER/Software/Microsoft/Office/12.0/Outlook/Security
Outlook 2003- HKEY_CURRENT_USER/Software/Microsoft/Office/11.0/Outlook/Security
Navigate to the "Security" location in the above pathway, then double-click on the "OutlookSecureTempFolder" key in the right pane to access it.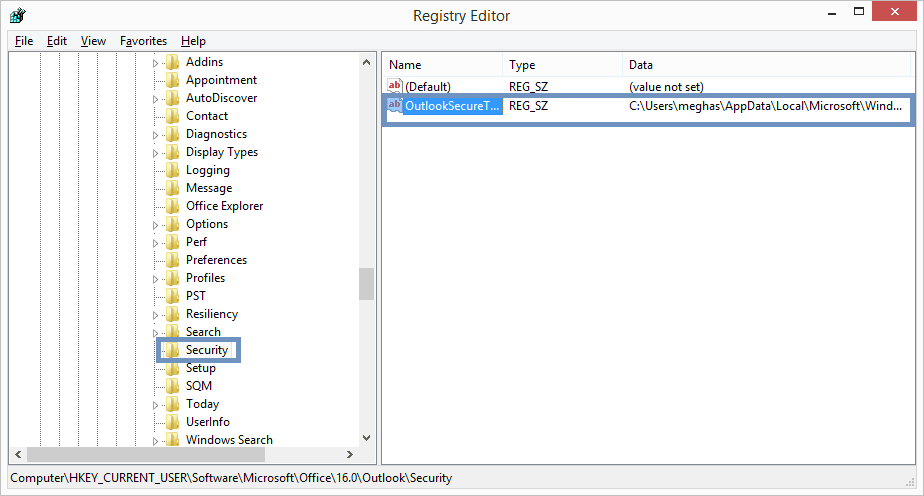 Hold down the CTRL key and duplicate the file folder path.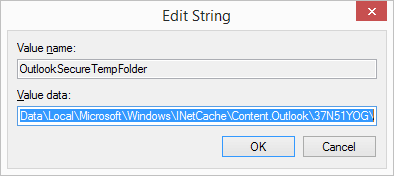 To begin, initiate Windows Explorer by pressing Windows+E. Once it's open, navigate to the top address bar and paste the copied path. Next, hit the Enter key on your keyboard. You should now see the temporary files. Simply choose the ones you want to delete. For permanent removal, also empty the Recycle Bin.
Method 2 - Manually locating temporary files
The method outlined above proves effective in situations where Outlook is properly configured, the 'OutlookSecureTempFolder' registry field is present with a valid path, and all conditions are met. However, if any of these conditions are not satisfied, the Windows Operating System resorts to using the Temporary Internet Files folder as the root directory for temporary file storage. It generates a new folder within the Temporary Internet Files directory, assigning it a randomly generated name. In such cases, you'll need to employ an alternative approach to locate this path, as the previously discussed method will not yield the desired results.
The location of Temporary Internet Files differs depending on the version of Windows you are using. In the following section, we will outline the specific paths for different Windows Operating System versions:
For Windows XP Operating System C:\Documents and Settings\ username\Local Settings\Temporary Internet Files\Content.Outlook
For Windows 7 and Windows Vista Operating System C:\Users\ username \AppData\Local\Microsoft\Windows\Temporary Internet Files\Content.Outlook
For Windows 8 and higher versions C:\Users\username\AppData\Local\Microsoft\Windows\INetCache\Content.Outlook
We've established the default paths for various operating systems, but it's worth noting that the version of your Outlook application can also introduce a slight variation in this regard.
In every Windows version, you'll discover a subfolder featuring a randomly generated name specifically for Outlook 2007 and later editions. You can navigate directly to this path as previously indicated, locate the randomly generated folder, and proceed to erase all of its contents in order to eliminate all Outlook temporary files.
If you are using an older edition of Outlook, like Outlook 2003, you must check the 'Temporary Internet Files' directory based on the registry entry's name to locate the folder containing temporary Outlook files.
Method 3 - Using Outlook Temp Cleaner
Outlook Temp Cleaner is a great tool for those who want to keep their Outlook running smoothly. The utility is completely free and easy to use for any user.
In just a few simple steps, you can download and utilize this tool to safely clear your Outlook temporary files. Run the Outlook Temp Cleaner file and the program will automatically locate and clean up the SecureTempFolder.

In addition, Outlook Temp Cleaner displays the current size of the temporary files in the folder and offers a one-click option to delete all of the files. For those who prefer to schedule their file cleaning process, the Empty Folder option is available.
Also, Microsoft's .Net Framework is required for this tool to function properly. But with that said, Outlook Temp Cleaner is a reliable solution for keeping your Outlook running smoothly.
We've explored three approaches for deleting the temporary files in Outlook. Choose the method that best fits your needs to tidy up your Outlook temporary files. This can also assist in resolving the 'Attachments not opening' problem, though it's just one potential solution. If this doesn't resolve the issue for you, it's possible that your PST file is corrupt. If that is the issue, you need a promising and efficient tool such as Kernel Outlook PST Repair. It is an efficient tool that can fix PST corruption in very quick and easy Steps.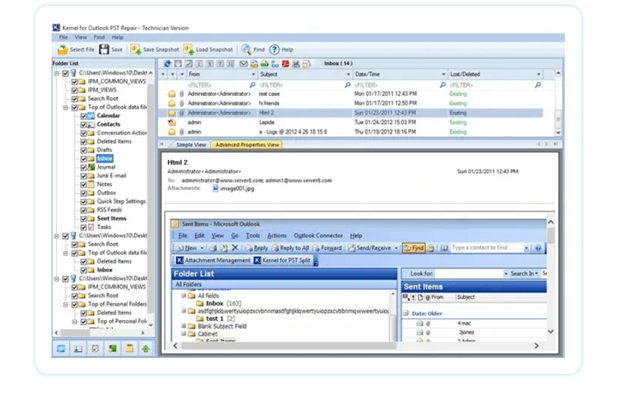 Conclusion:
Microsoft Outlook is an essential productivity tool for many users, and it can generate a considerable number of temporary files while in use. These files serve a critical function in facilitating the smooth operation of Outlook, but they can also pose some security risks.
In this post, we explained the reasons why you may want to delete Outlook temporary files in Windows 10 and provided you with detailed, step-by-step instructions on how to do so. Finally, to ensure that your Outlook PST files remain safe and secure, we recommend using Kernel for Outlook PST Repair tool, which can help you quickly and efficiently address PST corruption issues.