Read time 8 minutes
Summary: Our guide will help you to recover permanently deleted emails in Outlook in easy ways. From the recycle bin to backups, we have got all the step wise solutions for your assistance. For any PST corruption and recovery issues, we are also presenting a top-quality third-party tool with no technical expertise needed.
"Goodness Gracious! I deleted some really important emails!!!!! How on earth can I get those emails back?" Have you ever had such a situation? I sure did and facepalmed myself until I got them back. This is an emotion of the Outlook user who has lost his crucial emails in Outlook with the Delete action.
The miracle of modern technology is that you don't have to despair if you've lost some important data. Most of the time, you'll get them back. The following write-up is divided into two parts. Each part explains how to get back deleted emails. To get a clear idea, keep on reading!

Instant Solution
Kernel for Outlook PST Repair is an automated tool to repair corrupted PST files and recover permanently deleted PST file data.
Recovering recently deleted Outlook emails
So, you deleted some important Outlook emails recently, and you need them back? Worry not! When you delete the emails in your MS Outlook, these deleted emails are moved to the "Deleted Items Folder" in your mailbox. They remain there until being permanently deleted after a particular period. Wondering how you will get the emails back? Click on Deleted Items folder, right-click on the email you need and then click on Move and move it to any folder as you may choose.

Note: The deleted emails retain in the Deleted items folder for 30 days only and the emails in the Junk folder are retained for 10 days only.
Recovering permanently deleted Outlook emails
In case you have permanently deleted emails or deleted emails from the Deleted Items folder on the PST mailbox, follow this procedure:
Note: Outlook emails deleted from the Deleted Items folder can be recovered for up to 30 days only using the Recover Deleted Items option in the Folder tab.
Log in to your Microsoft Outlook account and click on the Deleted Items folder. If there are no items visible in this folder, the folder has been emptied, and all emails have been permanently deleted. Having done that, click on the Folder tab in the top menu bar and then click on the Recover Deleted Items.
Now, select the required deleted email(s) and click on the Recover button which is located in the top-left corner of the screen.
Finally, Outlook starts recovering those deleted emails of yours. Once recovered, check your Deleted Items folder, you will see your deleted emails there. Now move the needed email(s) to the inbox or any of the folders you need to c. move them to use the Move option.
Recycle Bin
Outlook stores deleted emails in the Deleted Items folder for 30 days after deletion. When this period expires, the email will be removed from this folder.
Following are the steps to recover deleted emails from the Deleted Items folder in Outlook.com:
From the left navigation pane, tap on Deleted Items.
Select the message you wish to restore, or select Deleted Items to restore all deleted messages. Tap on Restore.
Emails that are no longer visible in Deleted Items have probably been moved to the Recoverable Items folder where they are kept for another 30 days.
If you want to restore an email from the Recoverable Items folder, navigate to to Outlook.com and follow these steps:
From the left side pane, tap on Deleted Items.
Choose Recover items deleted from this folder.
Choose the email you wish to restore and click Restore in the Recoverable Items folder.
If the deleted emails are not available in either of the folders you can use Kernel software.
Recover from backups
If you have good backups for your emails, you can try to recover your emails from your backups. However, most email users do not back up their email regularly. So, they will have to find another way to recover deleted emails from Outlook.
Why should I use the Kernel for Outlook PST tool?
Wondering why you should use a professional email recovery tool for MS Outlook? Well, the capabilities of Kernel for Outlook PST to repair PST files make the software, the best choice among all Outlook users. This tool eases the PST recovery process thereby enabling you to export PST file emails to an accessible format like the following: DBX, EML, or MSG.
Moreover, the software provides speedy recovery of PST files when you've accidentally or purposely deleted emails. The software has many advanced features as well as options that will help you retrieve deleted emails from MS Outlook.
Additionally, you can migrate an entire mailbox of MS Outlook to the most popular email servers, web-based email applications, and Office 365 cloud. It is designed with QFSCI algorithms, which helps you to preserve the properties and formatting, along with email metadata (To, Subject, CC, BCC, From) of the recovered email items. Moreover, the software also recovers and retrieves all necessary data which includes the following:
Notes
Scheduled tasks
Appointments
Calendar entries
Journal
Drafts
Deleted items
How does it work?
We have seen why you should consider getting this software, but it is essential that we know how to make use of it. Here are the steps to recover the deleted emails using the Kernel for Outlook PST software:
Click on Start, go to All Programs, search out and click on the tool to launch the software. The main window of the software is seen. Click on the Browse button to select the PST file, if you've got an idea about the location of the PST file. Click Next.

Note: However, if you do not know the precise location of the PST file, click on the Search button, and then search for the PST files.
You will have a preview of the items that the file contains. Click on the Save button on the top to save the items.
Select the desired format, like PST file 1. (MS Outlook), and click on Next.
Now at this stage, apply the filters as per your requirements and click on Next.
Manage your recovered PST by choosing whether to split or attach a prefix. Do as you wish and click on Next.
Provide the destination to save your file by clicking on the Browse button. You can select other options as per your requirements, but in the Saving Preferences check the box 'Save all emails (including deleted)' and click on Finish.Note: This is the most important step, as this is the only step where you can choose to recover deleted emails. We have selected Save all emails (including deleted) as per our requirement, but you can also select Save deleted emails only if you want to recover deleted emails only and no other emails.
Once the process is done, click on OK.
This way, without worries, you can recover deleted emails from Outlook.
Conclusion
It is quite common for Outlook emails to be deleted either intentionally or by mistake. But with our guide, you can easily recover those deleted Outlook emails in no time. From using the Recoverable Items folder to the Recycle bin, just follow our steps carefully and get your emails back instantly. Along with email recovery, we advise you to always keep a top-notch PST repair software like Kernel for PST Outlook Repair to counter any kind of existing PST issues. Go for the trial today.
Watch Video: To know the Complete Process of the Tool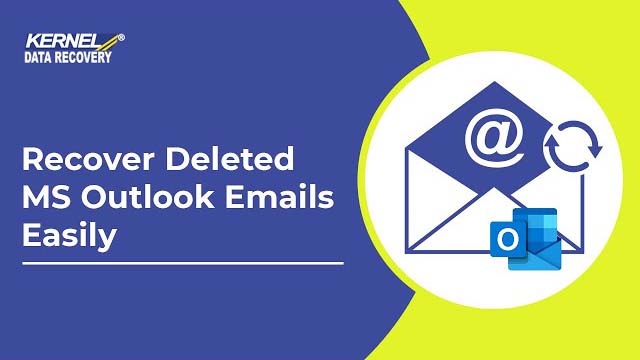 Review by the Popular Download Sites
Review by informer.com Users

Review by Softpedia Users