Read time 7 minutes
An Outlook PST file is primarily used to store messages, appointments, calendar and more within Microsoft's Outlook email client. Accidental deletion of email items is quite a common issue with many Outlook users. If you look at any storage facility you will find an accompanying failsafe mechanism for deleted items (such as Recycle bin for MS Windows OS). But what about the permanently deleted files? Well, the truth is that the permanently deleted files are not erased from your system entirely until overwritten (due to low disk space). The storage location of these files is just marked as an available space; hence recovery is possible. Similarly, Outlook has a Deleted items folder in all available versions. In the event of soft deletion of emails, look in the Deleted items folder for recovery. But due to Outlook's Retention Period policy, these emails are automatically deleted from the Deleted items folder periodically. The retention period is 14 days by default but can also be altered easily.

Instant Solution
Try automated tool Kernel for Outlook PST Repair to repair corrupted PST file and recover deleted emails from Outlook 2019/2016/2013/2010 & 2007 PST file.
Reasons Behind Deletion of Emails
The main reasons for emails being lost from a PST file are:
Accidental or intentional deletion (emails deleted using Shift + Del keys).
Emptying of the deleted items folder by mistake.
Set retention period for deleted items is over
User has selected Outlook Advanced option "Empty Deleted Items folder when exiting Outlook"
Ways to Recover Deleted Emails from PST File
Method #1: Recover from Deleted Items Folder
You can recover deleted email messages that are still present in the Deleted Items folder.
Follow the steps one by one to perform a successful recovery:
Step 1: Launch MS Outlook and click on the Deleted Items folder.
Step 2: Select the mails that you would like to move and finally select the folder in which you would like to move that.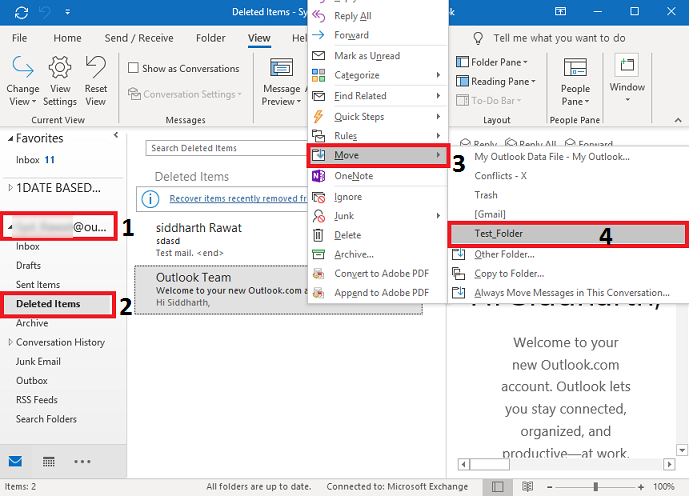 Step 3: If you have deleted some emails from this Deleted Items folder then also it is possible to recover the emails. Click on the Recover items recently removed from this folder link.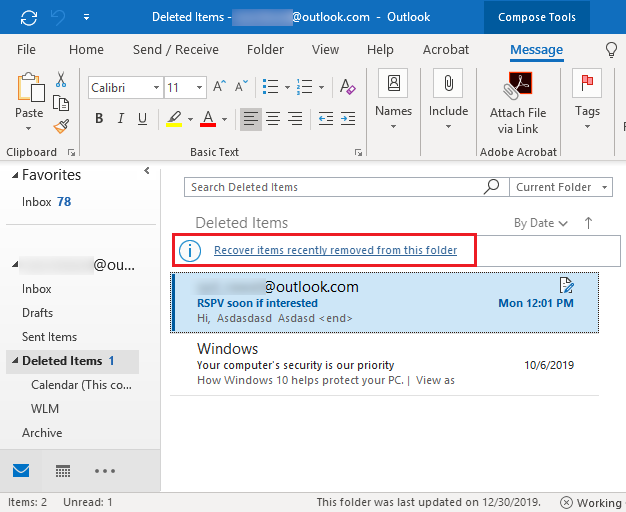 Step 4: Now, select the mails that you would like to recover and hit OK.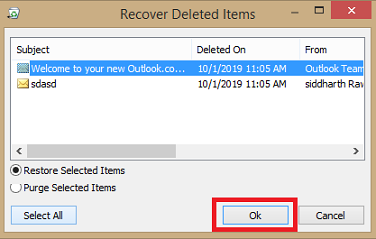 Step 5: Now check your Deleted Items folder. These items will be restored back to this folder. You can relocate the items to the desired location.
Similarly, you can also try recovering contacts, calendars, tasks, etc. from the Recoverable item folder of Outlook.
Method #2: Use Backup and Restore
One can quickly restore these permanently deleted Outlook items if the backup is available.
Step 1: Go to the Control Panel and search for backup then click on Restore my files.
Step 2: Now click Browse for Files or browse for folder to select a previously created backup.
Step 3: Next select a place to save your files.
The above manual solutions can help you only if the file items are not deleted permanently, the retention period is not over and the backup is available for restore. Otherwise, these solutions are in vain and an alternative is required to be found.
Method #3: Recover Using an Automated Solution – Kernel for Outlook PST
The most effective method to recover deleted emails(even permanently deleted items) is Kernel for Outlook PST Repair, which has got its name proudly placed at the top of the email recovery brand list. With the help of this tool, one can also repair a POP3 PST File of Outlook and can get rid of PST file access denied error.
Step by Step Guide to Recover Deleted Emails from PST File
Step 1: Launch the tool and hit the Browse button to choose the PST file for recovery.
You can also search for a PST file when you are not aware of the location of PST file using the Search button.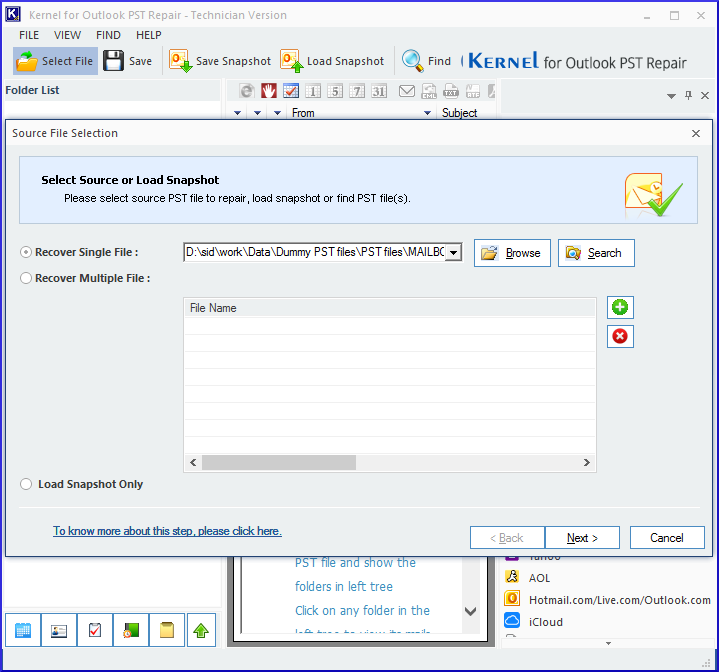 STEP 2: You can view all the content of the PST file, including the emails.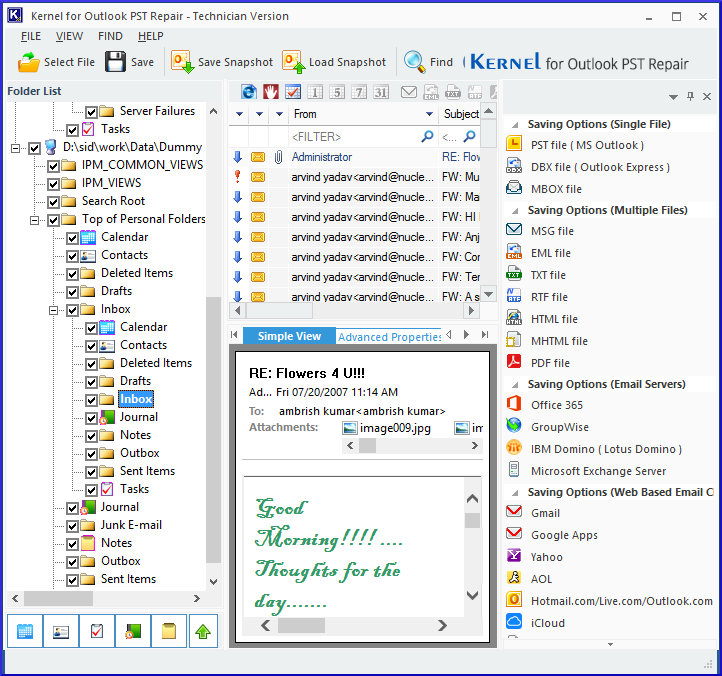 STEP 3: Choose PST file (MS Outlook) as the output file format to save the data of the repaired PST file and click Next.
STEP 4: Apply filters as required and click Next.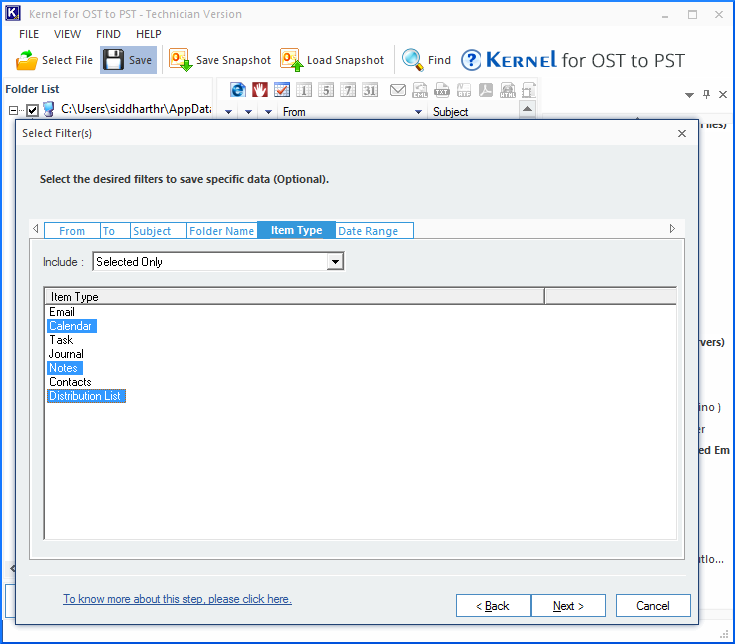 STEP 5: Provide the destination to save the PST file successfully, select Saving Preferences as Save all emails (including deleted), and click the Finish button.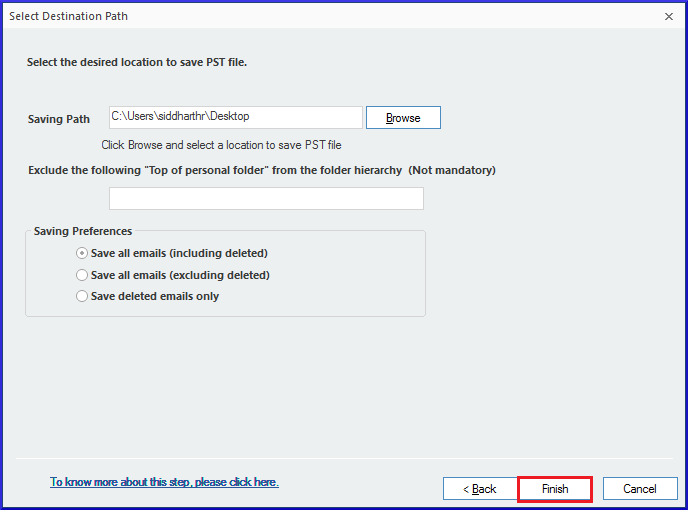 Once the PST file is saved successfully, the software will notify you as shown. Click OK.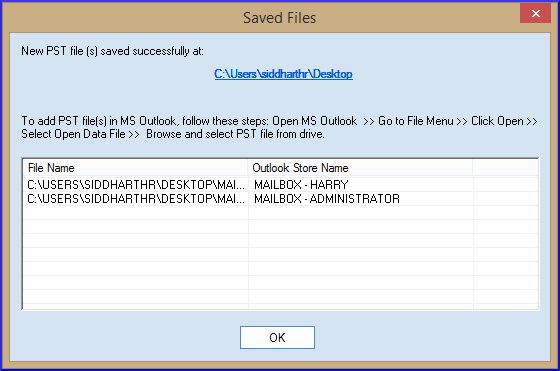 Final Words
If you have lost or deleted emails accidentally, then you must not compact your PST files or must avoid saving any new data, as there are chances of overwriting. Recovering deleted emails should be the first preference. The deleted item recovery method in Outlook is very much simple. Also, you can recover deleted items using Kernel for Outlook PST. Additionally, this tool can efficiently deal with the notorious Cyclic redundancy error.
Expert Reviews on Technet: Outlook 2013 very slow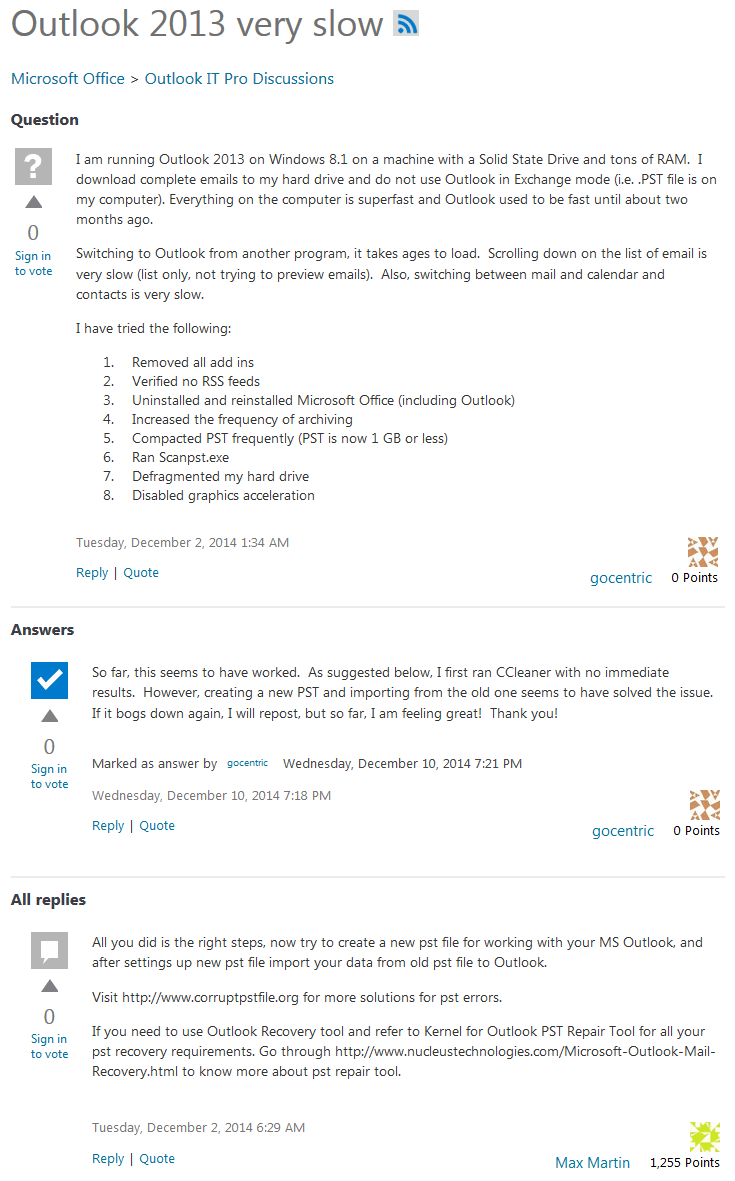 Expert Reviews on TechNet: Outlook 2013 is showing verifying Data Integrity