Read time 7 min
"I am a new Outlook user and hence not aware about a lot of technicalities associated with this application. Today, as I opened Outlook, I realized that a few of my emails are missing, I was shocked by seeing this change at first, but didn't try anything because of the fear of losing them permanently. Why is it happening, and how can I fix this?"
Just like the above user, someday you too may surprisingly find out that some of your emails are missing from your Inbox folder. These emails can be the recent ones or older ones, can be of a certain subject or by a certain person, and so on. This blog is going to help you recover all the disappeared emails from your Outlook mailbox.
Why do Emails Disappear Suddenly?
There are several reasons due to which your emails might be missing from your mailbox. A few are reversible, while a few are not. Let's discuss the possible reasons:
Issues in configuration settings

There might be some issues in POP or IMAP settings of your account. If you have made any mistake while configuring them, you may face this issue.

Accidental deletion of emails

You actually might delete emails accidentally and not realise it and hence they might be disappearing from your account. Let's say you have Outlook configured in your mobile and it is synced too. Unaware of this sync, you are deleting emails when they are actually getting deleted from your account and not just from your mobile.

Inactivity

If you have been inactive for a long while, then also you may face this issue.

Wrongly set Filter option

If you have applied wrong fiters you may be unable to read emails that are a few days old, read, unread, without attachment, etc.

Hacked Outlook account

You can also face this issue if your Outlook account is hacked or misused by someone. Try changing your password.
How to Fix this Issue with Easy Manual Methods?
As we have discussed, there are many reasons why emails may disappear. To solve this problem, we are going to discuss a few of the most suitable manual solutions. Let's check them out:
Solution 1: Check Deleted Items Folder

If you can't find a few messages in your Inbox in Outlook, then probably you have deleted those emails accidentally. These emails you delete from the inbox, actually don't get eliminated right away. Instead, these emails get saved in the Deleted Items folder. So, to recover deleted items, go to the Deleted Items folder and recover emails from there.

Solution 2: Check Filters
Sometimes filters can be a major reason why emails are disappearing. So, try to make changes in the filter settings. To change the filter setting, follow the below-mentioned steps:

Start with opening Outlook and click on the View tab.
In the current View area, click on the View Settings option.
In the new Advanced View Settings dialogue box, click on the Filter option.
Now, in the new Filter dialogue box, go to the More Choices tab.
In this category, see if any filter box is checked; if yes, then uncheck all and click on OK.

Solution 3: Search emails with the help of Advanced FindIf you can't find a few of the emails that were there before in your inbox, try searching them with the Advanced Find feature of Outlook. To do so, follow the below-mentioned steps:

Open Outlook and go to Inbox.
In the top section, click in the Search box to activate the Search Tools tab.
Now, expand the Search tools drop-down, select Advance Find.
Now, in the given columns, enter the suitable details of the emails you want to search. There are three categories, and you can select the one that suits you.

Solution 4: Export Old mail history, Create a New Outlook Profile, and Import Old mail history.By exporting old emails and then importing them to a new Outlook profile, all the disappeared emails can be brought back in your mailbox. Let's know all three steps, one by one, in a detailed manner.

Export Old Mail historyExporting old mail history is the first step to bring back lost old emails. So, let's get started:

Run Outlook.
Locate the File menu; click on it and select Open & Export.
Select Export/Import from the menu of Open & Export.
Now from the Import and Export Wizard dialogue box, select Export to a file.
Select Outlook data file (.pst) from Export to a File dialogue box.
Select the email account you want to make changes to.
After selecting the email account, make sure the Include Subfolders box is checked.
Now, click on Next to move forward.
In the new dialogue box, now click on the Browse button and select the location to export the file and also provide it a name.
Now select an appropriate option from the given ones, here we are going to select "Replace duplicates with items exported" option, as it is our current requirement.
Once done, click on the Finish button.

Once finished, you must be able to see those disappeared emails again.

Create a New Outlook Profile
To make a new Outlook profile, open Control Panel and follow the below-mentioned steps:

Once you enter the Control Panel, locate the Mail icon and click on it.
Once the dialogue box is open, click on the Show Profiles option.
Now, click on the Add button to create a new profile.
Add a profile name and click on OK.
Now follow the on-screen instructions and provide the necessary details to create a new Outlook profile.

Import Old Mail History
The last of the three steps is the Import the old mail history to the newly created Outlook profile. To start this process, open Outlook and follow the below-mentioned steps.

Click on the File menu. Select Open & Export from the given options.
Now select the Import/Export option from the list.
From the dialogue box, select Import from another program or file and click on the Next button.
From the new list of options, select the Outlook Data file (.pst).
Click on the Next button to proceed further.
Now in the next step, click on the Browse button.
Search the file that you saved while performing the export function, select that file and wait for the history to sync properly. Once the wizard notifies you that all folders are up to date, you can check your Outlook profile for the newly imported emails.

This was the last of the three steps, after performing which you will be able to bring all your disappeared emails back to the new Outlook profile.
How to recover permanently deleted emails easily?
Well, if the above-mentioned methods are a bit boring or difficult for you, we suggest you a shortcut method – do it with an automated PST repair tool. We can use Kernel for Outlook PST Repair to recover permanently deleted emails or fix corruption in the PST file. Try its trial version for free to get an idea about its features and working. Here is a screenshot of the tool where you can see an option to save deleted emails only.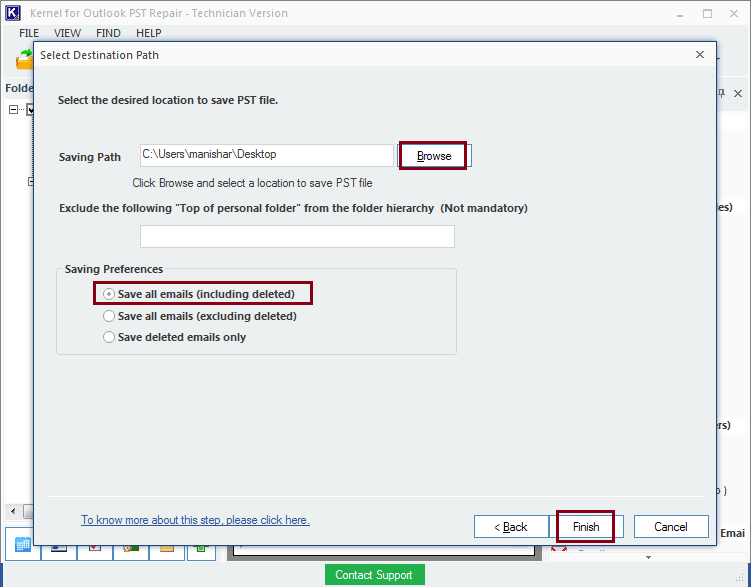 Conclusion:
In the article, we have presented both manual techniques and the advanced software to find out why the incoming Outlook emails disappear and how you can recover emails. If the manual method does not recover the data, then you can use Kernel for Outlook PST Repair software that will recover all the emails including the deleted ones. Later, you can save the emails again in a new PST file.