Read time: 3 minutes
Summary: If you facing ScanPST is Not Available when Outlook is Installed? Explore this guide for solutions and consider Kernel PST Repair tool, a robust tool to efficiently tackle PST file corruption, ensuring a seamless Outlook experience.
There can be various reasons for the PST file getting corrupt or damaged as a result the set of folders cannot be opened in Outlook. To repair them, Microsoft has an inbuilt Scanpst.exe utility which helps you to scan and repair damaged or corrupt PST files. But there can be scenarios when you are not able to find Scanpst.exe, or it is not able to work. Let us look into the issue and try to solve it through this blog.
What is scanpst.exe?
Scanpst.exe or Inbox Repair Tool is meant to repair PST files and is installed automatically with all MS Outlook installations.
Where can you find scanpst.exe?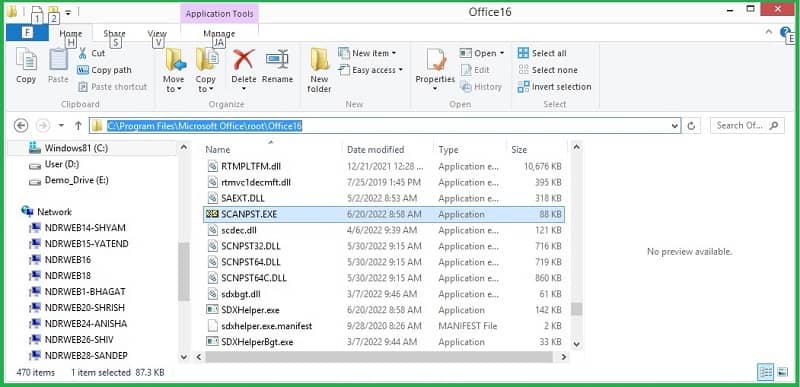 You can find the Scanpst.exe in one of the following locations:



The location of the Scanpst.exe in different Outlook versions is given below:
Outlook Version
Location of scanpst.exe file
2007
C:\Program Files\Microsoft Office\Office12
2010
C:\Program Files\Microsoft Office\Office14
2010 32-bit installed on Vista 7 64-bit
C:\Program Files(x86)\Microsoft Office\Office14
2013
C:\Program Files\Microsoft Office15\root\Office15
2016
32-bit Windows C:\Program Files\Microsoft Office\Office16
64-bit Windows C:\Program Files(x86)1Microsoft Office\Office16
64-bit Outlook C\Program Files\Microsoft Office\Office16
64-bit Windows C:\Program Files(x86)\Microsoft Office\root\Office16
64-bit Outlook C:\Program Files\Microsoft Office\root\Office16
Scanpst.exe cannot be found – Why?
When installing Outlook on Windows 10, the installation location varies depending on whether it's downloaded from the Microsoft Store or the Office website. Additionally, certain security restrictions may prevent the direct execution of specific .exe files. Consequently, there are instances where the instant search does not display any result in Outlook.
How to find out if you have installed Outlook from the Microsoft Store?
You can determine the installation path of Outlook using either of the two methods outlined below:
Method 1
Open Outlook and go to Start>Settings>Apps.
If you can see Microsoft Office Desktop apps, you have installed Outlook via Microsoft Store.
Method 2
Go to File>Office Account
See the information regarding the version of Outlook, which is displayed next to "About Outlook."
It may show "Microsoft Store," indicating installation of Outlook via Microsoft Store. Or it may show "Click-to-run" indicating installation of Outlook via Office website.
How to open scanpst.exe when Outlook installation is via the Microsoft store?
Open scanpst.exe through another Microsoft Office App (installed via MS Store)
We have tried to explain the steps here:
Open any File Browsing dialog like File>Open>Browse, Insert>Picture
Browse to C:\Program Files\WindowsApps
Open the below-named folder:

Microsoft.Office.Desktop.Outlook_####.####.####.#_x86_8wekyb3d8bbwe where # is the version of Outlook
Note: Do not select that Outlook folder that has "neutral" in its name.

Open the folder: Office 16
On the right bottom corner, set the dropdown filter dialog to All Files (*.*)
Scroll and right-click on Scanpst.exe.
Choose Open.

In this way, you can open Scanpst.exe.
Switch from installation via Microsoft Store to installation via Microsoft Office web
To do this task, follow the steps given below:
Go to Start>Settings>Apps.
Uninstall Microsoft Office Desktop Apps.
Go to Office.com and log in.
Click Install Office.
Follow instructions to complete the process.
Conclusion
While Scanpst.exe (Inbox Repair Tool) is a free utility provided by Microsoft for repairing PST files, it may not address all Outlook PST corruption issues effectively. For a more efficient solution, consider Kernel PST Repair. This tool is designed to repair and restore corrupt and damaged PST files, regardless of the extent of damage, file size, or quantity of PST files. In addition to repair and restoration, Kernel PST Repair offers the capability to migrate PST files.