Read time 4 minutes
OneNote, an integral component of the MS Office suite, serves as a powerful tool for efficiently structuring your concepts and endeavors through the creation of tasks and notes. Regrettably, it is frequently overlooked and underutilized. Functioning as a virtual counterpart to a traditional notebook, it empowers users to capture notes in a digital format. Accessible across notebooks, tablets, and smartphones, it comes preloaded on Windows 10 and boasts a wealth of compelling features.
Over the recent years, tablet PCs equipped with pen control have experienced a notable surge in popularity, particularly among college students and designers. This resurgence has breathed new life into applications like OneNote. Digital notebooks offer numerous advantages over their traditional paper counterparts, as printed information is susceptible to loss or damage. In contrast, these digital documents can be seamlessly uploaded to cloud storage, greatly reducing the risk of data loss. Below, you'll find a compilation of lesser-known yet highly useful features of OneNote:
Create a Notebook: You have the ability to craft a digital notebook within OneNote. Embracing a paperless approach not only benefits the environment but also aligns with the current imperative.
Move or Add Notebook Pages: OneNote provides a seamless experience of "Fluidity," allowing users to effortlessly adjust the page order as their project evolves.
Type or Write: This feature offers two ways to add content to your notes: through typing or handwriting with a digital pen or stylus. Additionally, it supports more advanced functionalities like converting voice input to text and transforming photos into text.
Prioritize Tasks: Similar to MS Outlook, OneNote allows users to efficiently prioritize and categorize tasks using a variety of searchable tags.
Add Multiple media Formats: To make your notes more engaging and livelier, the user can add all sorts of files such as recordings, PDFs, images, and more. With this feature, one can convey ideas more clearly and efferently.
Use OneNote for Free on Mobile and Web: With this capability, you can do so much while on the go.
Sync Note Among Multiple Devices: All your notes can be accessed from any device as it is possible to share and sync your notes to the cloud.
When paired with OneNote, MS Outlook becomes a powerful tool for efficiently organizing ideas. Within an Outlook task, you have the capability to incorporate start dates, due dates, reminders, priority levels, and additional details. These tasks within MS Outlook stand apart from the To-Do List, as they are generated independently and not linked to any specific email. Importing Outlook tasks into OneNote has become a straightforward process, outlined in the steps below:
Step 1:
Launch MS Outlook and in the bottom-left pane click on the Tasks icon as shown below: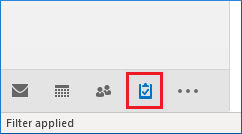 Step 2:
Next, click on the Home tab and then the New Task icon.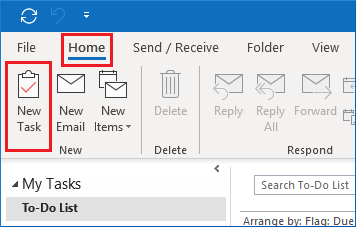 Step 3:
In the new task window, fill in the empty fields and click on Save & Close icon.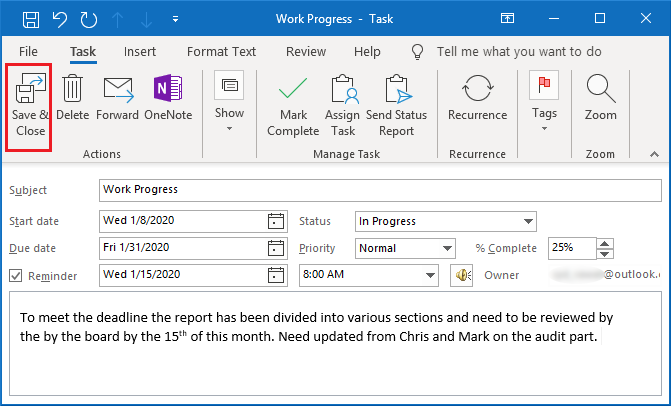 Step 4:
Next, right-click on the earlier created task and select OneNote from the options.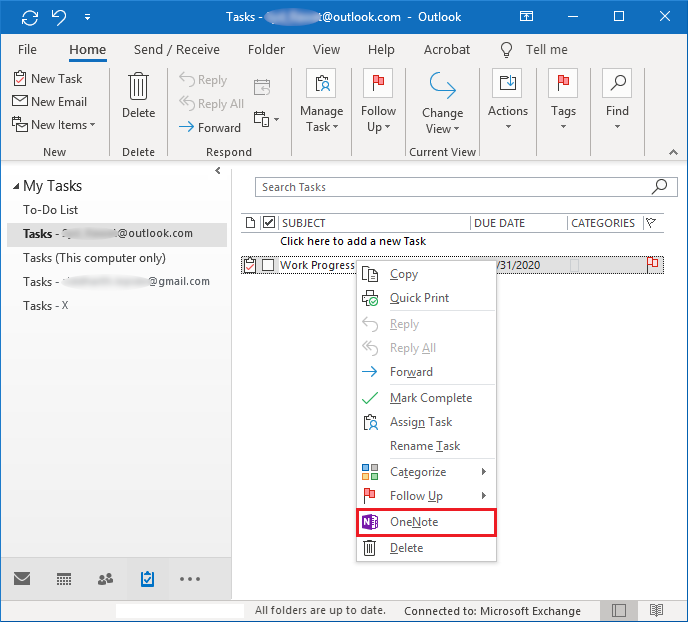 Step 5:
The previous step will automatically launch OneNote with your newly imported task, as shown below: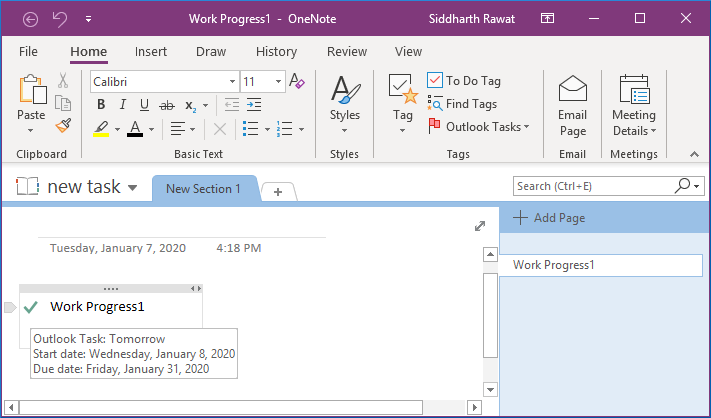 Conclusion
In this discussion, we've covered a range of OneNote features and outlined the steps for seamlessly importing tasks from Outlook. In summary, the integration of Outlook and OneNote leads to a notable boost in work efficiency. As mentioned earlier, OneNote tends to be underestimated within the MS Office suite, but an increasing number of users are discovering its valuable features, making it increasingly popular across diverse user profiles. Opting to import tasks from Outlook to OneNote allows users to focus more effectively on their current tasks without the need for constant switching between the two platforms.