Read time: 7 minutes
In today's busy world, it is more important than ever to stay organized. That is why so many people rely on Outlook Calendar to keep track of their appointments and meetings. But what if you also want to share your calendar with your colleagues? That is where Slack comes in.
There is no question that Outlook Calendar and Slack are two of the most widely used business tools out there. But what happens when you need to sync your Outlook Calendar with Slack?
Do not worry; it is actually a lot simpler than you might think. In this step-by-step guide, we will show you how to do it in just a few minutes & you can get the most out of both apps.
How Do Outlook Calendar and Slack Benefit Together?
Outlook Calendar is a tool that helps you manage your schedule and keep track of notable events. Slack is a team communication app that allows you to chat with colleagues, share files, and stay up to date on what's happening in your project. When you sync Outlook Calendar with Slack, you'll be able to see your upcoming events in Slack and get reminders about upcoming events in Slack so that you don't forget about them.
Stay up to date on your team's schedule:
When you sync Outlook Calendar with Slack, you can easily see what events are coming up and when people are available. This helps you stay organized and on top of your team's schedule.
Save time with automated responses:
With Outlook Calendar and Slack synced, you can set up automated responses that will let people know when you are busy or away from your desk. This saves you time and ensures that people always have the most up-to-date information about your availability.
Reduce the risk of double-booking:
When your calendar is front and center in Slack, it is easy to see when someone else is already booked for an event. This can help reduce the chances of accidentally double-booking yourself or another team member.
Reduce email clutter:
By synchronizing your Outlook Calendar with Slack, you can reduce the amount of email clutter in your inbox. This makes it easier to find valuable information and stay organized.
Centralize all your meeting information
When you sync your calendar with Slack, all of your meeting information will be available in one place. This can be a huge time saver when trying to coordinate schedules.
Setting Up Outlook Calendar to Sync with Slack
As you Sync iCloud calendar with Microsoft Outlook, the same goes for Slack. You can easily sync your Outlook Calendar with Slack, so you never have to worry about double-booking yourself again. Here is how:
Solution 1: Using Slack for Outlook Plugin
You can now integrate these two platforms with Slack for Outlook Plugin. This Microsoft Office add-in allows new or upcoming events in your Outlook calendar to be synced directly in Slack.
Download and install the Microsoft Outlook Plugin for Slack from the App Store.
Once installed, open the plugin, and sign in with your Microsoft account.
Grant the plugin permission to access your Outlook Calendar.
Select which calendar you would like to sync with Slack, then click "Save."
Solution 2: Direct Manual Method
Here is the direct method that users can carry out to sync Outlook Calendar with Slack.
Firstly, access Slack on your PC & select a workspace for the app.
Tap on the Browse option & Type up Outlook Calendar in the Search bar.
Look out for Outlook calendar & hit the Add button.
Choose the option Add to Slack.
Type your credentials and tap on Allow.
From the Shortcuts button, click on Outlook Calendar and choose an action to execute.
How to Use Outlook Calendar with Slack?
Once you have set up the connection between Outlook Calendar and Slack, you will be able to see your upcoming events in Slack. To do this, simply type "/cal" in the Slack search bar, and all your upcoming events will be displayed.
You can also get reminders about upcoming events in Slack. To do this, you can use the Reminders tab in your Outlook Calendar settings. Then, choose how far in advance you want to receive the reminder and whether you want it to be a private message or a public channel message.
Troubleshooting Tips if Something Goes Wrong
If you are having trouble getting Outlook Calendar and Slack to work together, there are a few things you can try.
First, make sure that you have given Slack permission to access your Outlook Calendar. To do this, go to the App Management settings in Slack, and make the required changes.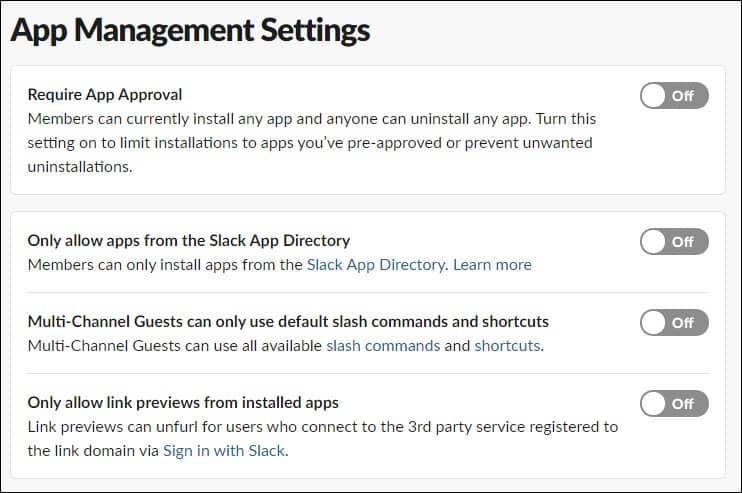 If that does not work & in case you face Outlook not opening in Windows 10 issue, try disconnecting and reconnecting your Outlook account from Slack.. To do this, go to the Manage tab in your Slack settings, and look for the installed apps. Deactivate the Outlook Calendar app & then you need to reconnect Outlook Calendar again.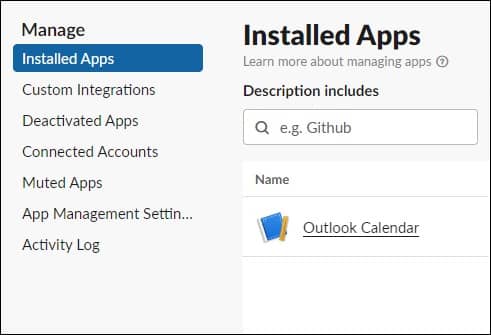 Additional Features of Outlook Calendar Synced with Slack
Here are some of the additional features related to Outlook Calendar & Slack.
In addition to seeing your upcoming events and getting reminders about them in Slack, you can also use Outlook Calendar to schedule meeting times with colleagues.
If you need to cancel or reschedule a meeting, you can do so directly from Outlook Calendar.
Outlook Calendar also allows you to set up recurring events, so you do not have to enter the same information repeatedly.
Finally, if you need to share your Outlook Calendar with someone else, you can go to the "Share" tab in your Outlook Calendar settings and select the "Invite people to view my calendar" option. Even you can export Outlook calendar to word easily as per your convenience.
Now we know how easy it is to sync Outlook Calendar with Slack and what benefits they bring to the users. But it is always advisable to keep repairing your PST files in case your Outlook stops responding or your data files become inaccessible. But how do we go about it?? We have a top-of-the-line solution for you: Kernel for PST Repair.
It is a reliable and effective software that can repair corrupt or damaged PST files with ease. The software features a powerful scanning algorithm that can scan and repair PST files of all sizes. It can also recover lost or deleted emails, contacts, calendar items, tasks, notes, journals, etc., from corrupt PST files.
The software also provides an option to split large PST files into smaller parts for easy management. Moreover, the software allows you to save the repaired PST files in different formats such as DBX, EML, MSG, HTML, MBOX, etc. You can also choose to export the repaired PST files to Office 365, email servers (Novell GroupWise, MS Exchange Server, Lotus Domino) & web-based email accounts.
Final Thoughts
Outlook and Slack can be synchronized to keep everything on the same console. Now that you know how to sync Outlook Calendar with Slack, it's time to get started. The process is simple and should only take a few minutes to complete. Follow the steps we outlined above, and in no time, you'll be enjoying all the benefits of having your calendar synced directly with your Slack team.
Moreover, if you are having trouble getting started or experiencing problems with Outlook, our tool can help. It repairs all types of PST file corruption issues and recovers all lost or inaccessible data from the repaired PST files. You can try out the free trial version of the software to check its features & performance.