Read time: 7 minutes
Summary: Synchronizing Outlook Calendar with Slack is a straightforward process that enhances productivity. By following simple steps, users can integrate their calendars, view upcoming events in Slack, and receive reminders. Furthermore, maintaining a reliable PST file repair tool like Kernel for PST Repair is essential for resolving Outlook-related issues and safeguarding data integrity.
In our fast-paced modern world, staying organized is a top priority. That's why many individuals depend on Outlook Calendar to manage appointments and meetings efficiently. But what if you need to share your calendar seamlessly with colleagues? That's where Slack comes to the rescue, offering a powerful solution for enhanced collaboration and synchronized scheduling.
Undoubtedly, Outlook Calendar and Slack are among the most popular business tools in use today. But what happens when you find the need to sync Outlook Calendar with Slack?
Don't worry; synchronizing your Outlook Calendar with Slack is simpler than you might expect. In this step-by-step guide, we'll show you how to do it in just a few minutes, so you can maximize the benefits of both applications.
How Do Outlook Calendar and Slack Benefit Together?
Outlook Calendar serves as a powerful tool for schedule management and event tracking, while Slack is a team communication application facilitating chat, file sharing, and project updates. Syncing Outlook Calendar with Slack provides the advantage of viewing your upcoming events within Slack and receiving timely reminders, ensuring you never miss an important appointment.
Stay up to date on your team's schedule:
When you sync Outlook Calendar with Slack, you can easily see what events are coming up and when people are available. This helps you stay organized and on top of your team's schedule.
Save time with automated responses:
With Outlook Calendar and Slack synced, you can set up automated responses that will let people know when you are busy or away from your desk. This saves you time and ensures that people always have the most up-to-date information about your availability.
Reduce the risk of double-booking:
When your calendar is front and center in Slack, it is easy to see when someone else is already booked for an event. This can help reduce the chances of accidentally double-booking yourself or another team member.
Reduce email clutter:
By synchronizing your Outlook Calendar with Slack, you can reduce the amount of email clutter in your inbox. This makes it easier to find valuable information and stay organized.
Centralize all your meeting information
When you sync your calendar with Slack, all of your meeting information will be available in one place. This can be a huge time saver when trying to coordinate schedules.
Setting Up Outlook Calendar to Sync with Slack
As you Sync iCloud calendar with Microsoft Outlook, the same goes for Slack. You can easily sync your Outlook Calendar with Slack, so you never have to worry about double-booking yourself again. Here is how:
Solution 1: Using Slack for Outlook Plugin
Now, you can effortlessly link these two platforms using the Slack for Outlook Plugin. This handy Microsoft Office add-in facilitates the synchronization of new or upcoming events from your Outlook calendar directly into Slack.
Download and install the Microsoft Outlook Plugin for Slack from the App Store.
Once installed, open the plugin, and sign in with your Microsoft account.
Grant the plugin permission to access your Outlook Calendar.
Select which calendar you would like to sync with Slack, then click "Save."
Solution 2: Direct Manual Method
Here is the direct method that users can carry out to sync Outlook Calendar with Slack.
Firstly, access Slack on your PC & select a workspace for the app.
Tap on the Browse option & Type up Outlook Calendar in the Search bar.
Look out for Outlook calendar & hit the Add button.
Choose the option Add to Slack.
Type your credentials and tap on Allow.
From the Shortcuts button, click on Outlook Calendar and choose an action to execute.
How to Use Outlook Calendar with Slack?
After establishing the connection between Outlook Calendar and Slack, you can easily view your upcoming events in Slack. Just type "/cal" in the Slack search bar, and all your upcoming events will be displayed.
Additionally, you have the option to receive reminders about upcoming events in Slack. Access the Reminders tab in your Outlook Calendar settings and configure when you'd like to receive reminders, as well as whether you prefer them as private messages or public channel messages in Slack.
Troubleshooting Tips if Something Goes Wrong
If you are having trouble getting Outlook Calendar and Slack to work together, there are a few things you can try.
First, make sure that you have given Slack permission to access your Outlook Calendar. To do this, go to the App Management settings in Slack, and make the required changes.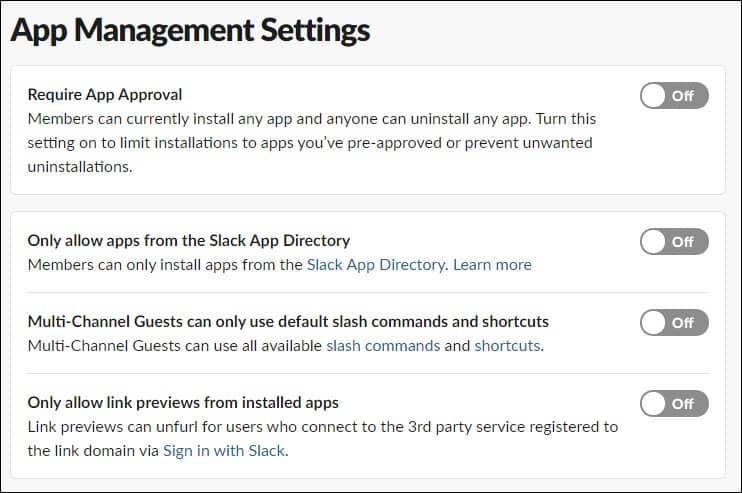 If that does not work & in case you face Outlook not opening in Windows 10 issue, try disconnecting and reconnecting your Outlook account from Slack.. To do this, go to the Manage tab in your Slack settings, and look for the installed apps. Deactivate the Outlook Calendar app & then you need to reconnect Outlook Calendar again.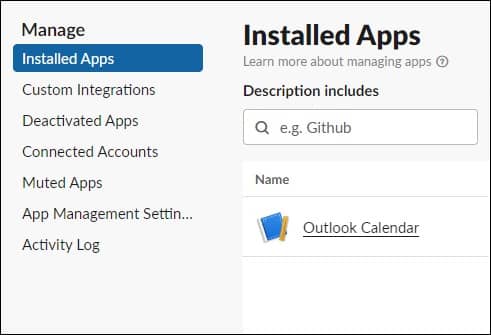 Additional Features of Outlook Calendar Synced with Slack
Here are some of the additional features related to Outlook Calendar & Slack.
In addition to seeing your upcoming events and getting reminders about them in Slack, you can also use Outlook Calendar to schedule meeting times with colleagues.
If you need to cancel or reschedule a meeting, you can do so directly from Outlook Calendar.
Outlook Calendar also allows you to set up recurring events, so you do not have to enter the same information repeatedly.
Finally, if you need to share your Outlook Calendar with someone else, you can go to the "Share" tab in your Outlook Calendar settings and select the "Invite people to view my calendar" option. Even you can export Outlook calendar to word easily as per your convenience.
Now that you've learned how straightforward it is to sync Outlook Calendar with Slack and the advantages it offers, it's essential to consider the maintenance of your PST files. In case your Outlook encounters issues like unresponsiveness or inaccessible data files, it's wise to have a reliable solution at hand. For such situations, we recommend using Kernel for Outlook PST Repair, a top-of-the-line tool designed to address PST file-related issues effectively and ensure the integrity of your Outlook data.
Kernel for PST Repair is a trustworthy and efficient software designed to effortlessly repair corrupt or damaged PST files. With its robust scanning algorithm, this tool can effectively scan and repair PST files of various sizes. Moreover, it can recover lost or deleted emails, contacts, calendar items, tasks, notes, journals, and more from corrupt PST files, ensuring the integrity of your Outlook data.
Additionally, the software offers the convenience of splitting large PST files into smaller, more manageable parts. Furthermore, it grants you the flexibility to save the repaired PST files in various formats, including DBX, EML, MSG, HTML, and MBOX. What's more, you can opt to export the repaired PST files to diverse destinations, such as Office 365, email servers like Novell GroupWise, MS Exchange Server, Lotus Domino, and web-based email accounts. This comprehensive feature set ensures that your Outlook data remains accessible and well-organized.
Final Thoughts
Syncing Outlook Calendar with Slack is a straightforward process that takes just a few minutes. By following the steps outlined above, you can easily integrate these two platforms, ensuring seamless communication and organization. Enjoy the benefits of having your calendar synced with your Slack team and stay on top of your schedule effortlessly.
If you encounter any difficulties while getting started or face issues with Outlook, our tool can be a valuable solution. It effectively repairs various PST file corruption problems and restores lost or inaccessible data from the repaired PST files. To assess its features and performance, you can explore the free trial version of the software.