Fix Error Outlook Not Opening in Windows 10

Read time 11 minutes
Is Microsoft Outlook on your list of daily use applications? Well, for some, it might not be, but for many, and specifically for corporates and people for whom the email is the prime medium for communication, it surely is on such a list.
And if you are encountering the 'Outlook will Not Open in Windows 10' issue, again and again, then it would not be a hard guess about what you are looking for or searching on the Internet.
The potential reasons for the issue of Outlook not getting opened in Windows 10 are fault Outlook Add-ins, corrupt Outlook profile, outdated Office program, outdated Windows, problems in the navigation pane, corrupt system files, incorrect account settings, etc.
This write-up is to help you get out of such a scene and get things back to normal as before, with Outlook 2016 (and other recent versions too). Here, we have compiled a couple of workarounds or say quick methods using which the whole Outlook won't open mess will fly away.
Start Outlook 2016 in Safe Mode and Disable Add-Ins
By installing add-ins in Microsoft Outlook, you can combine the application with extra features or say functionalities that were not available by default.
But sometimes the installed add-ins can become a big fuss. Then, you can try to start Outlook 2016 in Safe Mode and then, check which add-in is causing Outlook issue, to disable that add-in.
To start Outlook 2016 in Safe Mode and to disable add-ins, we have provided detailed steps below:
Press + R to open the RUN window.
Type outlook /safe, and press Enter or click Ok.
Inside the profile wizard, select Outlook and click Ok.
Now, click on the File tab on the left. Click Options.
Select Add-ins.
Click Go.
Here, within the Add-ins wizard, disable all the suspicious add-ins to sort the issue. Click Ok.
Once the add-ins are disabled, close Outlook 2016 and restart the application normally to check whether it now opens as normal or not.
Check for Dialog Boxes
While performing certain actions on Outlook, it asks for 'confirmation.' For instance, if you perform the Dismiss All action on a list of reminders, Outlook displays a message, 'Are you sure you want to do that.' You won't be able to perform that action unless you choose an option on that dialog box.
These dialog boxes often don't allow Outlook to respond properly, so check for any open dialog boxes on your system. To check the opened dialog boxes, press Alt+Tab that will allow you to switch from window to window and help you see what dialog boxes are stopping you from responding.
Install Latest Windows and Office Updates
It is recommended to keep your Windows and Office applications up to date, as it helps in fixing unknown bugs, offers new features, and improves the performance of the applications.
You can install windows updates directly from the Microsoft website or the System Settings,
For Office updates, launch the Outlook application, go to File>Office Accounts>Update Options>Update Now to perform the available Office program updates.
However, if installing updates doesn't fix the problem, then try to repair your Office programs.
Repair Office Programs Manually
Repairing your Office program can fix a lot of problems related to MS Outlook, especially if it is not responding. To repair your Office programs, follow the below steps:
Close all the Office applications and go to Control Panel
Now, look for Programs and Features and double-click on it
In the list of installed applications, look for Microsoft Office and right-click on it, and then select Repair.
You can choose to repair the program both online and offline, whichever solutions suits you best.
Run Resetnavpane Command
You can also try to fix the 'Outlook will not open in Windows 10,' problem by executing resetnavpane command; follow the steps below:
Press + R to open the RUN window.
Type outlook.exe /resetnavpane and click Ok.
When the resetnavpane command is executed, what it does is it resets and removes all the customizations related to the navigation pane. In some scenarios, doing so fixes the "Outlook will not open" issue.
Disable Compatibility Mode
In case, if you're using an earlier version of Microsoft Windows, and now have upgraded to Windows 10 (the latest Windows Version) then, we would suggest you disable the compatibility mode as Outlook by default is made and optimized to run on Windows 10 without any issues.
Follow below steps to ensure that compatibility mode for Outlook is not turned on and if it is yes then, learn about how to disable compatibility mode for Outlook 2016.
Right-click on Outlook's desktop icon and select Properties.
Outlook 2016's properties panel would now be available on-screen; switch to the Compatibility tab.
Inside the Compatibility tab, uncheck the Run this program in compatibility mode for option, as shown below,
Click Apply > Ok.
Now, launch Outlook 2016 again and check if the issue persists or not, and if it does, you may follow up with other workarounds given below.
Execute Sfc Scannow Command
Corrupt system files can also be one reason why Outlook will not open in Microsoft Windows 10 operating system. And fortunately, to fix this, you can use a command in command prompt to find about all the corrupt system files if any.
Go through the given steps:
Press + Q to open Windows Quick Search.
Type cmd.
Once it appears, right-click on the application and select Run as administrator.
Now, enter the following cmd command: sfc / scannow. Press Enter to run the command.
After the scan is complete successfully, try to open Outlook 2016 again and check if it throws the same error message or is now working perfectly.
Remove Outlook App Data Folder
In some specific cases, we observed that after deleting the Outlook App Data folder, the problem no longer stayed. Thus, you too can try deleting the Outlook App Data folder and check whether Outlook functions in your case; follow the below process.
Press + R to launch the RUN window.
Type %localappdata% > click Ok or press Enter.
Windows 10 App Data folder will open. Look for the folder named as Microsoft.
Now, search for the Outlook folder, and Delete the Outlook folder.
Check if the Outlook Will Not Open in Windows 10 error is now gone, by launching Outlook 2016. After you delete the Outlook App Data folder, we suggest you restart your system first and then, open Outlook.
Disable or Uninstall VPN Software
Some users use VPN, Virtual Proxy Network, software because of internet privacy concerns. If the user has not configured the VPN software properly, then, it might run in the background all the time and interfere with Outlook and cause it to run properly.
To address such a specific scenario, we suggest that you either disable or completely uninstall the VPN software from the Windows system or make some changes in the software's default settings, allowing you to use the VPN software and Outlook 2016 concurrently.
Repair Outlook PST Files
If none of the above methods fixes the 'Outlook not responding' problem, then there are chances that the Outlook PST in your Outlook profile is corrupt. In such scenarios, you need to repair the corrupt PST files.
To repair the PST files, you can use the in-built tool ScanPST, which is provided by Microsoft, but it repairs minor corruptions and files up to 2GB only. So you can opt for an automated solution – Kernel for Outlook PST Repair.
It is is an advanced tool that gives you the ability to fix all major errors in your Outlook data files. It checks the file for in-depth errors. Besides, it allows you to save the repaired PST file in multiple formats, like HTML, RTF, PST, etc, and even to the cloud, Microsoft 365 destination.
Download and Install Kernel for Outlook PST Tool
The tool simplifies your all tasks related to Microsoft Outlook 2016. It repairs corrupt or damaged Outlook PST files and helps you access PST data.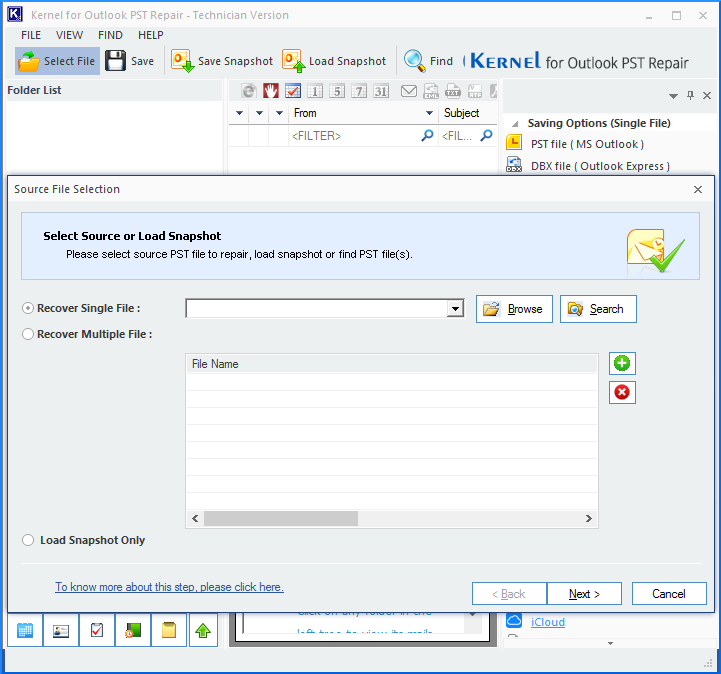 In addition to smart repair and recovery, the tool allows users to save mailbox items to various destinations like Exchange, Office 365, Gmail, etc.
Wrap
With the workarounds given above, it is possible that the 'Outlook Will Not Open in Windows 10' error would not bother you anymore. But if nothing proves to be working then, Kernel for Outlook PST Tool is the ace resolution to all your Outlook PST file-related worries.