"Are you an Outlook user encountering error code 0X80070002 when attempting to create a new Outlook profile? If so, this blog can guide you through the steps to resolve the Windows Outlook error 0x80070002."
Microsoft Outlook errors are relatively common, and Microsoft offers numerous solutions to address them. Often, these errors stem from Outlook settings or issues with PST files. However, it's worth noting that errors in the Windows Operating System can also lead to problems within the Outlook application. Yes, it is indeed possible, and one example of such an error is 0x80070002.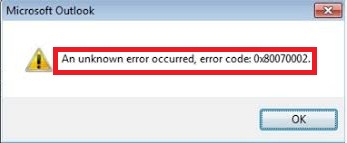 This error typically occurs when users try to create a new account in their Microsoft Outlook application. Several reasons can be attributed to the occurrence of this unwanted error, including:
Windows file structure has corrupted (in Windows 10, 8.1, 8, 7, Vista)
Inaccessibility of the location where PST file for new Outlook account needs to be created
While this error is categorized as a system error, it impacts the Outlook application due to compatibility issues between the Windows Operating System and Microsoft Outlook, resulting in the Outlook error code 0x80070002. Let's explore the solutions for resolving this error.
Native Approach to Fix 0X80070002 Outlook Error Code in Windows
Here, we provide Multiple Ways to Fix 0x80070002 Outlook Error. Please try them all to resolve this unwanted error.
Re-install Windows –
When the Windows file structure becomes corrupted, repairing it can be a challenging task. An alternative solution could involve reinstalling the Windows Operating System. However, this method can be time-consuming and require significant effort, which may not be desirable in many cases. But don't lose hope; there is another solution you can explore.
Modify Windows Registry Settings –
Users can manually adjust the PST file location in the Windows Registry settings to restore accessibility for creating a new Microsoft Outlook account. Follow the provided instructions to do so:
Go to the C:\Users\User name\Documents location and create a new folder here for the PST files.
Press Windows + R and type regedit in the run box.
The Registry Editor page will get open.
Navigate to this location –

HKEY_CURRENT_USER\Software\Microsoft\Office\ > OfficeVersion > \Outlook

In place of > Office Version >, look for your Microsoft Office version which could be

\12\ for Outlook 2007
\14\ for Outlook 2010
\15\ for Outlook 2013
\16\ for Outlook 2016, 2019

Once you have reached the location, click on Outlook on the left panel and then right-click on the blank space on the right panel. Follow New > String Value.
In the Edit String dialogue box, enter Value Name as ForcePSTPath and click on OK.
Now, find this value ForcePSTPath on the same panel, right-click on it and select Modify option. Provide the path of the newly created Outlook PST folder at this location – C:\Users\User name\Documents in step 1. Then, click OK.
Exit the Registry Editor page.
Restart the Microsoft Outlook application and now try to create a new Outlook account again. The error may not come again.
This method is effective to fix 0x80070002 Outlook error code in Windows.
While the above solutions can effectively resolve system errors like the one discussed, it's essential to have a smart approach when the root cause of Outlook errors, including this one, is PST file corruption. In such cases, having a dependable solution on hand is crucial. Kernel Outlook PST Repair is a highly intelligent and reliable tool designed to repair severely corrupted Outlook PST files, addressing various Outlook errors promptly. It is compatible with all Microsoft Outlook versions and includes useful filters for recovering specific data in any desired format or location. You can explore this tool at any time by trying its free demo version available on the website without any cost.
Winding Up
This article has provided users with two native approaches to resolve the 0x80070002 Outlook error code in Windows: re-installing the Windows operating system and modifying registry settings. Additionally, a reliable solution for addressing Outlook PST-related errors has been recommended.