"Are you an Outlook user and facing an error code 0X80070002 while trying to create a new Outlook profile? If yes, then find the way out of the Windows Outlook error 0x80070002 by going through this blog."
Microsoft Outlook errors are quite common and many solutions are recommended by Microsoft to fix them. And the reason behind those errors are Outlook setting issues or PST file errors most of the times. But, do you know, you can also face an error in the Outlook application due to fault in the Windows Operating System. Yes, it is possible and one such an error is 0x80070002.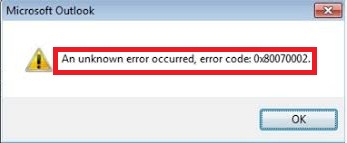 This error generally occurs when an attempt is made by the users to create a new account in their Microsoft Outlook application. And the reasons responsible for this unwanted error are:
Windows file structure has corrupted (in Windows 10, 8.1, 8, 7, Vista)
Inaccessibility of the location where PST file for new Outlook account needs to be created
Though this is a system error, it affects the Outlook application due to incompatibility between Windows Operating System and the Microsoft Outlook application, leading to the Outlook error code 0x80070002. Let us find out the solutions for this error.
Native Approach to Fix 0X80070002 Outlook Error Code in Windows
Here, we provide Multiple Ways to Fix 0x80070002 Outlook Error. Please try them all to resolve this unwanted error.
Re-install Windows –
When Windows file structure is corrupted, you cannot easily repair the file structure. But an alternative solution to it could be re-installing the Windows Operating System. This method would take lot of time and effort and because of this condition, you may not want to perform it. Don't be hopeless! You can go for the next solution.
Modify Windows Registry Settings –
Users can manually modify PST file location in the Windows Registry settings to make the directory accessible again for creating the new Microsoft Outlook account. Please follow the given instructions.
Go to the C:\Users\User name\Documents location and create a new folder here for the PST files.
Press Windows + R and type regedit in the run box.
The Registry Editor page will get open.
Navigate to this location –

HKEY_CURRENT_USER\Software\Microsoft\Office\ > OfficeVersion > \Outlook

In place of > Office Version >, look for your Microsoft Office version which could be

\12\ for Outlook 2007
\14\ for Outlook 2010
\15\ for Outlook 2013
\16\ for Outlook 2016, 2019

Once you have reached the location, click on Outlook on the left panel and then right-click on the blank space on the right panel. Follow New > String Value.
In the Edit String dialogue box, enter Value Name as ForcePSTPath and click on OK.
Now, find this value ForcePSTPath on the same panel, right-click on it and select Modify option. Provide the path of the newly created Outlook PST folder at this location – C:\Users\User name\Documents in step 1. Then, click OK.
Exit the Registry Editor page.
Restart the Microsoft Outlook application and now try to create a new Outlook account again. The error may not come again.
This method is effective to fix 0x80070002 Outlook error code in Windows.
So we can fix this system error by adopting the above native solutions. But, if the real cause behind this or any other Outlook error is the corruption in PST files, then we must think more smartly. We should have a perfect solution in our hand to deal with severely corrupted PST files. Kernel Outlook PST Repair is the most intelligent and reliable tool to repair corrupt Outlook PST files to fix all kinds of Outlook errors in no time. It supports all Microsoft Outlook versions and integrates useful filters to recover only the desired data to any format or location. You can try this tool anytime without paying any money via its free demo version on the website.
Winding Up
Two native approaches to fix 0x80070002 Outlook error code in Windows are explained for users - re-installing the Windows and modifying registry settings. Finally, for dealing with Outlook PST related errors, a perfect solution is also mentioned.