"I am using Outlook 2016 with exchange server (on Windows 10 platform). Since last week I have started receiving error message 0x80070057 in MS Outlook whenever I perform a send/receive operation. This is a new laptop, and I have been using it for less than a month. How can I overcome this issue?"
Queries like these are quite common and are growing in numbers. Send/receive error code 0x80070057 is exclusive to MS Outlook and is found to have affected Outlook 2010, 2013, 2016 and 2019 users. If you are one of the few unlucky ones, then you might see the following error message whenever you click on the send/receive button.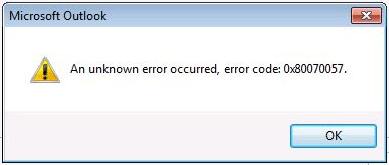 Communication tools like MS Outlook are used by many individual users and corporations. There is no doubt that MS Outlook is the most trusted email client around the globe. Like any other tool, Outlook too is not perfect and need a few bug fixes. Common errors and corruption issues such as Outlook Not Responding and File Access Denied can come up from time to time. However, recently, a new 0x80070057 error has been reported to Microsoft community by several Outlook users. This happens when the user clicks on send/receive tab; this, in turn, can make Outlook client freeze and can also prohibit the user from sending or receiving emails. Moreover, it might even stop you from connecting to Microsoft Exchange. Several users with relatively newer Outlook profiles on Microsoft Exchange server repeatedly encountered this error.
Causes of error code 0x80070057
Primarily this error can pop-up during synchronization of MS Outlook with Exchange server. Following are the few known causes of this error:
Selecting Auto-Account setup method instead of manually configuring the account to create a new profile in Outlook.
Malware attacks.
Missing or corrupt registry entries.
Abrupt system/Outlook shutdown due to power surge.
Corruption of PST or OST files.
Disruptions in the internet connectivity.
Ways to Manually Fix Error Code 0x80070057
We have devised a few ways to manually fix the error code 0x80070057 which are outlined below:

Method #1: App Troubleshooter for Windows 10
App Troubleshooter is capable of troubleshooting and fixing all issues you might be facing since upgrading from an older Windows version to new version.
Go to the Search tab and type Troubleshooting.
Now click on System and Security.
Next, click on Windows update and follow the instructions.
Method #2: Run System File Checker (SFC)
System file checker (SFC) is a tool from Microsoft that can repair corrupted files in a Windows installation.
Go to the Search tab and type cmd.
Make sure to run the command prompt as administrator.
Next, type sfc/scannow in the text box and follow the instructions.
Method #3: Reinstall Outlook Client
It is often the incorrect Outlook installation which is responsible for the error code 0x80070057. So, go to the Control panel and look for Programs and Features. Then look for MS Outlook and Uninstall it, then reinstall it to check if it worked.
Method #4: Repair Outlook Data Files using Scanpst.exe
One can also take advantage of the inbuilt repair tool known as Scanpst.exe to repair your PST or OST files. For Outlook 356, 2019 and 2016 Scanpst.exe can be found here-
(Any version) C:\Program Files\Microsoft Office\root\office16\
Method #5: Update Drivers
Go to Search and type Device Manager.
In the list of all the Devices, choose Disk drivers and expand it.
Click the option Update Driver Software.
Method #6: Run Outlook in Safe Mode
Go to Start > Run
Type outlook /safe in the text box and click OK.
Next, in the Choose Profile dialog box, choose the default profile settings, and click OK.
This will automatically open the outlook in the safe mode. Check the title bar to confirm it.
Third Party Tool- Kernel for Outlook PST
If you have tried all the above manual methods to get past error code 0x80070057 but to no avail. It might be time to consider using a professional third-party tool for this purpose. One such tool is Kernel for Outlook PST Repair. This tool comes jam-packed with impressive features and is equipped with state-of-the-art algorithms. Some of the salient features are outlined below:
Repair large sized PST files
Recover deleted email items in a jiffy
Can also repair ANSI and UNICODE file format PST files
Saves recovered PST to DBX, MBOX, MSG, EML, TXT, RTF, HTML, and MHTML formats.
Can export the recovered PST file to Office 365, email servers and web mails.
Once you are done with the installation, launch the tool. The welcome screen shows a friendly user interface. One can either select a single file or multiple PST files for repair (see the snippet below).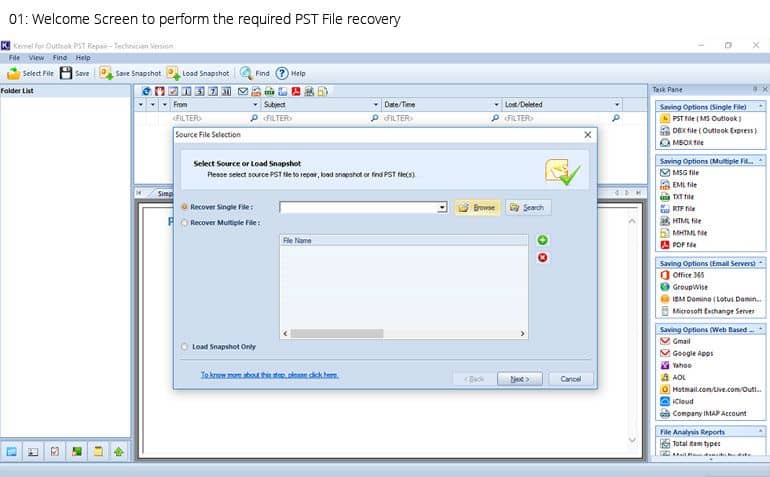 Conclusion
In conclusion, we have briefly discussed the cause of error code 0x80070057.
Moreover, we have looked at a total of six manual methods to overcome this issue. Additionally, we have discussed features of Kernel for Outlook Repair tool, in case you are unable to solve the problem with the manual methods. We recommend Kernel tool as it can accomplish Outlook data repair related tasks quite easily