The success of Outlook can be attributed to its extensive set of features and seamless integration with other applications within the MS Office suite. The abundance of features makes Outlook a dominant player in the email management arena. However, MS Outlook, like any software, is not without its imperfections. New bugs and errors are reported to the Microsoft community from time to time. One of the common errors that many Outlook users encounter is the 0x80042108 error, which hinders their ability to send or receive emails (as shown in the snippet below).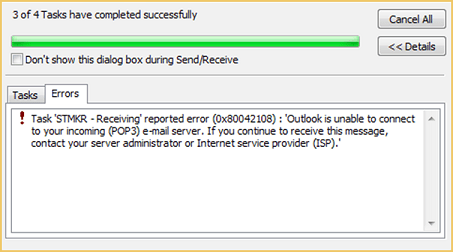 If you are facing this issue, it's worth considering whether you have a third-party malware scanner that has somehow integrated itself with Outlook or was given access to it. Disabling the scanner might be a prudent choice rather than leaving it enabled.
Effects of Virus Scanner Integration on Outlook Mails
The following can happen if you leave the virus scanner integration ON:
Send/receive errors.
Lost emails.
Duplicate emails.
Visibility of HTML code in a message.
Discrepancies in the font sizes.
Mail stuck in Outbox.
Send/receive taking relatively more extended time than anticipated.
Why Disable Virus Scanner Integration with Outlook?
As previously mentioned, disabling the integration of the virus scanner with Outlook could be a preferable course of action. Wondering why? Here's why:
Reading Pane The built-in Outlook security feature prevents code execution when viewing emails in the reading pane. Consequently, it becomes nearly impossible to become infected with a virus by simply opening an email. To become infected, one would have to double-click the virus, an action that triggers code execution.
Attachment Scanning When the built-in scanner detects a suspicious email attachment, it may render the attachment inaccessible. Likewise, the on-access virus scanner, which operates in real-time as you attempt to open files, will intervene and prevent you from opening the file.
No added protection from integration The on-access scanner utilizes the same antivirus definitions as the built-in Outlook scanner. Consequently, antivirus integration is unnecessary, as it doesn't provide an additional layer of security.
Ways to Fix 0x80042108 Error in MS Outlook
Even after disabling the on-access virus protection, you cannot get past this error code then consider trying the following methods:
Method #1 Run System File Checker (SFC) Tool
Go to the Search tab > type cmd.
Next, type sfc/scan in the text box and follow the instructions.
Note:
Make sure to run the command prompt as Administrator.
Method #2: Run Outlook in Safe Mode
Go to Start > Run
Enter outlook/safe in the text box > click OK.
Next, in the Choose Profile dialog box, choose the default profile settings, and click OK.
This will automatically open Outlook in Safe mode. To confirm, please check the title bar.
Method #3: Disable the Virus Protection
Disabling virus protection depends on the specific antivirus tool you are using. In many cases, you can disable integration through the Control Panel. However, sometimes the antivirus tool may also be present as an add-in within Outlook. In such cases, you can visit the Add-ins section in Outlook Options and disable the add-in from there. Here are the steps to follow:
Go to File > Options in the MS Outlook.

Now, click on Add-ins from the left panel. Click on Go against Manage COM Add-ins.
In the COM Add-ins dialogue box, select the anti-virus application and click on Remove option.
Next, close the dialogue boxes and the application. Restart your system finally.
Method #4: Uninstalling and Reinstalling (without integration) the Antivirus
If you remain uncertain about disabling the virus scanner integration, you have the option to uninstall the virus scanner entirely and then perform a complete reinstallation from the Control Panel. However, it is advisable to run a cleanup tool before reinstalling the antivirus software.
Method #5 Using Microsoft Security Essentials and Windows Defender
If your virus scanner is not allowing you to disable integration with Outlook, you might consider replacing it. You can opt for Microsoft Security Essentials as a free alternative on Windows Vista and Windows 7. On Windows 8 and 10, there's no need to install a third-party antivirus tool as Windows Defender comes preinstalled.
Method #6: Kernel for Outlook PST
If you've attempted all the manual methods mentioned above without success in resolving error code 0x80042108, it's advisable to explore the use of a professional third-party tool. We are not advocating the use of the manual approach, such as scanPST.exe, as this application may not be capable of repairing severely corrupt files and has a file size limit (2 GB). Therefore, it would be a prudent choice to opt for an automated Outlook Repair tool right away.
An example of such a tool is Kernel for Outlook PST Repair. This versatile tool excels at repairing corrupt and damaged PST/OST files, including large-sized ones. Furthermore, it enables users to swiftly recover deleted email items. The software supports the repair of both ANSI and UNICODE file format PST files. After recovery, users have the option to save files in various formats, such as PST, MSG, DBX, MBOX, EML, TXT, RTF, HTML, and MHTML. Additionally, it facilitates direct export of the recovered PST file to Microsoft 365, email servers, and webmail services.
After successfully installing the tool, launch it. The welcome screen presents a user-friendly interface. You have the option to select either a single PST file or multiple PST files for repair.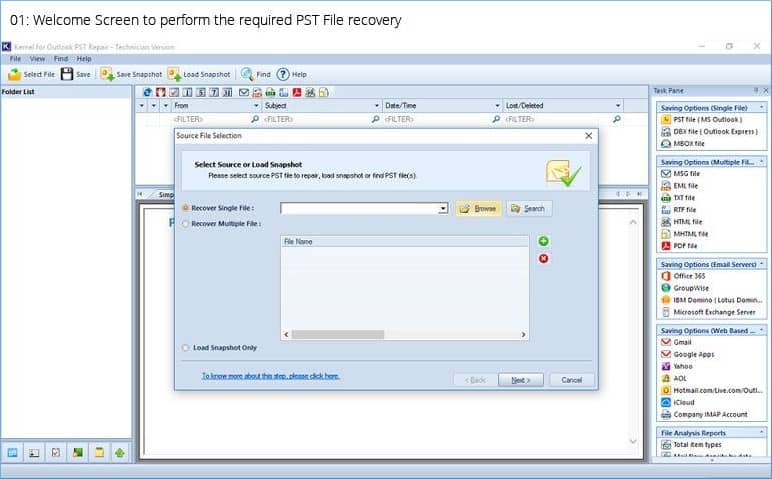 Conclusion
In conclusion, we have examined the impact of virus scanner integration on Outlook emails and explored the rationale for disabling this integration. We've also highlighted the importance of considering professional solutions in cases of data loss. Kernel for Outlook PST solution should be a consideration for organizations as a preventive measure, particularly for those relying on MS Outlook.