Microsoft Outlook is known for its ability to synchronize users' emails from the web to its desktop-based application, allowing users to send/receive emails, manage contacts, add notes, and more. In addition to individual users, many organizations rely on Outlook as their email client. Despite its widespread popularity and diverse features, users may encounter various issues while using Outlook. One of the most common issues reported by a majority of Outlook users is the appearance of pop-up error messages like "Outlook is not recognized as the default email client," typically displayed as an alert as shown in the following screenshot:

Users often encounter these error messages when they try to send an email using the 'File' or 'Send by email' command in Outlook. Additionally, the issue of 'Outlook is not recognized as the default email client' can be attributed to other factors, including bit configuration and improper installation of the Office Suite of products.
Here are some of the most common reasons behind encountering the 'Outlook not recognized as the default email client' error:
Reasons for the Error
There might be chances that you are accessing Outlook 64-bit application, and 32-bit applications are unable to read 64-bit configuration software.
Internet Explorer is configured to use Windows Live Mail.
One direct method to fix this issue is that you can check and assign Outlook as the default email client via the Control Panel settings.
Manual method to set Outlook as the default client
To verify and assign Outlook as your default email client, following these simple steps:
Go to Start and navigate through Control Panel > Default Programs.
In the Default Programs window, click on the Set your default programs link
Select the Default apps tab and under Email option, click on the email client assigned as the default email client application.
From the drop-down menu, select Microsoft Outlook.
Microsoft Outlook is set as the default email client for your current Windows OS.
If you encounter errors like "Either there is no default mail client or the current mail client cannot fulfill the messaging request" even when Outlook is already set as the default email client, it could be due to either using a different bit version of Outlook or installing the application after installing the MS Office Suite.
Scenario -1: Working on Outlook 64-bit when other application are of 32-bit configuration
Verify the bit configuration of your existing Outlook application and consider reinstalling the appropriate version based on the configuration of other programs installed on your computer. Generally, a 64-bit configuration for Outlook is recommended when dealing with large data files (approximately 2GB or more), especially if you're using applications like MS Excel and MS Access. However, it is possible to work with a 64-bit Outlook even if other programs are configured as 32-bit by making specific modifications to the system's Registry settings.
Scenario -2: Outlook is installed with Microsoft Office
In case you have installed Outlook with the MS Office Suite, you can repair the Office installation manually through the Control Panel.
Go to Start and navigate through Control Panel > Programs and Features.
Locate and select your Office or Outlook installation.
Click on the Change button located at the top of the list.
Select Repair and click on the Continue button. Wait until the repair gets completed. Once you are done repairing your Office installation, reboot your system and try accessing Outlook again.
Scenario -3: User working with Home and Business 2010 C2R suite
In some cases, the issue arises when Microsoft Outlook 2010 Click-to-Run (C2R) suite is installed on a virtual hard drive, making the application invisible to other applications. This is the underlying cause of the problem.
Here, users can uninstall this suite and then download and install the MSI to get the Microsoft Outlook application.
However, if you prefer not to uninstall the C2R suite for Microsoft Outlook 2010, you can make changes to the Windows Registry settings. Here are the steps to do so:
Type regedit.exe in the search box and select the application to open it.
On the Registry Editor page, follow the path- HKEY_LOCAL_MACHINE\SOFTWARE\Clients\Mail
Select and right-click the Mail section, then click on Export.
Provide a saving location for this registry file and click Save. A backup will be saved.
Now, go again to the Mail location, right-click on it and follow New > Key.
Provide the key name as Outlook64Bridge.
Now, use the same method and create key namely DLLPath under Outlook64Bridge and then a new key with name DLLPathEx under DLLPath.
Next, you need to provide the path location of MAPI32.dll file on the system to the above created DLLPath keys. The location would be – HKEY_LOCAL_MACHINE\SOFTWARE\Clients\Mail\Outlook64Bridge\DLLPathEx And the path to be assigned to the keys is – (example) "C:\WINDOWS\x86_microsoft-windows- \xxxxxxxxxxxxxxxxxxx mapi32.dll"
Finally, make Outlook64Bridege as the default Mail client with the path - HKEY_LOCAL_MACHINE\SOFTWARE\Clients\Mail"Outlook64Bridge"
By now, you've likely resolved the 'Outlook is not recognized as the default email client' error. However, what if your MS Outlook application becomes completely inaccessible despite your efforts to regain access? Outlook inaccessibility is often linked to the corruption or damage of Outlook's PST files.
PST files store all the mailbox data associated with your Outlook mail profile. Any corruption or damage to the PST file can result in the complete inaccessibility of your Outlook data. Even manual methods may not be sufficient to address severe PST file corruption. In such situations, users are left with an alternative in the form of third-party software. However, there are only a few trusted repair tools that are efficient enough to tackle any level of corruption present in PST files.
We have a solution that can address all your PST file recovery needs. Kernel for Outlook PST Repair is equipped with robust algorithms and a powerful mechanism to tackle corruption issues in PST files effectively. This tool allows you to recover files without any size restrictions. Additionally, the trial version enables users to recover and save the first 25 items free of charge. Here is a snapshot of the software's main interface.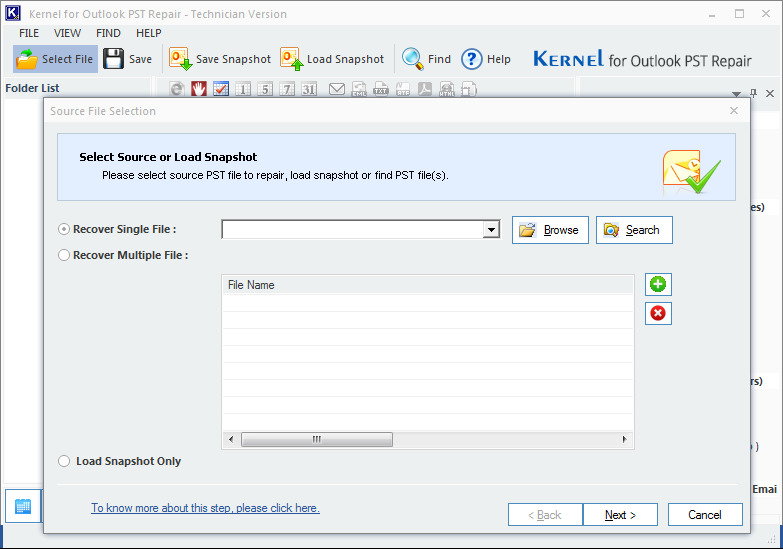 Conclusion
To swiftly address the 'Outlook is not recognized as the default email client' error, you can set Outlook as your default email client. If you continue to encounter the same error messages, consider reinstalling MS Office or repairing the Office installation through the Control Panel as potential solutions.