MS outlook is undoubtedly the most trusted and advanced email management tool. It has all the features to manage your appointments, meetings, calendars, and more. However, just like any other email client, MS Outlook is also prone to numerous issues that can cause Outlook to behave abnormally, causing crashing, hanging, and freezing issues, to name a few. Many Outlook users have posted their queries regarding the critical error 0x80040119. It is critical in the sense that it prohibits the user from sending, receiving, and deleting email messages. It basically means that you can no longer access your PST files. This error code has known to have affected almost every version of Outlook from Windows XP to Windows 10.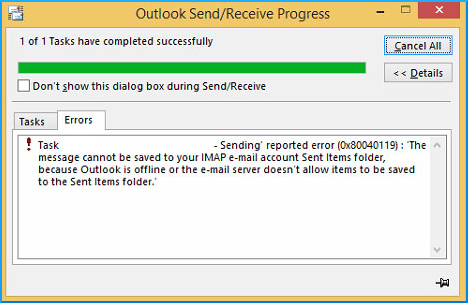 It is a fact that large-sized PST files are prone to file corruption. These ginormous PST files are an easy target for damage and corruption, and issues and errors like 0x80040119.
Primary Reasons Behind Error Code 0x80040119
The error 0x80040119 can be caused anytime during Outlook installation, Windows startup or shutdown or during OS installation. Also, it can be due to PST file corruption that can be triggered by various factors, some of these factors are listed below:
Outlook PST file corruption
Malicious attacks that cause corruption of Windows system files.
The conflict between the antivirus tool and Outlook.
Issues with the mail server.
Wrongly configuring the Outlook account.
Corruption of Windows registry.
Large-sized PST files.
Ways to Fix-Outlook-Error-0x80040119
In this section, we will be discussing the most feasible solutions to get past the error code 0x80040119.
Method #1 Using Inbox Repair Tool-Scanpst.exe
In order to repair the corrupt PST files, one needs to locate them first. To locate the PST files, follow the steps mentioned below:
Launch the MS Outlook application.
Click to the File tab > click on Account Settings > Manage Profiles.
Click on Email Accounts.

This will open up the Account Settings window. Next, click on the Data Files tab, select the data file of your interest and click on Open File Location.
This will open up a file explorer windows containing your PST data files. Copy the file location for later use.
Now we will proceed to locate the Scanpst.exe tool and will try to repair the affected PST file. The steps to repair a PST file is listed below:
Scanpst.exe can be found in the following location (depending on your version):
In Outlook 2019: C:\Program Files (x86)\Microsoft Office\root\Office16
In Outlook 2016: C:\Program Files (x86)\Microsoft Office\root\Office16
In Outlook 2013: C:\Program Files (x86)\Microsoft Office\Office15
In Outlook 2010: C:\Program Files (x86)\Microsoft Office\Office14
In Outlook 2007: C:\Program Files (x86)\Microsoft Office\Office12
Launch scanpst.exe
Now open a new file explorer window and paste the earlier copied filepath of PST files in the location field and select the PST file.
Note: most of the times these files are located in the following position:
This step will check for the consistency of the PST file.

If any inconstancies are found, then click Repair.

If successful, then you will be prompted with the following message.

Open Outlook and try to access the repaired file.
Note: The tool fails to repair the PST file when the PST file is severely damaged.
Limitations of Scanpst.exe – Inbox Repair Tool
The inbuilt Scanpst.exe is not always successful in repairing the corrupt PST file because it can only look for the basic issues. Also, it has many limitations that make it unsuitable for severely corrupt or large-sized PST files.
So, there are many limitations that affect the Scanpst tool:
Severely corrupt PST file
A severely corrupt PST file is not repairable through the Scanpst tool. It can run the diagnose and tell you that the file is corrupt, but it can not repair it smoothly. Moreover, it may further delete the data.
File size limitation
The Inbox repair tool can only check for PST files of size up to 2 GB Only.
Scanpst is not present at the location
Sometimes, the Scanpst tool is not available at the given location in the Office 16 folder. Many users are unable to find it at the location. But if they try to search it at the C:\Program Files\Microsoft Office\OFFICE12, then you can find the tool and start using it.
Method #2- A Professional PST Repair Tool
Kernel for Outlook PST Repair tool is a trusted tool to repair severely damaged large sized PST file. This PST repair tool can successfully save all the PST file data to a healthy PST file and different destinations such as live Exchange, Office 365, and different webmail clients.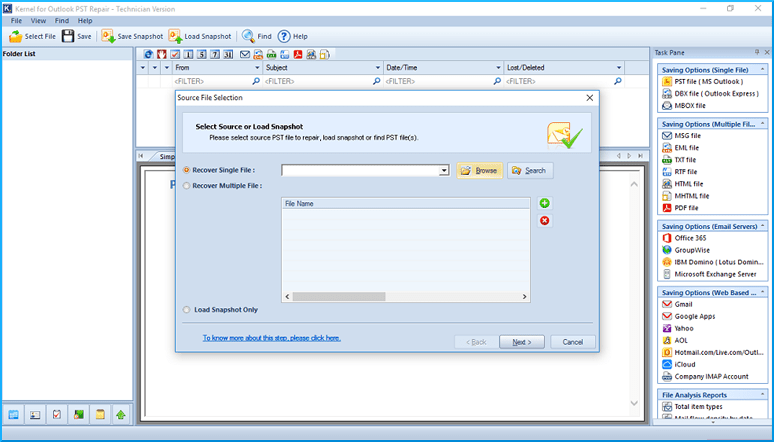 Conclusion
In this blog post, we have briefly looked at the primary reasons behind the error code 0x80040119. In some cases, the error code 0x80040119 is caused due to PST file corruption. Outlook has an Inbuilt repair tool- Scanpst.exe to repair these corrupted files. But, in case your files are severely damaged, then this inbuilt repair tool is of no help. In such dire circumstances, one needs a reliable tool such as Kernel for Outlook PST Repair.