A vast number of users use outlook. These users include individuals using it for personal work at a lower level to the organizations using it for internal and external communication on a bigger scale. Archiving means saving or backing up emails and other old data from Outlook. Anything from Outlook can be archived, be it emails, contacts, calendar, or tasks.
Why Would Someone Need to Archive Without PST?
The best way to archive is by saving it in a PST in Outlook, but there are many cases when someone would not want to archive emails in PST. Those users who use Outlook for more than personal usage may find a need to backup old emails and items without PST. This is because of oversized or heavy PST files already on the system. Sometimes users don't want to increase it, as it may lead to many other problems like slowing down the app or corruption in PST. So, in such a case, the user may need to archive emails without PST.
How to Archive Emails Without PST file in Outlook
There are not many ways to archive emails in Outlook without PST; there are limited approaches to that. We are going to discuss those limited approaches, step by step:
Save Outlook file in MSG format:- Saving Outlook file to MSG is an easy and quick way to archive it; let's see how:

Select the desired location where you would want to archive; create a folder there for archiving Outlook file.
Now, open Outlook and go to the email folder you want to archive.
Press Ctrl + A key to select all emails.
Now drag all the selected emails in the folder you created recently for archiving emails.
Doing this will automatically save all those emails in MSG format.

Save the Outlook Data in CSV Format:- Another way for archiving Outlook data is by saving it in CSV format. For this, you will need the Import/Export feature of Outlook; let's see the process:

Open Outlook and click on the File menu.
Select the Open & Export and choose the Import/Export option from the menu.
Now, select Export to a File as the option and click on the Next button.
In the next step, select Comma Separated Value and click on the Next button.
Now under the Select folder to export from, select the folder you want to export from, i.e., Inbox. Click on the Next once selected.
Select a destination for the exported file. For this, click on the Browse button and specify a path. Click on Next once done.
Now, moving forward, the tool selects the Export "Email messages" from folder: Inbox option and click on the Map Custom Fields button.
Now, you will see two partitions, From partition and To partition. Drag fields you want to archive from the From partition to To partition. Click on the OK button once done.
Click on the Finish button finally, to complete the process.

After completing these steps successfully, all the emails in the Inbox folder will be saved as a CSV file on your system. If you have no PST constraint, then you can try inbuilt Archive feature of Outlook for archiving emails. You may need to do it manually, and hence first you need to disable Autoarchive feature in Outlook, check this out if your AutoArchive Not Working.
Do You Want to Archive Emails Easily?
If archiving emails easily is your case, then you can use Kernel for Outlook PST Repair. This tool brings you a wide variety of formats to archive Outlook emails like HTML, PDF, MSG, EML, TXT, etc. in addition to the popular PST format. Apart from these formats, it also provides the user with multiple options like web servers and other email clients. The tool retains the original hierarchy and structure of the content inside the PST. It has a user-friendly interface too. Have a look at the interface of the tool and the wide variety of options it provides in formats: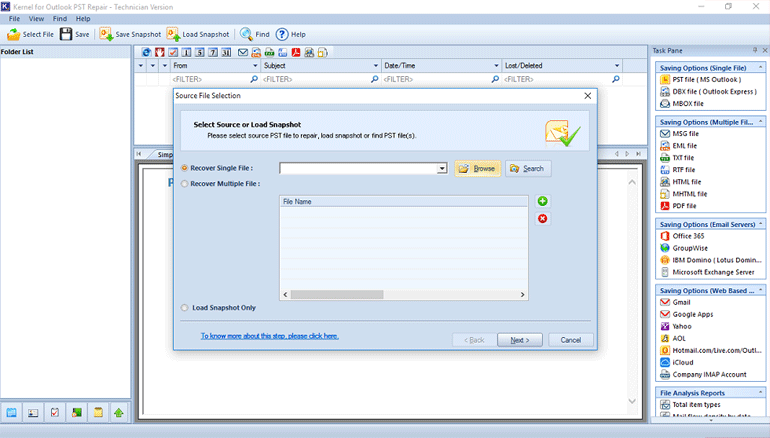 Conclusion
In this blog, we have discussed why one may need to archive Outlook emails without a PST file. This need may arise due to too many PSTs in Outlook. We have discussed two ways to archive Outlook emails without PST - in the form of MSG and CSV files on your system. Finally, we have talked about an automated method with which one can archive Outlook emails in many given formats in few easy steps.