'The RPC server is unavailable' is a common error that can occur when using Outlook or any other Windows service on a shared network. While it may seem daunting to new users, it is typically a routine network error. In some cases, the issue is simply caused by the File and Printer Sharing feature being disabled on your system.
Nonetheless, there are various other factors that can result in an RPC Server error, which we will explore further in this section. First, let's provide a brief introduction to the RPC Server and explain why RPC Server errors occur. We will then delve into methods to resolve this common error.
Remote Procedure Call (RPC)
The Remote Procedure Call, often abbreviated as RPC, is a network-based protocol that facilitates communication between various Windows processes through inter-process communication technology. RPC enables processes to efficiently share Windows-based resources within the same network. It operates as a request-response protocol and can be structured using a Client-Server communication model.
The RPC protocol enhances the ability of clients to securely connect with email servers. The following versions of Exchange Server and Outlook favor the use of RPC connections.
Microsoft Outlook version 2007
Microsoft Outlook version 2010
Microsoft Outlook version 2013
Microsoft Exchange Server version 2007
Microsoft Exchange Server version 2010
Microsoft Exchange Server version 2013
A user initiates a request, which is then transmitted to the server via RPC. In response, the server generates a response and sends it back to the user.
Note: Here, the client system and the server can either be different machines in a network or different processes within a single machine.
RPC plays a crucial role in managing devices across a network. Any disturbance caused within the network can result in RPC Server unavailable error.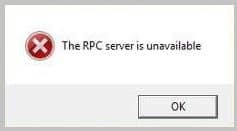 Reasons Behind the "RPC Server is unavailable" Error
There can be several reasons behind this error, but the most commonly reported one is improper configuration or disruptions in the connection of peripheral devices such as printers or scanners. Connection issues can often be resolved with a few simple steps.
In this section, we have listed some of the root causes that lead to the RPC Server is unavailable error.
Windows Firewall: At times, a security application on the client machine or a third-party firewall running on the server can block RPC Server requests. This can result in the blocking of traffic reaching the TCP ports on the server. To address this issue, the first step is to ensure that the RPC server can communicate freely through your Windows Firewall.
Invalid Windows Registry Settings: RPC relies on valid Windows registry settings to function properly. Any modified, invalid, or corrupted registry entries can disable RPC services on your machine.
Inappropriate Network Configuration: A network comprises PCs, network cables, peripheral devices, routers, and more. Any damaged component or improper network configuration can lead to server unavailability issues. In such scenarios, a procedure call from the user's end fails to reach the server, resulting in the 'RPC server unavailable' error.
Name Resolution Errors: When a user initiates a procedure call, it is specified by a name, IP address, and port addresses. The server requires all these specifications to respond to the correct machine. If an RPC server's name is mapped to the wrong IP address, the request might be redirected to the wrong server. This can result in server issues, most commonly the 'RPC server unavailable' error.
Workarounds to fix the "RPC server is unavailable" Outlook error
To make RPC functional and get the server issues sorted, you have to complete the following fixes one after the other.
Fix 1: Change the Windows Firewall settings
Go to Start, click Windows Search bar, type Windows Firewall and click the Windows Firewall icon.
Select "Allow apps to communicate through Windows Firewall."
Click on the Change Settings button.
Allow Remote Assistance to access both Private and Public networks.
Save the changes and reboot your machine. Check whether you still get the server error messages or not. If everything seems to be fine, stop and don't go for other steps; if not, follow the remaining fixes.
Fix 2: Check whether the RPC services are running
Always ensure that RPC-related services are running on your machine. Sometimes, by default, these services are disabled by the operating system. You can manually change the settings at any time by following these simple steps:
Press Win + R key to launch the Run Command dialog box.
Type "Services.msc" and hit Enter.
Look for three services, namely Remote Procedure Call Locator, Remote Access Connection Manager, and Remote Access Auto Connection Manager. Simultaneously, make sure that these services are actively running in the background. If not, select each service individually, right-click and select Properties, and select the Startup Type as "Automatic." Click OK to save the changes.
Fix 3: Check Windows Registry Settings
Invalid, corrupt, or modified Windows Registry entries can disable the RPC service. Ensure that the registry entries are correct. Follow the steps below to make RPC functional on your machine:
Note: Be careful while making changes to your Windows Registry, any unnecessary changes might affect your system's functionality.
Press Win + R and launch the Run dialog box.
Type "regedit" and hit Enter.
Navigate all way to: "HKEY_LOCAL_MACHINE\SYSTEM\CurrentControlSet\Services\RpcSs".
Look for any missing or invalid registry, if found, consider either re-installing Windows or use any third-party tool to fix the issue.
Fix 4: Flush DNS
Go to Windows Search, type CMD, right-click and select Run as Administrator.
Type the commands as given below and hit Enter after each one as per the order given.

-ipconfig/flushdns
-ipconfig/registerdns
-ipconfig/release
-ipconfig/renew
-netsh winsock reset
Once you have executed all the commands, reboot your PC and launch Outlook.
Conclusion
Encountering an RPC Server error is common for Windows-based Outlook users, especially when working in a network environment. The RPC Server Error is a network-based issue that can appear in Outlook and other Windows services. In this guide, we have discussed various methods to resolve it.