Read time: 7 minutes
You could occasionally see the error "421 Cannot connect to SMTP server" when attempting to send an email in Outlook or when creating a new mail account in Outlook. As Outlook can connect with all kinds of email servers and each account belongs to its respective servers. So, a user does not require to go deep into the understanding of a server's working. In this article, we will provide you 4 fast fixes for this problem that work accurately in resolving error effectively.
Error Messages You Can Encounter
Here is the below list with different names to this Outlook 421 error popping on your screen.
"The server responded 421 can't connect to SMTP server."
"The server responded: 421 can't connect to SMTP"
"Could not send your message. Error 421"
"An unknown error occurred: Server Error 421."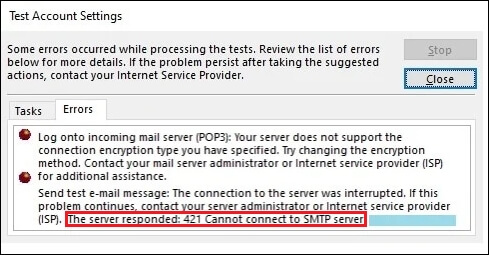 Causes of Outlook 421 Cannot Connect to SMTP Server Error
This particular error occurs with Microsoft Outlook and can be caused by several different things. Let's take a look at the potential causes.
Virus & Malware Causing Problems
One possible cause for the "421 Cannot Connect to SMTP Server" error is a virus & malware causing issues on your system.
Incorrect Settings & Configuration
Another common cause is that you may have set up the email account incorrectly or made changes to settings that are preventing Outlook from connecting correctly.
Port Server Settings Issues
If there are issues with server & port settings, this could be why Outlook isn't connecting properly.
Anti-Virus Programs Identifying Risky Connections
Sometimes anti-virus programs will identify certain connections as risky and prohibit their usage — which can lead to "421 Cannot Connect to SMTP Server" & other errors like error 0x80040607, 0x80070057 error in Outlook, etc.
Damaged Outlook PST Files
The final possibility is that there are damaged PST files in your version of outlook causing problems when trying to connect with an SMTP server.
4 Easy Ways to Counter Outlook 421 Cannot Connect to SMTP Server Error
Modifying the SMTP Settings
The SMTP (Simple Mail Transfer Protocol) is what allows your computer to send emails from one address to another. It is common for networks or ISPs (Internet Service Providers) to block port 25 for SMTP communication. In the case of a blocked port 25, you will not be able to send mails & you may receive an error 421.
To resolve this issue, you have to modify the SMTP system settings so that they use a different port number.

Access Outlook & tap on the File menu. Click on Account Settings> Account Settings.
Choose the account & click Change.
Tap on More Settings & click on the tab Advanced.
Under the Outgoing server section, you need to set the given port number as 465. Hit OK.
Next, go to Settings once again.
Within the tab Outgoing Server, check the box 'Use same settings as my incoming mail server' and click OK.

Note: Keep in mind that different ports may be used depending on your ISP or network, so in case 465 does not work, then you must consult your Internet Service Provider once.

Removing & Adding the Email Account
Here, we will provide step-by-step instructions on how to remove & re-add your current email account to fix the "Outlook 421 Can't Connect to SMTP server" error.
Launch Outlook and tap on the File menu. Next, click on Account Settings. You should now get a list of all your connected email accounts. Choose your account & tap on 'Remove.' Once that has been done, select 'New' & add the same account again.
Next, complete all the required fields such as username, password, email information etc., and click 'Next'.
Configuration of the email account will be successful once all the information has been entered correctly. Finally, click on 'Finish' and you should be good to go. In addition, this way, you can also add another email account in Outlook to counter other Outlook issues from Outlook stuck on loading problems to other common Outlook errors.

Bonus Tip: Another method you can use is by resetting your internet connection or restarting your computer if that doesn't work. This will help clear up any temporary network issues that might be causing the problem. Additionally, make sure that anti-virus applications are not blocking access to specific ports which could also contribute towards this issue occurring in some cases.

Turn Off the Firewall
Generally, this error is because your firewall settings are blocking Outlook from connecting with the server. Fortunately, there are some easy steps you can take to fix the Outlook not opening problem.

The first step to resolving the error is accessing your Control Panel. This can usually be done quickly by typing "Control Panel" into the Windows search bar at the bottom left of your home screen. Once you open up the Control Panel, select "System & Security" followed by "Windows Firewall".

Now that you have accessed your Windows Firewall, you need to turn it off completely in order to resolve the Outlook Error 421 message. To do this, click on "Turn Windows Defender Firewall On or Off" which is located on the left-hand side of the window.
Select "Turn Off Windows Defender Firewall (not recommended)" for both public and private networks and then click OK. After doing this, you should now be able to use outlook without any errors.

Repairing Damaged PST Files
Have you encountered a situation where you are unable to send & receive emails due to Outlook 421 Cannot Connect to SMTP Server Error? Does this happen when you try to access your PST files? If yes, then it is likely that your PST file is damaged and needs repair. Read on to find how you can repair the corrupted PST files & get away from the Outlook 421 issues.
Kernel for Outlook PST Repair is a tool that helps users quickly fix corrupted PST files & Outlook 421 error too. It repairs password-protected & archived PST data files & also saves recovered email items in DBX, MSG, MBOX, EML, PDF formats. It supports all the Outlook versions, making it an ideal choice for users across the board. Also, there is a trial version available that allows you to test out the software before purchasing it.

It is designed with user-friendly features such as resourceful filtering options that allow you to filter emails according to date range or by sender's address. You can also preview the recovered data before saving them back into your mailbox. Furthermore, its interactive GUI makes it easy to use even for novice users who are not familiar with technology.
Last Say
The Outlook 421 can't connect to SMTP server error can be fixed by taking some effective steps as mentioned above. You can either try to troubleshoot the error manually or go for a third-party solution like Kernel for Outlook PST Repair software. The software is embedded with exceptional features and can repair your corrupt PST files in no time. So, don't waste time anymore and get this software now.