Read time: 8 minutes
For millions of Outlook users, email management and personal information management have become complementary to each other. This application has enabled users to get a grip on their hectic work life and maximize their productivity. It is predominantly an email client with additional functions related to task and event managing. If this application comes to a standstill, your emails and other items might go for a toss. The day-to-day functioning of your work life gets seriously impacted when Outlook throws syncing errors. Many users have complained about issues related to the Outlook not syncing error on their Windows 10 system. You must pay immediate attention to this issue and follow the methods mentioned below to resolve it at the earliest.
Causes behind the Outlook syncing issue
The interruption in the synchronization between MS Outlook and Windows 10 system is a result of several factors. Some of these have been mentioned below-
Low or no internet connection
Working in the Offline mode
Incorrect settings
Incompatible add-ins and anti-virus software
Incorrect configuration of the Outlook profile
Interference from the Windows Defender
Severely corrupted Outlook PST files
Longer duration of email frequency
Consequences of the Outlook sync error
If the Outlook version on your Windows 10 is not syncing as it should, there are some alarming repercussions of it-
To begin with, users will continue to receive error messages, resulting in a constant interruption in the transfer of emails.
The automatic syncing of the data will also stop.
All the changes made in the offline mode will not be reflected when the user is back online.
Overall, all these factors, when combined, will result in a dip in the user's productivity which further results in the company's loss.
Techniques to solve Outlook not syncing error in Windows 10
There are several reasons behind the sync issue between Outlook and Windows 10 system. Mentioned below are all the effective solutions which will help you to resolve this issue in no time.
Double check the internet connectivity
If the internet connection is poor, then Outlook will be unable to work at its full capability. Double-check the speed and bandwidth of your Wi-Fi. In addition, you can try to work on Outlook in the web browser. If none of it is working, then it is time to switch to a stronger network. There are many indications that can help you to check if you are working in the Online or Offline mode.
Launch the Outlook application and directly open the Send/Receive tab.
Click on the Work Offline which is present on the extreme top right, to reconnect.
Repair MS Outlook profile
An underlying issue with the Outlook profile itself can directly result in email syncing problems. Nevertheless, the Repair facility, which is available in Outlook, can be used to solve this quickly.
In the Outlook application, click on the File tab.
Move to Account Settings > Account Settings.
The Account Settings window will open. Select the email account having trouble and click on Repair.
The repairing process will begin. Once it completes successfully, restart the application.
Turn off the Windows Defender
Windows Defender Security Center is a protection and security software that is included with your Windows 10 systems. There is a major chance that it is identifying certain items as threats and after that, restricting them. You can turn off the software to check if that is the case.
On the Search bar, type Windows Defender Security Center.
Select Firewall and network protection.
Select the account and disable the software for it.
Disable trouble-causing extensions and anti-virus software
You have installed an extension or anti-virus program which is not compatible with Outlook. Temporarily disable all such add-ins and then, check again. While the anti-virus program is on hold, avoid opening any unknown links and emails.
Open Outlook and straightaway open the File menu.
From the left panel, click on Options.
Now, go to the Add-ins tab. The Outlook Options window will appear.
Uncheck the extensions and out of the Manage options, select COM Add-ins. Now, click on Go.
Restart the Outlook application.
Repair Microsoft Office
An error might have occurred while installing MS Office, which can be the reason behind the syncing error. To resolve this, you can opt for the repair of the Office program.
Go to the Control Panel of your system.
Select Programs & Features.
Locate MS Office from the complete list and right-click on it. Click on Change.
Follow the instructions given on the screen.
Clear cache data
Cache files are kept in reserve to enhance your search experience. However, if collected over a long time, they have the power to slow down the platform. In addition, you can also delete Outlook temporary files in Windows 10. It is necessary to remove them all after a while.
Close the Outlook program.
Press the Windows and R keys together to open the Run dialog box.
Type this command- %localappdata%/Microsoft/Outlook and press OK.
Select the files and right-click. Delete them.
Change the email sync frequency
The default time for email syncing is set at 30 mins in Outlook. However, it may not be suitable for your communication requirements. You can choose to change it to make the syncing process faster.
Click on the Send/Receive tab.
Click on Sent/Receive Groups and select Define Send/Receive Groups.
You can change the time accordingly.
Repair corrupted PST file
One of the main culprits here is a heavily corrupted data file. Outlook saves all the user's information in a PST format, and once that gets corrupt, it will result in syncing errors or even worse. Due to the involvement of sensitive data, you can opt for Kernel for Outlook PST Repair, which is a professional tool having powerful algorithms which are well capable of repairing all sized PST files, keeping the data hierarchy just like the original one.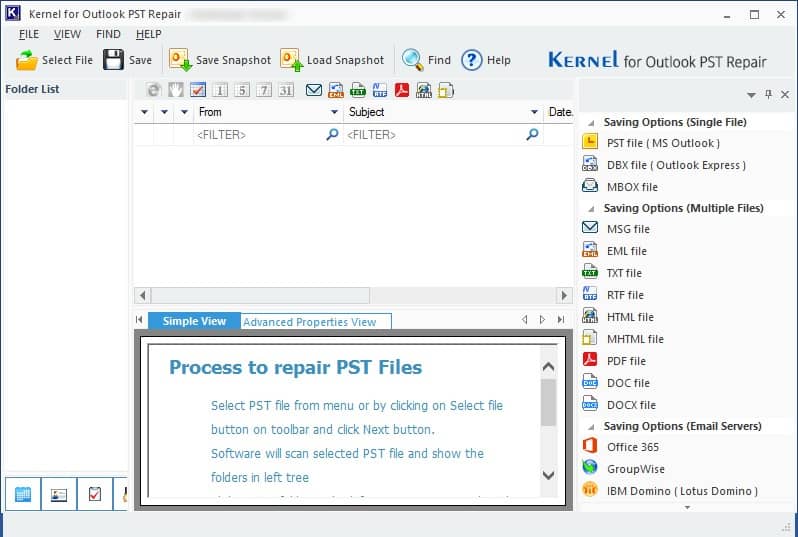 Conclusion
Outlook not syncing with Windows 10 system has become quite a common issue now. But it does have some major consequences which are not beneficial for the organization overall. That is why this error must be resolved on an urgent basis. Since many reasons are behind it, there are several techniques that can be used to resolve it also. If you are planning to move a PST file containing some confidential data, you can use a professional utility. All of them have been discussed at length in the article above.