Read time 7 minutes
OST files are the offline storage folders provided by Microsoft to save user information and email data in offline mode (Cached Exchange Mode). An OST file carries the actual copy of mailbox data on the Exchange Server. When you are not connected with the Exchange server, you can access that offline files if you have saved them as OST files. The benefit of the OSTfile is that it facilitates offline working. You can easily save your data in OST files and use them while you are not connected tothe Exchange server.
How to fix OST file issues?
OST files can become corrupt and inaccessible due to various software and hardware issues. In normal situations, when Exchange Server is available, one can easily recreate the OST file just by deleting the OST file from its location. Exchange Server will automatically create a new OST file with all the original data. Also, you can try to repair the Outlook profile or run Outlook in Safe mode to access the OST file data. However, there are situations when you are left with an OST file only. You need to repair the OST files to open them in such situations.
There are 3 ways to view corrupted OST files; we are enlisting them below:

Instant Solution
Try automated tool Kernel for OST to PST Converter to repair and recover corrupted OST file.
1) Scanost.exe
Scanost.exe was available with the earlier versions of Outlook and couldopen and view harshly corrupted and damaged OST files. This utility could repair those damaged and corrupted OST files too. This utility is also known as OST Integrity Check Tool because this tool checks the integrity first. Scanost is located at Drive:\Program Files\Microsoft Office\Office version. It did not change the OST file data in any way too.
Advantages of Scanost.exe
Easily scans and checks the entire OST file data.
Easily finds any conflict between server and client.
It ensures harmony between server and client.
Find scan log files in the folder of Deleted items of MS Outlook.
Disadvantages of Scanost.exe
Does not maintain data integrity.
Does not repair or recover damaged OST files.
Not capable of repairing minor errors and corruption issues.
Not compatible with MS outlook 2010 and the latest versions.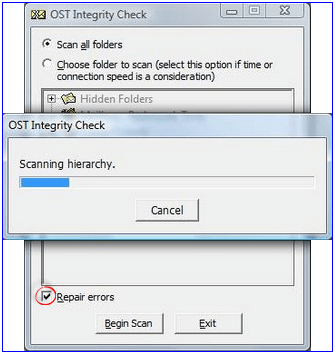 2) Scanpst.exe
Scanpst.exe is the latest tool and reliable for OST and PST files both. This tool can open, view, and repair harshly corrupted and damaged OST files. This tool is an inbuilt utility that is provided by Microsoft and usable for MS outlook data files. This tool is an inbuilt utility (Scanpst is located in the MS Office installation folder) which is provided by Microsoft and is usable for MS outlook data files. This utility is also known as Outlook Inbox Repair Tool because it can repair OST as well as PST files too.
Advantages of Scanpst.exe
Open and view healthy as well as corrupted OST and PST files.
Repairs corrupted OST and PST files.
Recover corrupted Outlook data.
It is a free tool provided by Microsoft.
No compatibility issues -it supports all versions of MS Outlook.
Disadvantages of Scanpst.exe
Capable of resolving small corruption issues only.
Cannot repair OST and PST files larger than 2GB.
Need to run this utility many times to repair files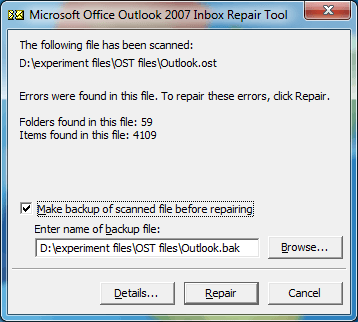 3) Kernel OST Viewer
Kernel OST viewer is a free tool to open and view corrupted as well as damaged OST files. This tool effortlessly opens and views damaged OST files. This tool is easy to use because it has a user-friendly graphical user interface. This utility can open OST files without the need for the original profile. You just have to select the damaged file, and then this tool opens it instantly.
Advantages of Kernel OST Viewer
A user-friendly interface helps you to work efficiently.
Generate file analysis report to analyze OST file data.
Open OST files without the original Outlook profile
Compatible with all MS Outlook, MS Exchange, and Windows OS versions.
Due to the above advantages, there might be many who would think of using the Kernel OST Viewer. The tool can be used following these simple steps:
After launching the software, browse and select an OST file to view its content.

Note: you may choose between "Open Single File" and "Open Multiple File(s).
Read the Process Information

Select a folder from the folder list and then choose the items (s) you want to view

If you want to generate a File Analysis Report, click on one of the report types on the task pane.

Select the required folders and press Analyze.

When the search is over, you have the following window:

Press Ok, and then the reports are displayed in the next window:

Note: The other three reports can be generated similarly.
Conclusion
You might not be able to view OST file data without Outlook. This is where you should consider a third-party tool such as Kernel OST Viewer. This tool works without MS Outlook. Questions? Get in touch with us. We're happy to help you.
See What TechNet Experts Says About the software