Read time 7 minutes
Summary: OST files facilitate offline access to email data in Cached Exchange Mode. Repairing corrupt OST files can be done using tools like Scanost.exe, Scanpst.exe, or the user-friendly Kernel OST Viewer, which allows independent viewing of damaged files.
OST files, short for Offline Storage Folders, are a Microsoft-provided feature designed for storing user information and email data in offline mode, commonly known as Cached Exchange Mode. These OST files contain a synchronized copy of mailbox data from the Exchange Server. They enable users to access their data even when not connected to the Exchange server. OST files offer the advantage of seamless offline work, allowing you to save and utilize your data without an active connection to the Exchange server.
How to fix OST file issues?
OST files may experience corruption and become inaccessible due to a range of software and hardware-related issues. In typical scenarios where the Exchange Server is operational, recreating an OST file is a straightforward process: simply delete the existing OST file, and the Exchange Server will automatically generate a new OST file containing all the original data. Alternatively, you can attempt to repair the Outlook profile or run Outlook in Safe Mode to regain access to the OST file's data.
However, there are instances where you are left with only the corrupted OST file and no immediate server connection. In such cases, it becomes necessary to undertake OST file repair to restore access to its contents.
There are 3 ways to view corrupted OST files; we are enlisting them below:

Instant Solution
Consider using the automated tool Kernel for OST to PST Converter for repairing and recovering corrupted OST files.
1) Scanost.exe
Previously, Outlook users had access to a tool called Scanost.exe in earlier versions of the software, which allowed them to open and view severely corrupted and damaged OST files. This utility was capable of repairing these compromised OST files and was often referred to as the OST Integrity Check Tool because it initially assessed the file's integrity. Scanost is located at at Drive:\Program Files\Microsoft Office\Office version. It's important to note that this tool did not alter the data within the OST file during the repair process.
Advantages of Scanost.exe
Easily scans and checks the entire OST file data.
Easily finds any conflict between server and client.
It ensures harmony between server and client.
Find scan log files in the folder of Deleted items of MS Outlook.
Disadvantages of Scanost.exe
Does not maintain data integrity.
Does not repair or recover damaged OST files.
Not capable of repairing minor errors and corruption issues.
Not compatible with MS outlook 2010 and the latest versions.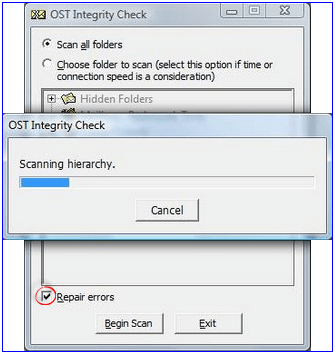 2) Scanpst.exe
Scanpst.exe is a reliable tool that can handle both OST and PST files effectively. This inbuilt utility, provided by Microsoft, is designed for opening, viewing, and repairing severely corrupted and damaged OST files, as well as PST files. Often referred to as the Outlook Inbox Repair Tool, scanpst is located in the MS Office installation folder and is a valuable resource for managing MS Outlook data files.
Advantages of Scanpst.exe
Open and view healthy as well as corrupted OST and PST files.
Repairs corrupted OST and PST files.
Recover corrupted Outlook data.
It is a free tool provided by Microsoft.
No compatibility issues -it supports all versions of MS Outlook.
Disadvantages of Scanpst.exe
Capable of resolving small corruption issues only.
Cannot repair OST and PST files larger than 2GB.
Need to run this utility many times to repair files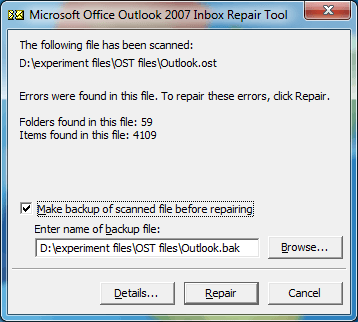 3) Kernel OST Viewer
The Kernel OST viewer is a free tool designed for opening and viewing both corrupted and damaged OST files. This user-friendly utility provides a straightforward experience with its intuitive graphical user interface. It allows you to effortlessly open and view damaged OST files without requiring the original profile. All you need to do is select the damaged file, and the tool opens it instantly for your convenience.
Advantages of Kernel OST Viewer
A user-friendly interface helps you to work efficiently.
Generate file analysis report to analyze OST file data.
Open OST files without the original Outlook profile
Compatible with all MS Outlook, MS Exchange, and Windows OS versions.
Due to the above advantages, there might be many who would think of using the Kernel OST Viewer. The tool can be used following these simple steps:
After launching the software, browse and select an OST file to view its content.

Note: you may choose between "Open Single File" and "Open Multiple File(s).
Read the Process Information

Select a folder from the folder list and then choose the items (s) you want to view

If you want to generate a File Analysis Report, click on one of the report types on the task pane.

Select the required folders and press Analyze.

When the search is over, you have the following window:

Press Ok, and then the reports are displayed in the next window:

Note: The other three reports can be generated similarly.
Conclusion
Viewing OST file data without Outlook can be challenging. In such cases, you might want to explore third-party solutions like Kernel OST Viewer, which functions independently of MS Outlook. If you have any questions or require assistance, please don't hesitate to reach out to us; we're here to assist you.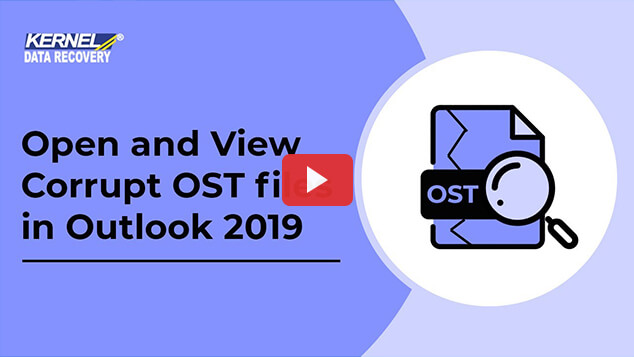 See What TechNet Experts Says About the software