Read time 6 minutes
Summary: Microsoft Outlook faces error 0X80072f06 due to Offline Address Book (OAB) synchronization problems. Manual fixes include system restore and OAB updates. For a dependable solution, Kernel OST to PST Converter efficiently resolves Outlook errors, recovers data, and offers various export options.
Microsoft Outlook stands as a universally favored and reliable email client, earning the trust of numerous corporations and individuals alike. As with any software, it isn't without its imperfections, requiring periodic bug fixes. Among the various issues that can arise, one of the more notorious culprits is error code 0X80072f06. This error code is specifically associated with OST files and tends to surface when Outlook encounters difficulties synchronizing with the Exchange server.
In Outlook's desktop client, it maintains a repository of essential user information, including names, email addresses, and more, within an Offline Address Book (OAB). This Offline Address Book closely parallels the functionality of the Global Address List (GAL) found on the Exchange server.
However, with Offline Address Book (OAB), Outlook users may face the error 0X80072f06 in some situations.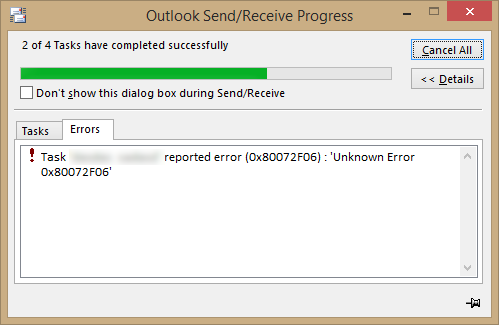 This problem tends to affect users who have recently undergone a migration to a different version of the Exchange server. As a result, they encounter difficulties in downloading the Offline Address Book (OAB). It's worth noting that the OAB does exist on the server; however, Outlook is unable to locate it, causing this inconvenience for users.
Some of the prominent reasons behind this error are listed below:
Improper. oab updates
Issues with Exchange security certificates
Windows system file damages
Improper installation of the Outlook application
How to fix Outlook error 0X80072f06?
To address this error, a potential workaround involves deleting the current OAB file and obtaining a fresh copy. Following this, it's crucial to synchronize the newly acquired file with the server, effectively resolving this issue.
Method 1: Perform System Restore
Restoring the system to an earlier time may help you resolve this error. To restore your system to the previous point, follow the step outlined below:
Restart your computer and log in as Administrator.
Next, go to Control Panel and select System and Security from all control panel items.
Now, select System Protection from the left pane.
Now, a new wizard will appear on the screen; select System Restore under System Protection tab.
Now follow the on-screen instructions to perform a system restore.

It will take a few minutes for the Windows to restore the system. After resetting the system, check if the issue is resolved or not.
Method 2: Update or Delete the Existing OAB file
The occurrence of this error can often be attributed to a lack of proper synchronization between the OAB file and the Exchange Server. Therefore, one potential solution is to consider either deleting the existing OAB file or updating it to ensure it is in sync with the server. This action can often resolve the issue at hand.
Update OAB
One can force an update (manually) the OAB as described in the steps mentioned below:
In Outlook 2007 and earlier: Go to Tools > Send/Receive > Download Address Book.
In Outlook 2010, 2013, 2016, 2019 and Office 365 Outlook: Go to Send/ Receive tab > Send/ Receive Groups > Download Address Book.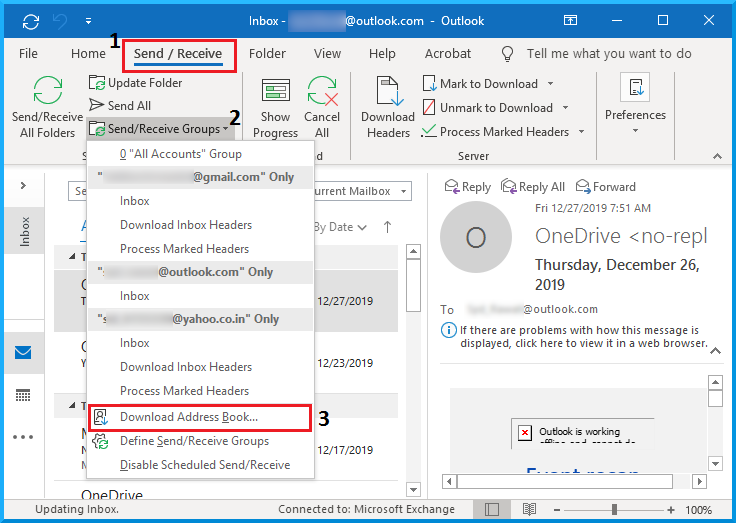 Another approach to resolving this issue is to disable the "Download changes since last Send/Receive" option. While this may result in a slightly longer download process, it ensures that you obtain a completely fresh copy of the address book, potentially aiding in the resolution of the problem.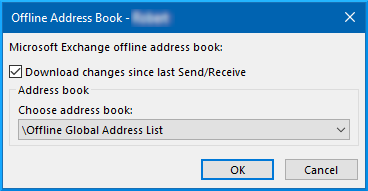 Delete/Rename OAB
A second way to make sure that you get a fresh copy of the OAB file is by renaming the OAB files with .old extension at the end of the name.
Go to the location where the OAB files are stored:

Note-For Windows Vista, Windows 7, Windows 8 and Windows 10

C:\Users\%username%\AppData\Local\Microsoft\Outlook

Within the Offline Address Book folder, you'll discover multiple subfolders named after the Account GUIDs, particularly if you have configured multiple Exchange accounts. A straightforward solution is to rename the Offline Address Book folder by adding the extension ".old" to its name. This action can help in resolving the issue, especially when dealing with multiple accounts.
By opening the new OAB folder, one can see that it is empty. Update the folder by clicking on the Update Folder tab.
Note: If you are using Outlook 2007 or earlier versions then you might have to rename the individual OAB files. There are six OBA files:
uanrdex.oab
ubrowse.oab
udetails.oab
updndex.oab
urdndex.oab
utmplsts.oab
After deleting these files, a manual update is triggered within the Outlook.
Method 3: Kernel OST to PST Converter
Kernel OST to PST Converter is a useful tool that solves many Outlook errors quickly. This OST to PST converter tool efficiently works on OST files and resolves any corruption that is making the data inaccessible. It has some great features, some of which includes-
Restore missing/deleted Exchange mailboxes from OST files
Recover large OST files
Resolve any corruption in the OST file
Save recovered OST file in different formats
Export OST mailboxes to Office 365 and various email clients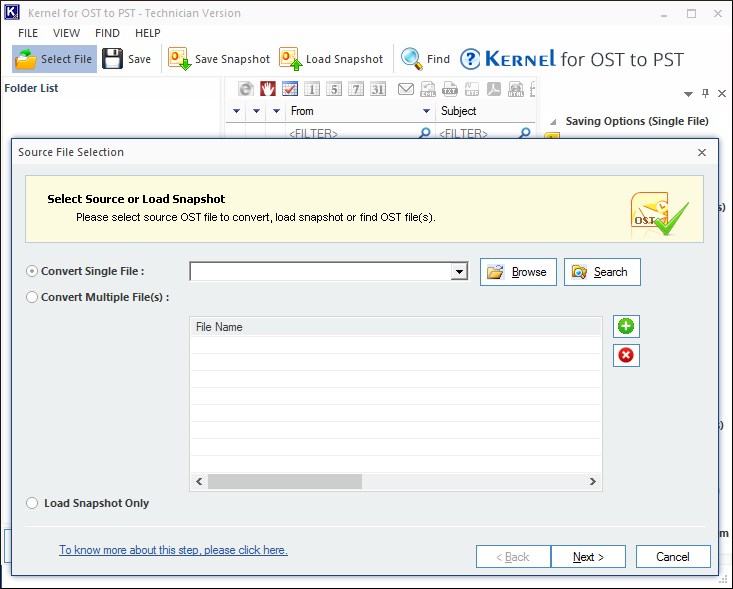 Kernel OST to PST Converter is highly efficient in fixing OST errors and resolving corruption issues.
Of the above three methods, the third method is the most reliable option as it ensures the recovery of Outlook data after the error 0X80072f06.
Conclusion
In our exploration of the error code 0X80072f06, we have identified the primary culprits behind its occurrence. Furthermore, we've delved into two manual solutions and one automated method to effectively address this issue. However, in cases where the manual methods prove ineffective, it is advisable to turn to a trustworthy third-party OST to PST converter tool like the Kernel OST to PST Converter. This tool can be your go-to solution for resolving the error and ensuring the seamless management of your Outlook data.