How to Backup IMAP Emails Using MS Outlook?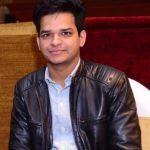 Read time 8 min
Whether you're a working professional or a self-employed individual, you might be using email for your work-related communications. Email clients like MS Outlook make emailing activities easy for individuals and organizations.
IMAP is the email standard for synchronizing the emails in the server with your email client. In the email client, you can see the message subject and body, and you can set up the email client on any digital device to access your emails.
IMAP is flexible to move or delete the email without downloading it into the system. Any changes done on any device will reflect in all the devices. However, just like any digital data, IMAP data is also vulnerable to various threats. So, taking a routine backup is an effective method to keep the mailboxes secure. But do you know how to backup your IMAP data from Outlook?
Why is IMAP Backup Necessary for a Business?
The business does not want to lose any of its data, whether essential or not. The older data may be moved to an archive folder, creating a separate archive folder. The data loss can occur due to application crashes, malware/virus attacks, physical damage to the computer, data theft due to phishing, or user mismanagement.
Saving the organization's data can be a highly beneficial activity because the business process may fail if the data is lost, and no backup is available for restoration.
Backup IMAP Data from Outlook
When you configure Outlook with an IMAP account, it stores a local copy of IMAP mailboxes in OST format, and with the help of this file, users can continue working on their mailboxes. But, if this OST file gets corrupt or removed accidentally, you wouldn't be able to access the IMAP data without establishing a connection with the mailing server. So, it's necessary to continuously backup your IMAP data.
Here we have mentioned some methods which you can use to backup IMAP mailboxes in Outlook.

Instant Solution
Manual Method to Backup IMAP Account Configured with Outlook
One of the fastest methods to backup IMAP emails is to use the "Import/Export" option of Outlook 2013/2016. With the help of import/export wizard, an OST file can easily be converted to PST format. Follow the below steps to understand the process:
Open Outlook 2013/2016 and go to the File tab.
Now, select Open & Export and click Import/Export.
The Import and Export Wizard will appear on the screen. Select Export to a file and click Next.

Select Outlook Data File (.pst) and click Next.
Now, select the IMAP folder you want to backup and click Next.

Note: With this method, you can backup only one mailbox at a time

Select the location where you want to save this file and click Finish.
This way you can easily backup IMAP mailboxes manually. But there are some complications with the manual methods, such as you can lose your data if an error occurs. So, it's better to choose an alternative way to backup IMAP mailboxes.
Expert Recommendation is Kernel IMAP Backup
Backing up IMAP mailboxes with Outlook is a secure and reliable approach. But, if the process stops in-between due to any reasons or Outlook stops responding, then you might end up losing your data. That's why an automated solution is the best approach to back up IMAP mailboxes. So, even if your system shuts down inappropriately, the data will not be lost.
Kernel IMAP Backup
If you don't want to use MS Outlook to backup IMAP mailboxes, then there is a better alternative for it – Kernel IMAP Backup software, that allows you to backup IMAP mailboxes without using any third application. This software even allows you to set filters on IMAP mailboxes for selective data backup. Here, take a look at the working process of this great utility.
Install and launch the software on your system.

On launching the software, click the Add button to add IMAP account.

Add the credentials for IMAP account with the server name and port number, and then click Add.

The IMAP account will be added to the screen, click Set filter and Migrate.

Note: You can backup multiple IMAP accounts with this software.
In the next step, apply the filters to IMAP mailbox based on your requirements and click I am OK Start Migration.

The Save As pop-up will appear on the screen, select the specific format in which you want to save the file and click OK. By Default, the PST file option is selected.

Now, browse and select the folders where you want to save this file and click OK.

The software will start to backup IMAP mailbox; once it is complete, a notification will display on the screen, click OK to end the process.

If you want to save this report in CSV format, then click Save report to CSV. And that's how you can easily backup IMAP mailboxes.
Video Tutorial: Backup IMAP Mailboxes to PST Using Kernel IMAP Backup Tool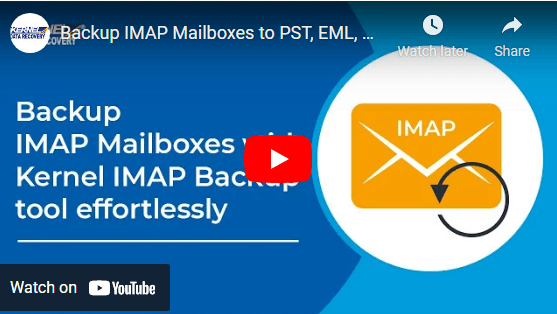 Conclusion
Configuring the IMAP account in Outlook is a great way to manage your emails. But it is necessary to take regular backups of your IMAP mailboxes. Kernel IMAP Backup helps you create IMAP backups quickly without any hassle.