Read time 5 minutes
Summary: This content delves into the pivotal role of Microsoft Exchange Server in enterprise communication, addressing common challenges and offering secure troubleshooting methods. It also recommends Kernel for OST to PST Converter for data recovery from corrupted OST files.
Microsoft Exchange Server plays a crucial role in managing extensive business communications for enterprises, ensuring seamless email access without delays. However, when performance issues arise with Exchange, Outlook users often find themselves needing to troubleshoot, which may involve tasks such as creating a new Outlook profile. Additionally, there are times when users need to locate the Exchange Server address. In this article, we will explore the process of finding the Exchange Server address and provide straightforward solutions for addressing common connectivity problems.
Find Exchange Server Address
Start the Outlook. When Outlook has an active connection with Exchange Server, then it shows its status as 'CONNECTED TO: MICROSOFT EXCHANGE.' Ensure this connection to proceed further in the process.

Click the File option on the menu.

Click Account Settings>>Account Settings.

Here, select the Exchange Account with the Server name you want to check and click Change.

In the Server Settings section, you can see the full name of your Exchange Server.
Outlook Web Access (OWA) email client can be used as well. So, how to find out exchange server address with OWA. You just need to navigate to
Settings>Mail>Options>Mail>Accounts>POP and IMAP>note down values from POP Setting & IMAP Setting.
Or you can run the following command in the Exchange Management Shell run as administrator to get all attributes of the Exchange Server including the address.
Get-ExchangeServer
Once you've obtained your Exchange Server address, you can leverage it to resolve any issues pertaining to incoming or outgoing messages. However, there are instances where Outlook encounters difficulties connecting to the Exchange Server, leading to a cycle of trying various methods to resolve the problem. In summary, the 'Get-ExchangeServer' cmdlet emerges as a top-notch solution, offering comprehensive insights into discovering the Exchange Server name and related attributes.
Let's explore a selection of secure troubleshooting methods that any user can execute independently, without the need for assistance from an Exchange Administrator.
1. Restart Outlook
This is the most straightforward approach to resolve a connection issue. If restarting Outlook doesn't resolve the problem, try restarting your computer. Often, when the internet connection is disrupted, Outlook may fail to establish a connection with the Exchange Server. Therefore, restarting Outlook should typically rectify minor connection-related issues. If restarting Outlook proves ineffective, proceed to the next troubleshooting method.
2. Disable the offline mode
Users often inadvertently set Outlook to offline mode, which can prevent incoming and outgoing emails. To resolve this, you should disable the offline mode and reestablish the connection between Outlook and Exchange.
Click the Send/Receive option on the menu.
Go to the Work Offline button and click it.
The status of the Outlook will change to 'Trying to Connect' from 'Offline.' Soon it will show the status as 'CONNECTED TO: MICROSOFT EXCHANGE.'.'
3. Run a repair installation
You can run a repair installation from the Control Panel to remove the connection issues.
Close the Outlook application and go to the Control panel.
Click Programs and Features.
Select Microsoft Office and click Change.
Click Repair and then select Continue.
Restart the computer after completion of the repair process.
Run Outlook and check its status.
4. Recreate the OST file
Since the OST file is stored locally on your computer, there is a heightened risk of corruption caused by malware or hardware issues. A corrupted OST file can disrupt the connection between Outlook and the Exchange Server. To address this, consider recreating the OST file, which can potentially resolve the connection problem in Outlook.
In the Control Panel, select the Mail option.
Click the E-mail Accounts option.
Select your account and click Open File Location. It will take you to the location of the respective OST file.
Select the OST file, right-click it, and select the Delete option.
Start the Outlook again. It will recreate the OST file and allow you to connect with Exchange Server.
5. Use the Scanpst tool to repair the corrupt PST file
Outlook offers a default scanning tool called scanpst.exe which repairs the PST file from minor corruption-related issues. You can run the tool and scan the PST file. It will check for errors and will prompt you to fix it if it finds any corruption.
You can find the Scanpst at the following location:
Outlook 2019 – C:\Program Files (x86)\Microsoft Office\root\Office16
Outlook 2016 – C:\Program Files (x86)\Microsoft Office\root\Office16
Outlook 2013 – C:\Program Files (x86)\Microsoft Office\Office15
Outlook 2010 – C:\Program Files (x86)\Microsoft Office\Office14
Outlook 2007 – C:\Program Files (x86)\Microsoft Office\Office12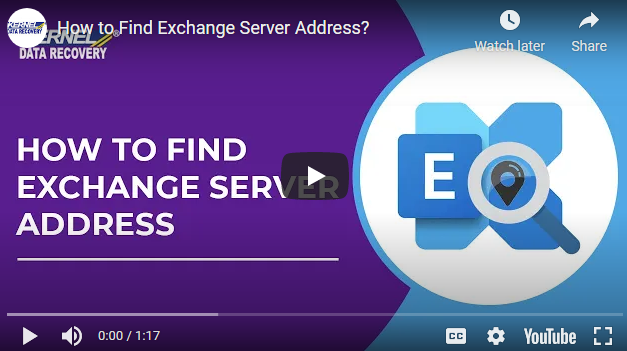 Conclusion
When Outlook fails to connect to Exchange due to data file corruption, relying solely on manual troubleshooting methods that merely identify errors without offering a definitive solution may not be sufficient. Kernel for OST to PST Converter stands out as an exceptional solution. It can recover data from corrupt, orphaned, or inaccessible OST files, rendering their content usable once more. You can then save the recovered data in a PST file, making it accessible within Outlook.
FAQs
Q- What is the Exchange server address URL?
A- To access your Exchange server, you'll need the server address URL. This URL is essentially the link to your server's web portal where you can manage your email, calendar, & other features. By default, the Exchange server address URL contains the fully-qualified domain name (FQDN) of your server in the format https://<ServerFQDN>/ecp. This means that once you input this URL into your web browser, it will direct you to your Exchange server's Electronic Control Panel (ECP).
Q- Where is the Exchange server default location?
A- If you are using Exchange 2016 or Exchange 2013, the default location of the server is typically C:\Program Files\Microsoft\Exchange Server\V15. However, if you are working with Exchange 2010, the default location would be C:\Program Files\Microsoft\Exchange Server\V14.