I've been using MS Outlook for years and have come across diverse error messages. One of them, namely, "Microsoft Outlook has encountered a problem and needs to close" is of specific interest in this write-up. At times, MS Outlook just doesn't want you to work! But it is not so funny when you've got a job to keep or a project to submit and so on! The worst part of this is that it does not reveal much additional information. This makes it pretty hard for the user.
But what causes this error or why is this an issue that we need to address? To delve into the depths of this question, we need to read on.
Causes of "Microsoft Outlook has encountered a problem and needs to close" Error
There can be many reasons why Outlook crashes frequently. Some of these issues may be directly related to the Outlook application itself while there may be a few which might be related to system configuration or another application.
Few of the most common causes of Outlook crash issue are:
Virus or Malware Attack
Yes, a virus or malware attack can harm not only your operating system but various applications and their functioning as well. Such malware can enter your system through emails. Email applications and email data are seldom the final targets of a virus. But it is very often the first target of a virus attack. So, if your Outlook is crashing too often, it may be due to a malware or virus attack.
Corrupted PST File Header
Personal Storage Table or PST file is an Outlook specific file used to store various Outlook items on local storage. A PST file can get corrupted due to hardware or software related issues. As a result, it can hamper the smooth functioning of Outlook application and even lead to abrupt shut down of the application.
Third-party Add-ins
Outlook Add-ins can lead to issues if the add-ins are not from trusted vendors or if they are incompatible with the Outlook version installed on your machine. Usually, non-Microsoft add-ins or third-party add-ins are the reason behind Outlook application crash related issues.
Corrupted Outlook Binaries
Manually editing, renaming, or deleting any application-related dll or binary files can often cause a wide range of issues. Outlook application is no different. Make sure not to modify any such libraries or system files without complete knowledge of the outcome of such actions.
System Resource Allocation Issues
There may be chances that another application is using your Outlook application, and hence you are not able to access it. Further, the lack of system resources such as CPU, memory, storage, and virtual space can also lead to Outlook crash. Another possibility is that Outlook starts consuming more than the normal amount of resources due to any malfunction. And when the system resources run out, it starts crashing.
Corrupt Email Attachments
If Outlook crashes sometimes occur only when you try to open a particular email attachment, the issue may be due to corrupt file attachment. On the other hand, If the issue occurs with multiple email attachments or a particular file type as an attachment, you may need to troubleshoot it differently as the file may not be corrupt.
Oversized PST File
Outlook has a default limit of 2GB for PST files (for older versions). Although it is sufficient for level tasks, PST size keeps growing if it is not managed or archived periodically. If the PST file size grows beyond this limit, then it can lead to Outlook crashes.
Apart from these there are many other causes. However, there are also, multiple methods to resolve this issue, using either the manual or the mechanical methods.
Fixing the Error
Manual Method of rectifying the error is as follows:
Is Your Computer Working in Compatibility Mode?
Go to "Start" and "outlook.exe".
Right Click.
Click on "Properties"
Switch to "Compatibility" tab
Make sure that the "Run this program in compatibility mode for" is not checked.
If this doesn't work, you'll need a different method.
Start Your Outlook in "Safe Mode" & Then Disable Responsible Add-ins
Go to start menu and search "outlook.exe /safe".
Double-click to launch it in safe mode.
Go to "File" < "Options"
Click" Add-ins" < "Go"
A new popup dialog box comes up, remove all of the external add-ins. Now, leave Microsoft add-ins only.
Click 'Remove'
Start Outlook again.
If this doesn't work, go forward to the next process.
Creating a New Outlook Profile
Go to Start and then to Control Panel.
Then go to Mail.
In the new pop-up window, click "show profiles"
In the new popup window click "Add", select new profile and then click OK
Restart Outlook
Using the ScanPST
If the issue isn't abrogated, try this: Use the in-built tool namely, ScanPST to fix the above error. If you search for it on Windows Explorer, you might just find it. Take a look at this piece of instruction, and you'll get the tool: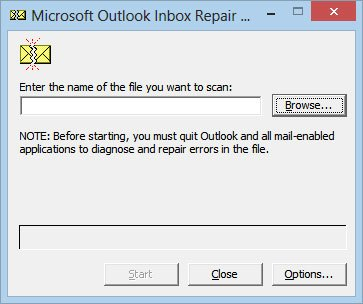 If all of this doesn't work, you need a 3rd party software, Kernel being one of them. To find out more, do keep reading.
Kernel for Outlook PST
How it Works
This is a brilliant tool that works with easy yet profound steps. The steps are explained here below:
"Browse" to select a .PST file. Click 'Next'. (Note: Please read the window with details of the "Process Information".)
Click "Finish".
Select folder(s) from list to choose files from. And then select the Saving Options.
Select the Output Type in which you wish would save the recovered data. Click Next.
Again, Click Next (In case you make no changes).
Select Split option if you need to and then attach prefix to store name if necessary. Click Next.
Select Saving Path and click Ok.
Click Finish.
You'll receive a confirmation when the process is complete. Having said that if you still think why you might want to get this software, the following features might just convince you to get one:
The Tool can recover emails from corrupt or damaged PST file(s).
It can repair PST file(s) of large size and therefore the tool is free from size-limitation.
The Software recovers data which are password-protected or encrypted.
Recovers emails as well as folders, calendar events and so on.
It saves PST Files in various formats ranging from DBX, MBOX, MSG and EML to HTML, MHTML, RTF, TXT as well as PDF formats.
Whether it's Lotus Domino (IBM Domino), or Exchange Server; the software easily saves in just any of these, so here's another benefit to get you to get this software.
You can save PST files in mail clients such Gmail, Yahoo and more.
Supports all versions of MS Outlook. So, whether it's 2003/2002/2000/98/97 or 2019/2016/2013/2010/2007, you have nothing to be bothered about.
As far as your Windows is concerned, it supports 10/8.1/8/7/Vista/XP/2000/98/NT/95
The Software can also recover those files that have erstwhile been deleted and that too, restored in its original folder with ease.
Conclusion
In this blog, we discussed the scenarios in which you can face the Outlook error - "Microsoft Outlook has encountered a problem and needs to close." Further, we discussed the basic reasons why or how these scenarios lead to Outlook encountering an issue. This was to help you understand the problem so that you can avoid it in the future. Then, we guided you through step by step troubleshooting to identify the issue such as opening your system in Compatibility mode, then opening Outlook application in Safe mode, disabling third party Add-ins, creating a new Outlook profile and using ScanPST tool.
If all these steps don't work to fix the error, don't worry! Kernel is always by your side. Its Kernel for PST Repair is always there to give you a helping hand. Moreover, if you would like to use the trial version, you can easily download it from the website.