Lotus Notes users receive 'winmail.dat 'attachments when the sender is a Microsoft Exchange or Outlook user. This file appears like a binary file. In this article, we will talk about avoiding the Winmail.dat attachment from being sent to non-Exchange based users (e.g. Lotus Notes).
Why Winmail.dat attachments?
This issue basically arises as the Exchange sends message without turning on the MIME encoding. And the Lotus Notes client cannot accept messages in Rich Text Format (RTF). To prevent this situation, we can follow any of the given steps:
Modify Exchange rich-text format Settings:
Exchange 2003
Go to Global Settings in the Exchange System Manager and select the domain. Default domain would be "*" but you need to compose an extra entry for the external SMTP domain. Now open the property of the domain and go to Advanced. Now under the heading "Exchange rich-text format" select 'Never Use'.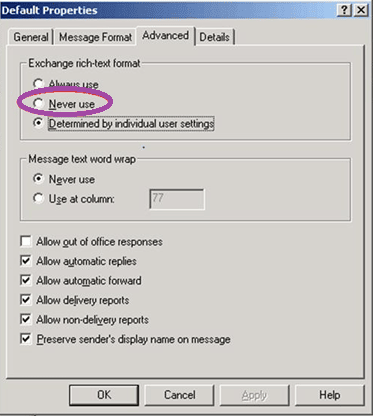 Exchange 2007
Open the Exchange management console, Recipient Configuration, Mail Contact and the change the settings to Never for Use Mapi rich-text format.
Configure RTF settings at Recipient Level
You can configure RTF at the recipient level to troubleshoot the error. To do this for an AD contact, uncheck the 'Use Mapi rich text format' box.
Other Outlook Settings
While sending Outlook Rich Text messages, use the following format:
Convert to Plain Text format
Convert to HTML format
Convert to Rich Text format
In Message format settings, in the 'Compose in this message format' field, set Plain Text, Rich Text, HTML.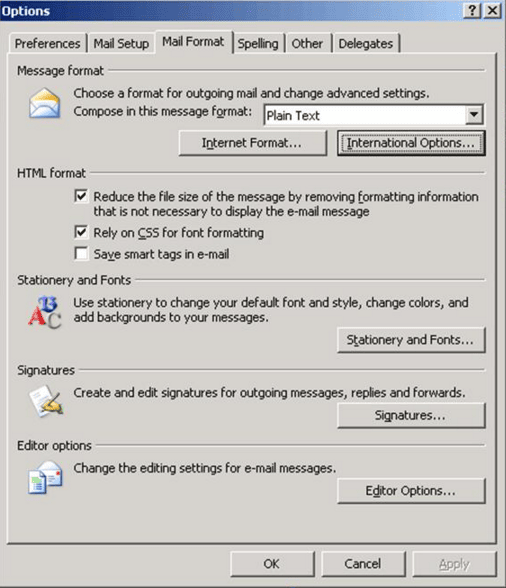 Note: Also, modify personal Outlook contact settings, by changing the Internet format filter to 'Let Outlook decide the best sending format'.