Read time 11 minutes
HCL has recently acquired IBM Notes and several associated services. Some of the services like SmartCloud went down, and others may go offline gradually. It is high time businesses move to a more beneficial platform like Office 365, which has zero maintenance, greater security, and a larger number of applications.
Migrating your IBM HCL Notes emails to office 365 doesn't have to be difficult. In this post, we will walk you through the steps you need to take to make the migration as smooth as possible. We will also provide tips on how to reduce potential downtime during the migration process with a top-notch third-party tool. So, whether you are ready to switch over to office 365 or are just considering it, read on for helpful information!
HCL Notes to Office 365 migration
HCL Notes user interface is quite difficult to operate. So, it is not suitable for novice and non-technical users. It is expensive to purchase, install and maintain. Users need to purchase it individually as it is a standalone application. Many have complaint of synchronization issues between Notes & Server as well which has convinced many HCL Notes users to migrate to Office 365. Also, Office 365 provides more benefits and services than HCL Notes, such as less RAM storage, large cloud storage, support for VoIP and PBX technologies, integration of collaboration tools like SharePoint, OneDrive, Skype for Business, Yammer, Teams, etc.
For the users of IBM SmartCloud Notes, since HCL has taken over the collaborative products in IBM's portfolio, it is going to end the Softlayer Infrastructure under which the SmartCloud Notes comes. So, SmartCloud Notes users also have to migrate to other cloud platforms like Office 365 ultimately. For migration, they can follow the same process as HCL Notes to Office 365 migration.
Migration from HCL Notes to Office 365 manually with IMAP Connector
One can migrate from HCL Notes to Office 365 or Exchange manually with the help of an IMAP Connector. Below mentioned are the steps for HCL Notes to Office 365 migration:
Backup NSF files
First of all, backup your HCL Notes NSF files. In case your migration fails and NSF files get corrupt during the migration, you can recover the mailbox data from the backup taken earlier.
Create new Mailboxes for each NSF user
Now, create new mailboxes at the Office 365 location (with the same name as in IBM Notes) for each user who has an account in HCL Notes.
Enable IMAP TCP/IP port

First, you need to enable the IMAP TCP/IP port for each user account. Just follow the steps mentioned below to do the same:

Open Domino Administrator in the Lotus Notes Application.
Go to the Configuration tab.
Open the Server document, which executes the IMAP service.
Click Ports>Internet Ports>Mail tab.
In the Mail (IMAP) column, change the 'TCP/IP port value status' to Enabled.
Click the Save button to save the changes.

Synchronize with IMAP Connector
Finally, use the IMAP connector to synchronize mailboxes between Lotus Notes and Office 365. There should not be any issue with the connection now.
Migrating Lotus Notes to Office 365 with Microsoft Online Notes Inspector
Migrating from Lotus Notes to Office 365? Microsoft has Microsoft Online Notes Inspector (MONTI) to help you. MONTI is designed to help with the process of migrating Lotus Notes to Office 365. It helps with all aspects of the migration, from planning and execution to post-migration activities.
To start with, follow this link: https://www.microsoft.com/en-in/download/details.aspx?id=29567 and look to download the MONTI.exe file.
If you would like to download in a different language, choose it from the drop-down list and click Go.
Next, you have two different options to choose from:
Open or run the program from the current location to start the installation right away.
Save the download or Save this program to your computer for later installation.
As MONTI is now up and running, you need to tap on the option Unzip to extract all the MONTI documents.
Now, go to the folder location and navigate to Office 365 Deployment Tools\MONTI\Docs folder.
Finally, learn how to migrate Lotus Notes to Office 365 by reading the MONTI 3.2 Configuration Guide.
Drawbacks of Manual HCL Notes to Office 365 Migration
The manual migration process has many drawbacks just like any other manual method-
The firewall and proxy server of HCL Notes may block the internet connection.
NSF files that are more than 1 GB in size are not migrated
Calendar items have to be migrated manually as this method does not support its migration
It is quite a lengthy and time taking process.
Allows migration of 15 mailboxes in one go.
Higher chances of structural changes, property alteration, data loss, and incomplete migration.
Only a technical expert can perform the migration without any hassle
Note: Another method to move NSF data to Office 365 platform is by exporting it to the CSV file format using the Export feature in the Notes application and then importing the CSV file into the Office 365 platform using the Network Upload method, which includes the use of SAS URL and AzureAz Copy tool. This method is not recommended and explained since it is complex, lengthy, suitable for only emails, and fails most of the time.
An Easy Method for NSF to Office 365 (Exchange Online) Migration
An easy method for migration from Lotus Notes to Office 365 is available. By using the Kernel Office 365 Migrator for Lotus Notes tool, you can smoothly migrate all the mailbox items like emails, calendars, appointments, drafts, journals, address books, appointments, tasks, attachments, sent items, and calendar without any data loss. The tool shows migration support to all HCL Notes versions and Office 365 plans.
Features of Kernel Office 365 Migrator for Lotus Notes
Unlimited NSF file migration
One can migrate multiple NSF files simultaneously to Office 365 using this tool. Also, the multiple NSF file migration can be automated with the help of a CSV file if needed.
Preview of NSF data before migration
The preview option of the tool lets the user verify the content of the selected NSF file even before migrating it.
Three savings formats
Using this tool, one can save the NSF emails in three different formats TEXT, HTML, and RTF (Low quality & high quality).
Migrate SmartCloud Notes and Domino Server
Along with local NSF file data, the software allows you to export SmartCloud Notes and Domino Server data to the cloud location successfully.
Modify folder name before saving
The mailbox folders (Inbox, Sent, Drafts, Trash, etc.) can be renamed before saving to Office 365.
Intelligent filtering before migration
Notes data can be altered with integrated filter options to move only desired data to the destination.
Smart and advanced mapping
Source and destination mailboxes for multiple NSF file migration can be facilitated either automatically or in batch with a CSV file easily.
Impersonation Rights
For Office 365 mailboxes, there is an option of direct assignment of impersonation rights in the migration.
User-friendly GUI
The tool is designed in such a way that even non-technical users can perform the migration without any assistance.
How to Migrate NSF Files to Office 365 Easily?
Let us understand how to migrate HCL Notes emails to Office 365 in an effortless manner. Use the robust Kernel Office 365 Migrator for Lotus Notes for subtle export of NSF files (both Notes and Domino Server) to Office 365 destination. Follow the procedure in sequence:
Launch Kernel Office 365 Migrator for Lotus Notes software and click Add Local NSF File(s).

Browse the number of NSF files to migrate. Selected NSF files will get listed for migration.

Select the NSF files and click the Migrate option.

Note: You can preview the file content by selecting any NSF file with the Preview option to view its complete content. Select the data as required and migrate directly from there.
Provide Office 365 account login credentials. You can also assign Impersonation Rights to the user mailboxes by selecting the checkbox or click the link to know how to assign these rights manually using PowerShell commands. Click OK.

In the Mapping window, select the second option of Map automatically and click Get Target Mailbox(es) list button. The tool will search all mailboxes of respective Office 365 accounts and will automatically map such accounts which have the same name as the source NSF file. Then select the NSF file and click Mapping option to manually select the target mailbox.

The list of target mailboxes is opened. Select your choice and click OK. Similarly, map for other NSF files.

After all the NSF files are successfully mapped with an Office 365 account, click OK.

The filter window will appear. You can set date range, email categories, folder mapping, and folder filters.

Select the most suited saving mode and click OK.

A message will be displayed after a successful migration. Click OK.

Hence, the HCL Notes files are migrated to the Office 365 platform.
Software Video Tutorial for Lotus Notes to Office 365 Migration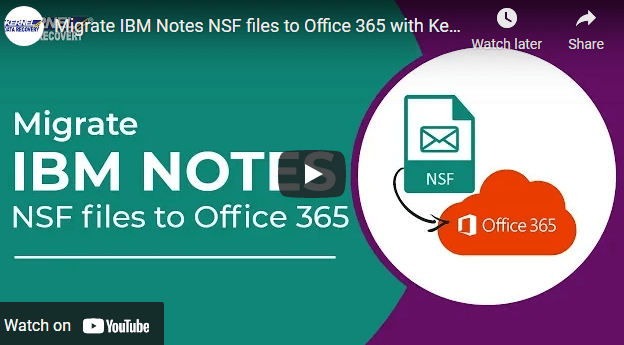 Conclusion
Manual migration from HCL Notes to Office 365 is not an easy task. So, our tool Kernel Office 365 Migrator for Lotus Notes becomes the perfect solution for you.
This tool can easily migrate all your email data, including folders, messages, contacts, and calendar events, from IBM HCL Notes to the Microsoft Office 365 cloud platform. The software is equipped with powerful features that make the migration process quick and easy. Contact us today to learn more about our software or get started with a free trial.