Just like MS Outlook, Zimbra Desktop is an email client available for both offline and online use. The Zimbra web client offers one of the best browser-based interfaces for connecting end-users to the information and activity in their personal clouds. Likewise, the users can enjoy the same powerful experience offline with Zimbra desktop client. It offers cross-platform functionality for Windows, Mac, or Linux desktops using IMAP/POP, CalDAV, CarDav.
Unlike Outlook, the Zimbra desktop client and server applications can be downloaded for free, which can be a game-changer when choosing between the two services. Although it wouldn't be right to compare the two services as Outlook is far superior to Zimbra in terms of features and support. Whatever the reason might be, in this blog post we are going to cover methods that will help you in exporting mailbox from Zimbra to PST file format, which can be saved locally on your hard drive.
Additionally, it is also possible to import Zimbra mailbox files (EML format) into the Outlook desktop client using the drag and drop functionality.

Instant Solution
Try automated tool Kernel IMAP Backup to Export Zimbra mail to Outlook PST, EML, MSG, PDF and DOC file format, which can be saved locally on your hard drive.

The manual migration Steps can be divided into the following:
Step 1: Export and Save Zimbra Emails in EML Format
Following the below-mentioned Steps will let you save Zimbra mailbox items directly to EML format on your system:
Launch Zimbra desktop client and click on the Preferences tab.
Now, from the left pane, choose Import/Export.
From the export panel choose All Folders.
At this point, you can either select any individual mailbox item or the whole mailbox. Click OK to proceed.
Click on Export to begin the process.
Next, provide the destination to save the mailbox items.
The exported items are compressed in a ZIP file and are required to be unzipped. Use proper tools like WinZip/ WinRAR to unzip the file.
Next, check the extension of the unzipped mailbox items. At present, Zimbra only allows EML format for exporting the mailbox files.
Step 2: Migrate EML Files to Outlook
EML files can easily be accessed with Outlook desktop client anytime.

Hence, it seems like overkill, but it is possible to migrate EML files to your Outlook desktop client.
Open your Outlook desktop client and select the Folder tab from the ribbon. Next, click on the New Folder tab.
Provide a new name for the folder.
One can now directly drag and drop all the EML mails into this folder.
Step 3: Export Zimbra Emails from Outlook to PST Files
It is now possible to export the Zimbra emails (from Outlook) as a PST file to your system.
Click to the File tab > select Open & Export from the left pane.
Click on the Import & Export tab. This will open up Import and Export Wizard. From the list, select Export to a file.
Next, select Outlook Data File (.pst) option.
Select the folder containing the Zimbra backup files.
Click on the Browse button to save the file to the desired location.
Check the prior assigned location for the saved PST file.
Congratulations! You have successfully exported your Zimbra backup files to hard drive in a PST format.
Kernel IMAP Backup
As we have seen earlier- it is possible to export Zimbra desktop client mailbox items as a PST file on your system. However, manually exporting the mailbox items from Zimbra to PST file might get a little tricky. Therefore, it is recommended to use a professional migration tool. One such tool is Kernel IMAP Backup. This tool has the capability to migrate any IMAP mailboxes to PST files and other formats. Alongside this, IMAP emails can also be migrated to EML, MSG, MHT, HTML, DOC, DOCX & PDF formats. One can entirely rely on data integrity as data is not altered in any way. In the end, the software generates a summary report in CSV format. This report includes migration details such as source mailbox login id, folders exported, migration status, item count, and more.
The software's UI is eye-catching and user-friendly. Each migration Step is quite descriptive at the places where it needs to be. Hence, it can be deduced that non-technical users are highly unlikely to experience any issue during migration.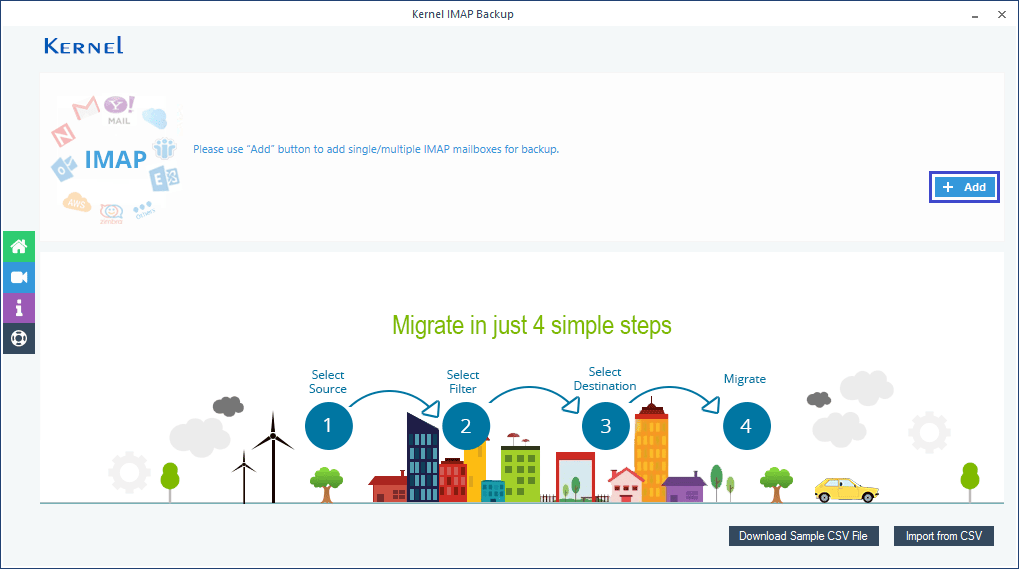 Conclusion
It is not straightforward to export Zimbra to PST on hard drive using the manual method. In order to do it manually, the user has to follow three manual Steps, which might seem like a daunting task for some. For a hassle-free migration experience, we highly recommend using the Kernel IMAP Backup tool.