Read time: 9 minutes
Summary: I experienced an unexpected disruption with Microsoft Teams due to Error Code caa301f4. This error can be caused by incorrect credentials, permission issues, server problems, or network connection problems. Five methods are provided to resolve it: clearing cache data, deleting JSON files, checking for updates, enabling TLS protocols, and managing Windows credentials. A backup strategy is also recommended. Additionally, a tool called Kernel Microsoft Teams Migration is introduced to facilitate data relocation. The article concludes by encouraging readers to share their insights in the comments section.
For several months, I had been utilizing Microsoft Teams as my primary platform for work meetings and collaboration. It proved to be an indispensable tool in my daily routine. However, my reliance on it was unexpectedly disrupted when I encountered the troublesome Error Code caa301f4 while attempting to launch the application, causing both surprise and inconvenience.
Initially, I brushed it off, as such occasional glitches are not uncommon. However, as my repeated efforts to resolve the issue by reinstalling the application or rebooting my computer proved futile, anxiety started creeping in. I found myself pondering the implications of this persistent error. Could it potentially hinder my ability to utilize Microsoft Teams entirely? The prospect of missing out on crucial meetings weighed heavily on my mind.
In this session, we'll delve into the root causes of this issue and offer a comprehensive guide to swiftly address it. Continue reading to gain insights into troubleshooting the "Error Code caa301f4" and regaining access to the Microsoft Teams application.
Causes of the "Error Code caa301f4"
Let's look at the causes of this error code.
The primary reason behind this error occurs when users attempt to log in using incorrect credentials or outdated information. For instance, if you try to log in with an outdated password or utilize your email address instead of your designated username, you might encounter the error code caa301f4.
Another common cause of this error is when users do not have permission to access the Microsoft Teams application. This could be due to a couple of reasons, such as not having an active subscription or not being invited by another user who has access.
Another possible source of this error could be attributed to server-related issues. When the server responsible for hosting your Microsoft Teams application encounters problems or is undergoing maintenance, it may lead to authentication errors similar to the one described here.
Ultimately, there could be a potential problem with the network connection linking your device and the Microsoft Teams application.
5 Easy Methods to Resolve Error Code caa301f4 in Seconds
This error has been reported by multiple users across the globe. Fortunately, this error is easy to fix and can be resolved quite easily with a few steps.
Clearing the Cache Data in Teams
The first step to fixing the caa301f4 error code is to clear your cache. The cache stores important files and data, which helps make programs run faster. However, it can become corrupted over time and cause errors like this one.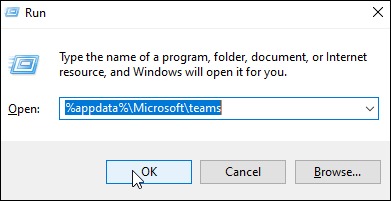 To clear it, open the Run command box (Win + R) and type "%appdata%\Microsoft\teams\," then press Enter on your keyboard. In the folder that opens, delete all of the files except for ones that have names ending in .exe and .dll as these are necessary for Teams to run properly. Restart your computer once this is done, and try running Teams again to see if the error persists.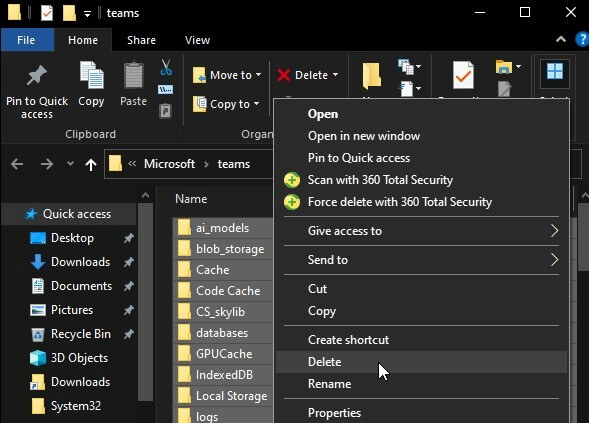 Deleting JSON Files
The error code caa301f4 can be quite troublesome, but you can resolve it by following these steps: Delete all JSON files and logs stored on your computer's hard drive.
Step 1: Close Microsoft Teams & its processes in Task Manager

Before you can delete any files associated with Microsoft Teams, you'll need to make sure that no instances of the program are running in the background.
To do this, first, close Microsoft Teams itself by right-clicking on the Teams icon on your taskbar and selecting "Quit" or "Exit" from the pop-up menu. Then, launch Task Manager (you can do this by pressing Ctrl+Shift+Escape) and make sure that there aren't any active processes related to Microsoft Teams still running in the background. If there are, end them as well before proceeding.

Step 2: Delete JSON Files & Logs

Now that all of Microsoft Teams' processes have been closed down, it's time to delete some files associated with it from your computer's hard drive. The first place you should look is in your %appdata% folder (you can use Windows Search or access it directly via File Explorer).
Once inside the %appdata% directory, navigate to \Microsoft\teams and delete any JSON files or log files that are present there before attempting to reopen Microsoft Teams again.

Step 3: Restart Your Computer & Reopen Microsoft Teams

After successfully completing all these steps, the final action is to restart your computer before launching Microsoft Teams anew. This will guarantee the proper application of all changes and provide a clean slate when you reopen the program.
Check for Available Updates
The next method when you encounter error code caa301f4 is to check for updates in Teams. Such frequent updates can always improve Microsoft Teams performance. Open the application & click on the three dots at the top next to your profile picture.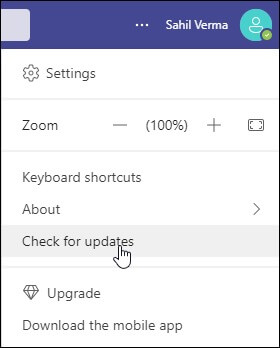 Select the option "Check for Updates" from the drop-down menu and wait while your version of Teams downloads new updates. Once all the available updates have been installed, restart your device, and check if the error persists.
Enable the TLS 1.0 / 1.1 and 1.2 Protocols
Enabling the TLS 1.0/1.1 and 1.2 protocols allows you to connect securely with all websites and applications, which ensures that your data remains secure and private. Below are the steps you need to follow:
Open your Internet Explorer browser and click on "Tools" (or press the Alt key on your keyboard to get the Tools bar).
Select "Internet Options" from the menu that appears in the new window that appears, and select "Advanced."
In the tab Advanced, scroll down until you find the "Security" section. Check the box next to "Use TLS 1.0/1.1/1.2" Click Apply and close out of Internet Explorer.
Manage Windows Credentials for Teams
Here, we'll show you how to fix the caa301f4 error in Teams by clearing your credentials through the Manage Windows Credentials option in the Control Panel.
The first step is to open the Control Panel on your computer. For this, go to the Start Menu & select "Control Panel" from the list of options.
Under the User Accounts menu, select "Manage Windows Credentials" from the list of options. This will display a list of your stored usernames and passwords for various websites and applications you have visited or used.
Scroll down until you find any stored credentials associated with Microsoft Teams (they should all start with "TeamsCredential/Teams").
Once you have found them, click on each one and then click "Remove" to delete them from your system.
Now that all your stored credentials for Microsoft Teams have been deleted try logging into Teams again – it should work without any problems.
You're already aware of the frustration and significant time investment required when you come across errors such as these. Microsoft teams not Loading and error code caa301f4 on your Microsoft Teams app. Furthermore, it's essential to consider that such an error has the potential to cause a catastrophic loss of all your app-stored data. To preempt such calamities, it is prudent to establish a backup strategy, and one highly effective approach is the relocation of your data to an alternate location. To facilitate a smooth and efficient migration, we are delighted to introduce Kernel Microsoft Teams Migration.
About the Teams Migration Tool
The Kernel Microsoft Team Migration tool is one of the best solutions in the market with its easy-to-use interface and efficient process. It requires minimal effort on your part and makes sure that you can migrate all your vital Microsoft Teams data without losing any quality or accuracy. You can transfer all types of Teams app components, like conversations, chats, documents, private channels, contacts, etc., with just a single click.
Moreover, you can easily move multiple teams data from Office 365 or MS Teams accounts without any complexity. This comprehensive solution provides complete accuracy along with 100% data integrity and high-speed performance, making Teams migration effortless for even non-technical users.
Ending Notes
The frequently encountered "Error code caa301f4" can present a challenge for Microsoft Teams app users during login attempts. Despite its seemingly complex nature, resolving this error is straightforward. We've outlined five methods above that you can employ to rectify this issue. We're optimistic that one of these approaches will prove successful, enabling you to access the Microsoft Teams app without any further complications.
We strongly advise you to create a backup of your crucial data prior to attempting any of these techniques. This precaution ensures that even in the event of an unexpected issue, you won't risk losing any valuable files or data. We suggest using our user-friendly tool, which simplifies the process of backing up all your data in just a few straightforward steps. Why not give it a try today?
Have you managed to resolve this error effectively? Do you possess any additional suggestions that could assist our readers? Please share your insights in the comments section below!