Kernel Outlook PST Password Recovery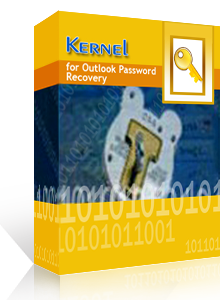 3-in-1 Tool that Offers to Recover, Remove and Set New Password
Kernel Outlook Password Recovery is a simple tool to Recover Outlook PST passwords, Remove passwords, and also to set New Passwords. The software has a simple user-interface that allows users to perform smooth PST password-related operations.
Instantly recovers Outlook PST file passwords
Unlocks password-protected PST files efficiently
Supports multilingual password recovery
Allows removing passwords easily from PST files
Change previous passwords and set new passwords
Create an alternate password for highly encrypted PST files
Supports Outlook 2019/2016/2013/2010/2007/2003/XP/2002/2000/97 versions
Features of Kernel for Outlook Password Recovery Tool
Quick Password Retrieval
This PST password recovery software quickly recovers forgotten or lost passwords of Personal Storage files (PST) files of any version of Microsoft Outlook. What-so-ever may be the length and complexity of the passwords, the software instantly recovers all the passwords.
Zero Data Loss
Kernel for PST Password recovery software tool restores PST passwords so that you can access all your email messages, appointment list and contacts. This tool can help even in situations when the network administrator is unable to help you in regaining or reviving the forgotten password.
Supports Multilingual Password Recovery
In addition to the long and complex passwords, this smart tool can deal with the recovery of multilingual passwords. It can retrieve passwords in any language with utmost accuracy and efficiency, allowing user to access their emails quickly.
Unlocks Highly-Encrypted PST Files
This tool performs password recovery even in conditions where encryption and complexity of the password is quite strong. In such cases, an alternate password is generated by the recovery tool to unlock the PST file.
Remove Password from PST files
This utility is enabled with a 'Remove Password' function which allows user to remove passwords from password protected PST files. It works with small and large PST files and users can easily make their PST files free from passwords.
Set New Password on PST Files
Using this tool, users can easily change the password of PST files which are already password protected. So this feature is extremely helpful when you have forgotten or lost the passwords of PST files.
Intuitive User Interface
The tool is designed with an intuitive interface that allows any user to operate it. It doesn't need the user to be technically sound. And, unlocking of your PST file is performed in a single click after the selection of the PST file.
Available Free of Cost
PST password recovery tool is available free of cost. Simply download, install and start using it without any activation codes. The password recovery freeware allows to recover, remove or reset the PST file password to access the file data for completely free.
Install Outlook Password Recovery Tool Right NOW
Imagine the condition if you forget the password of your Outlook (PST) file. All your email messages, appointment lists and contacts will be completely lost. But don't lose hope, download Kernel for Outlook Password Recovery immediately to recover your lost password.

User Reviews

"I used your software to remove password of pst files. We had problem that user forgot his password and I had to resolve this issue, Your software solved the problem and I thankful to you."
Uri YaariIT Support contractor, FORCEPOINT

FAQs - Kernel PST Password Recovery
I'm using Outlook 2013, does the tool support recovery for this version?

Yes! This tool supports different Outlook versions including 2013. You can easily recover PST password.

How will I be able to retrieve the password?

The tool is quite simple to use. You just need to specify the file whose password you want to retrieve and it will extract the password immediately on clicking 'Recover Password'.

Can this tool help to repair corrupt PST files as well?

No, this tool's functionality is limited to password retrieval. For severely damaged or corrupt PST files, you should install Kernel for Outlook PST repair.

Can I unlock any PST file? I mean to ask not about my own PST file, but of others.

Yes, you can. The tool is designed to recover passwords of any PST file. But the PST file should be a healthy file & not a corrupted one.

I have saved my PST password using a French word with some symbols which I have forgotten. Can I get back the exact password?

Yes, you can. If your password is too complex, you can get an alternate password for your protected PST file. This alternate password works just like your previous password to open your PST file.