Read time 6 minutes
Summary: Forgetting your Outlook PST password can be a frustrating experience, but there's a solution at hand. Kernel Outlook Password Recovery is a free and efficient tool that allows you to recover, remove, or set a new password for your Outlook PST file. With its user-friendly interface and reliable performance, it offers a seamless way to regain access to your PST file and manage your Outlook data effortlessly.
The Outlook PST file serves as the repository for all Outlook data, including emails, attachments, contacts, calendar entries, notes, tasks, and journals. Outlook users prioritize the security of this valuable data and often safeguard their PST files with password protection measures.
Much like any other password, a PST password should be regularly maintained and managed. However, it's not uncommon for users to forget their Outlook PST file passwords, which results in restricted access. Fortunately, we have an effective solution to help you recover forgotten Outlook passwords efficiently.
What is PST password and How it Works?
Just as you secure the privacy of your mobile or laptop with a password, you can also protect the privacy of a PST file with a password. When a PST is password-protected, every time you attempt to access it in Outlook, it prompts you to enter the password. Entering the correct password grants access to your Outlook data. However, if you enter the wrong password or forget it, access to the PST becomes impossible.
If you wish to deactivate the password feature because it is no longer needed, you can remove it. Similarly, if you want to change the password for security reasons, you can do so by following the steps outlined below:
To change the password of a PST file in Outlook, right-click on the PST file and select Data File Properties.
Now, click Advanced.
In the next step, click on the Change Password option and click on OK.
Finally in the fields type the Old and New Password respectively and click on OK to finish the process.
Recover Outlook PST Password
If you find yourself in a similar situation and have exhausted all available solutions without success, don't worry, we're here to help! Kernel Outlook Password recovery is a free tool designed to swiftly change and recover Outlook PST passwords, enabling you to establish a new password for accessing your PST file. The tool provides three options: Recover Password, Remove Password, or Set New Password, allowing you to choose the one that suits your needs.
Now, let's delve into a detailed explanation of the software's functionality. Let's explore how it works:
Please Note: Before performing any of the tasks, it is highly recommended to take backup of PST file for worst case scenario.
Follow Steps to Recover PST Passwords:
STEP 1: Launch Kernel Outlook Passwords Recovery Software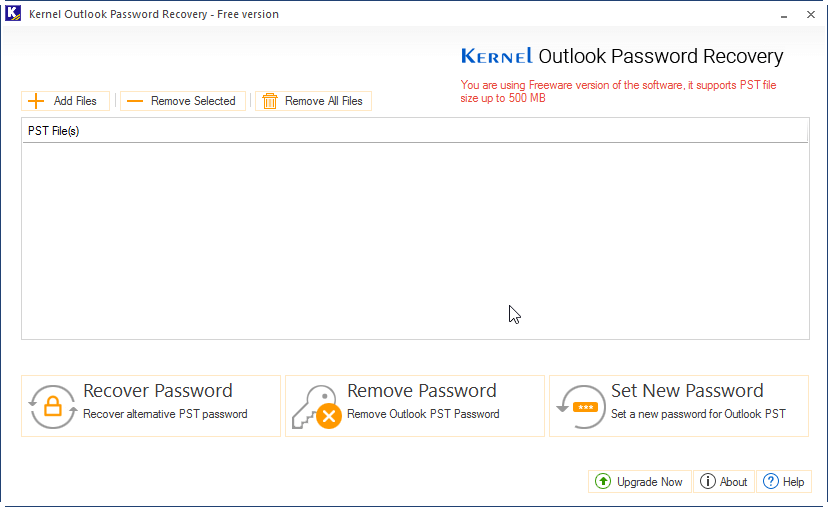 STEP 2: Click the Add Files button and select the desired PST file and choose Recover Password.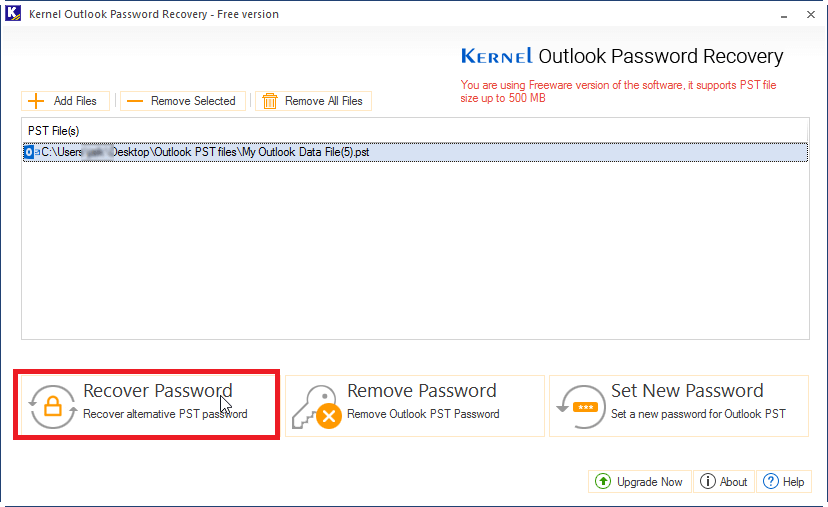 STEP 3: On successful completion, you will get the recovered password and process completion, click OK and move to the next step.
STEP 4: Finally, save the report of the process to a CSV file and provide a name as per your choice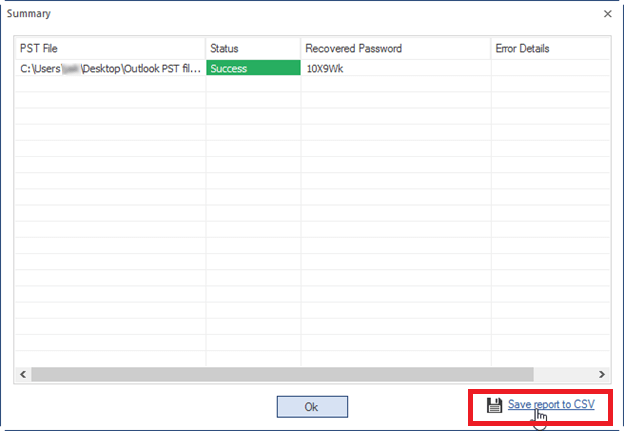 Follow Steps to Remove PST Passwords:
Repeat the Step 1 and Step 2 of Recover Password.
STEP 1: Click Remove Password button to remove the password from the PST file.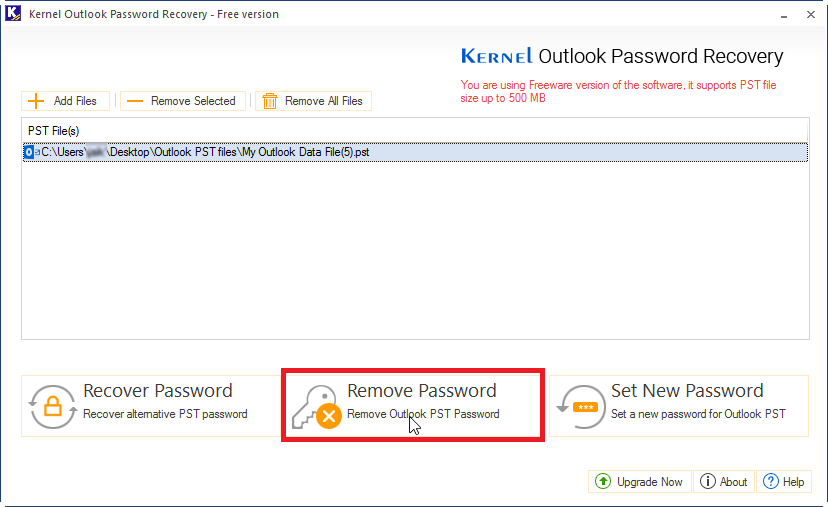 STEP 2: Now, click I have the backup, continue in the dialogue box.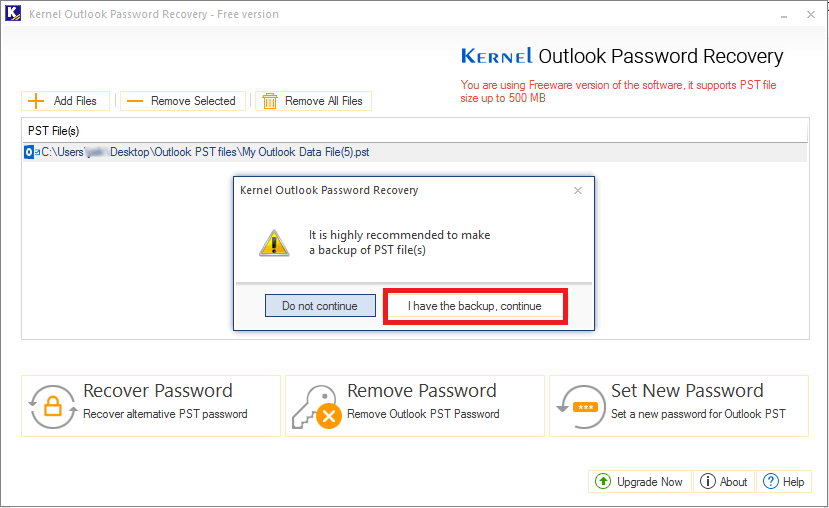 STEP 3: Click OK in the process completion dialogue box and save the report as shown in the Password recovery process.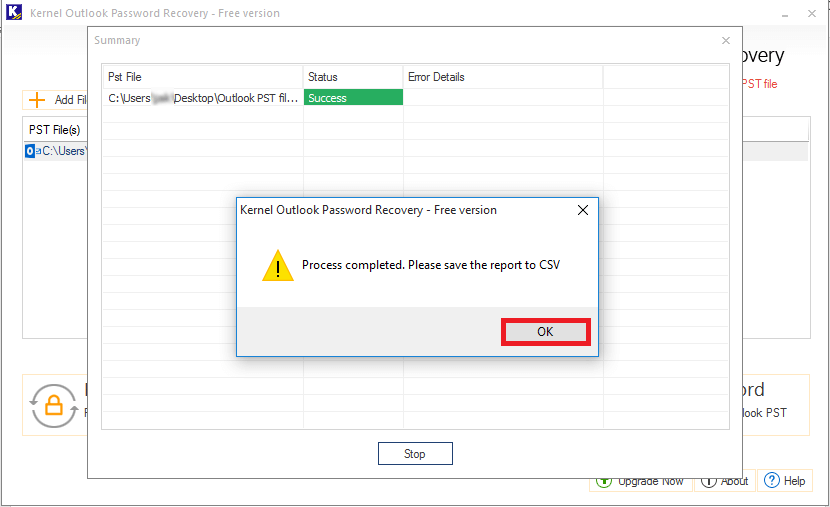 Follow Steps to Set New Password:
Again, repeat STEP 1 and Step 2 of the Recover Password process.
STEP 1: Click Set New Password button to set a new password for the PST file.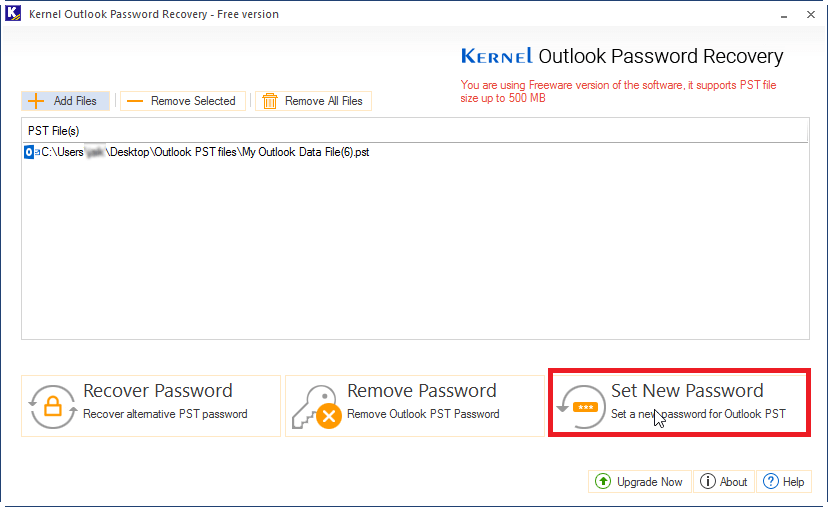 STEP 2: Click I have the backup, continue and continue to the next step.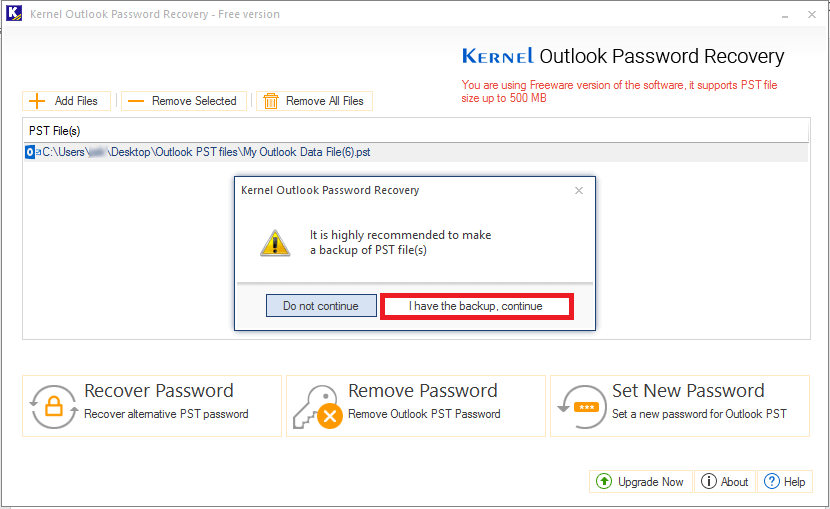 Step 3: Now, type the desired password of choice and verify it as shown. Click OK.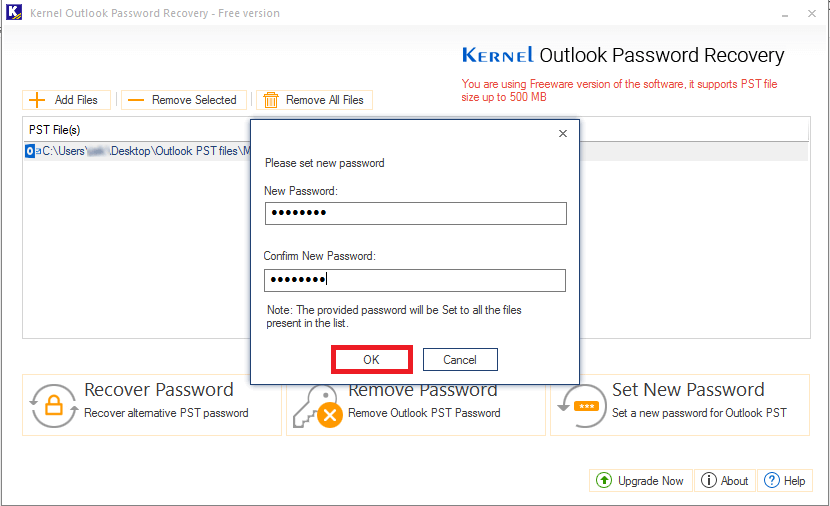 Step 4: On successful completion of the process, click OK and save the report in CSV format.
Final Words:
Having witnessed a seamless and rapid password recovery process, it's evident that this tool operates with remarkable efficiency and precision. Moreover, the software is entirely free and supports password recovery for PST files up to 500 MB in size. By utilizing this tool, you can save both time and effort, making it the top choice for password recovery due to its reliable and guaranteed results.