Read time 6 minutes
Outlook PST file is the storage space of all the Outlook data like emails, attachments, contacts, calendar entries, notes, tasks, journals, etc. This data is protected by Outlook users by taking proper security measures. Many people safeguard crucial data by protecting PST files using a password.
Hence, PST password is just like any other password. Once applied, it should be maintained and managed regularly. Many times, users forget the passwords of Outlook PST files after which they lose access to their PST files. So, here we have the best solution for you that works efficiently to recover forgotten Outlook passwords.
What is PST password and How it Works?
You safeguard the privacy of your mobile or laptop with a password. Similarly, you can safeguard the privacy of a PST with a password. So, when you password protect a PST, every time you access this PST on your Outlook, it asks to enter the password. You enter the correct password, click on Ok and then you can access your Outlook. But, if you enter the wrong password or you have forgotten it, then you cannot access the PST.
If you want to disable the password feature because it is no more required, then you can remove it. Similarly, if you want you can also change the password if required. For this, you need to follow the below-mentioned steps:
To change the password of a PST file in Outlook, right-click on the PST file and select Data File Properties.
Now, click Advanced.
In the next step, click on the Change Password option and click on OK.
Finally in the fields type the Old and New Password respectively and click on OK to finish the process.
Recover Outlook PST Password
If you are facing the same situation and have tried every possible solution, but unfortunately, didn't succeed. Well, no worries, we've got your back! Kernel Outlook Password recovery is a free tool that can quickly change & recover outlook PST password and allows you to set a new password to access your PST again. The tool lets you choose from the three given option, where you can go for either Recover Password, Remove Password, or Set New Password.
Now, we will discuss in details with the help of the software. Let's see how it works:
Please Note: Before performing any of the tasks, it is highly recommended to take backup of PST file for worst case scenario.
Follow Steps to Recover PST Passwords:
STEP 1: Launch Kernel Outlook Passwords Recovery Software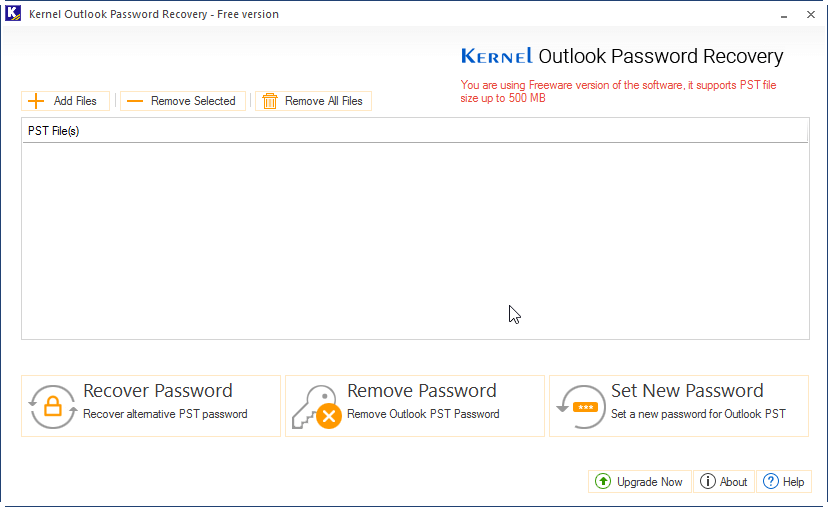 STEP 2: Click the Add Files button and select the desired PST file and choose Recover Password.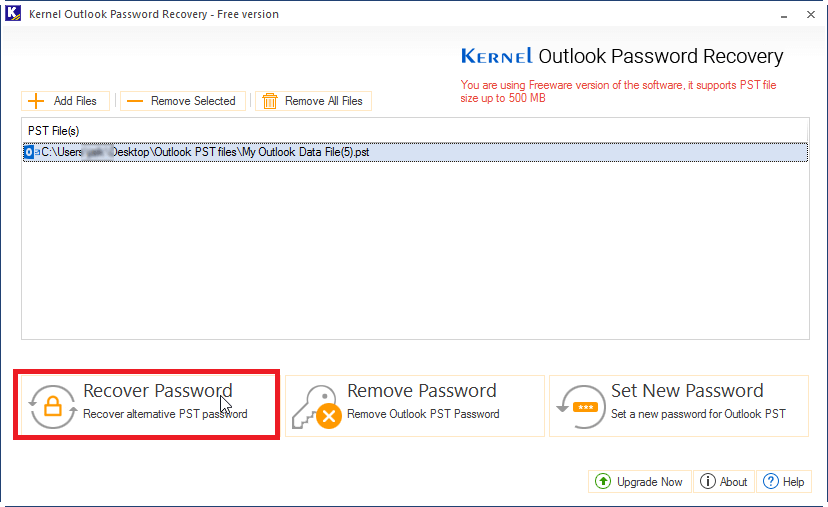 STEP 3: On successful completion, you will get the recovered password and process completion, click OK and move to the next step.
STEP 4: Finally, save the report of the process to a CSV file and provide a name as per your choice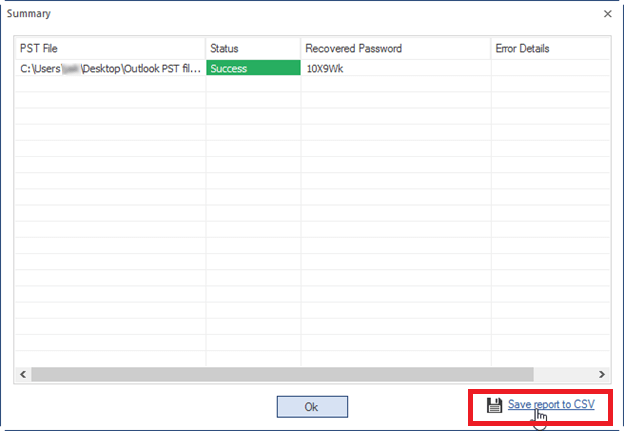 Follow Steps to Remove PST Passwords:
Repeat the Step 1 and Step 2 of Recover Password.
STEP 1: Click Remove Password button to remove the password from the PST file.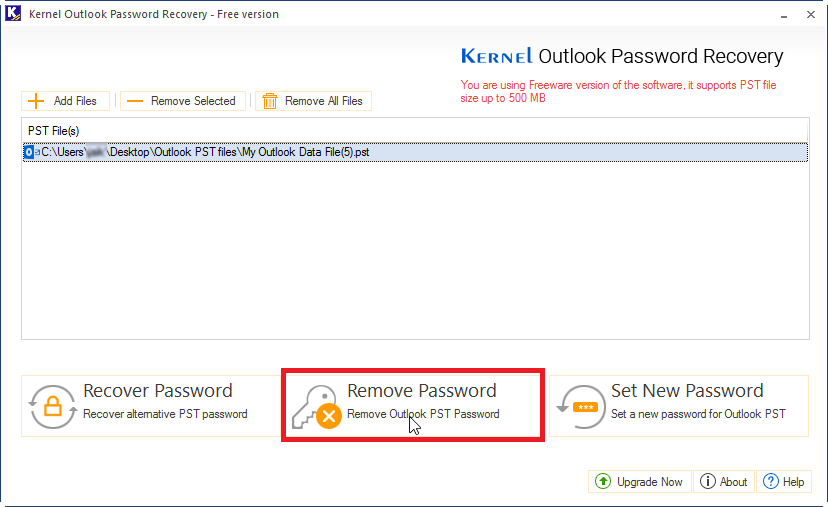 STEP 2: Now, click I have the backup, continue in the dialogue box.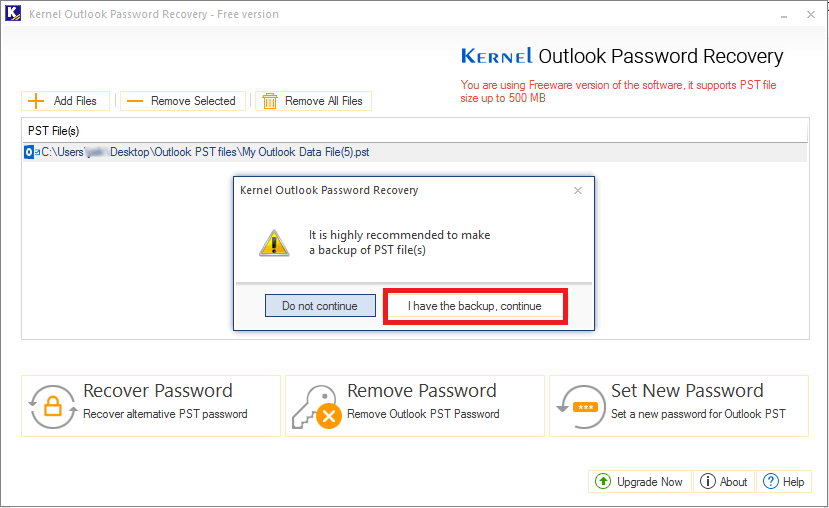 STEP 3: Click OK in the process completion dialogue box and save the report as shown in the Password recovery process.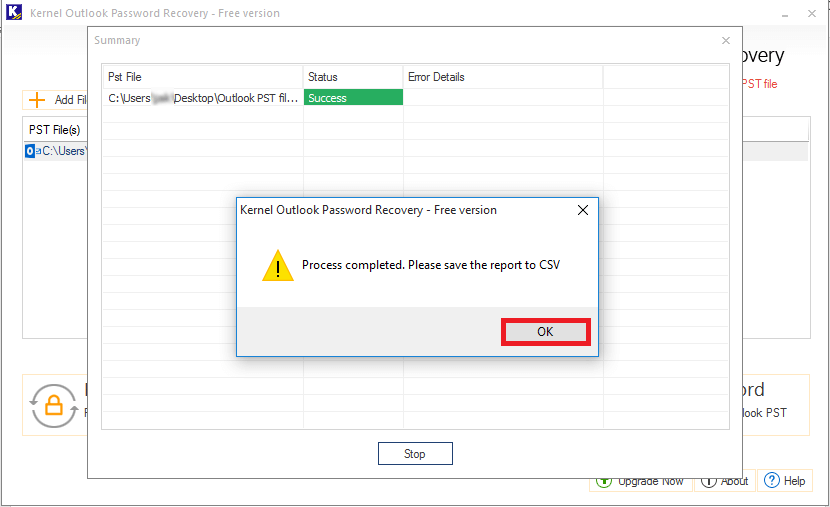 Follow Steps to Set New Password:
Again, repeat STEP 1 and Step 2 of the Recover Password process.
STEP 1: Click Set New Password button to set a new password for the PST file.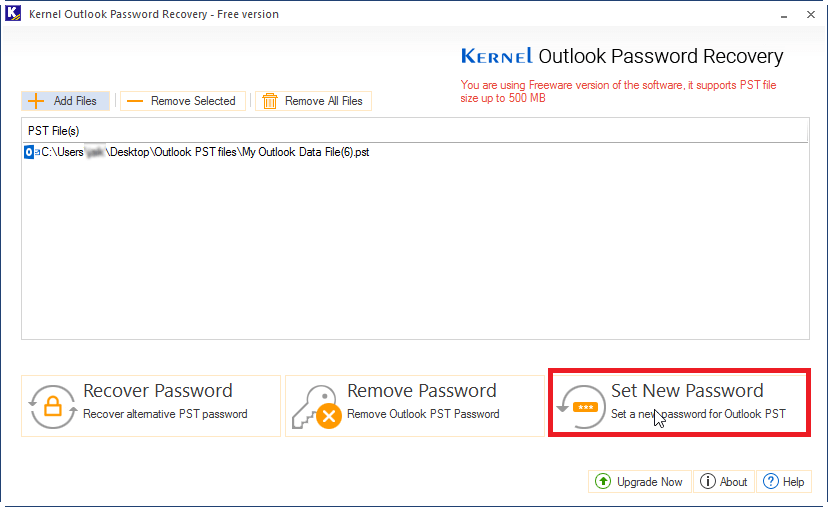 STEP 2: Click I have the backup, continue and continue to the next step.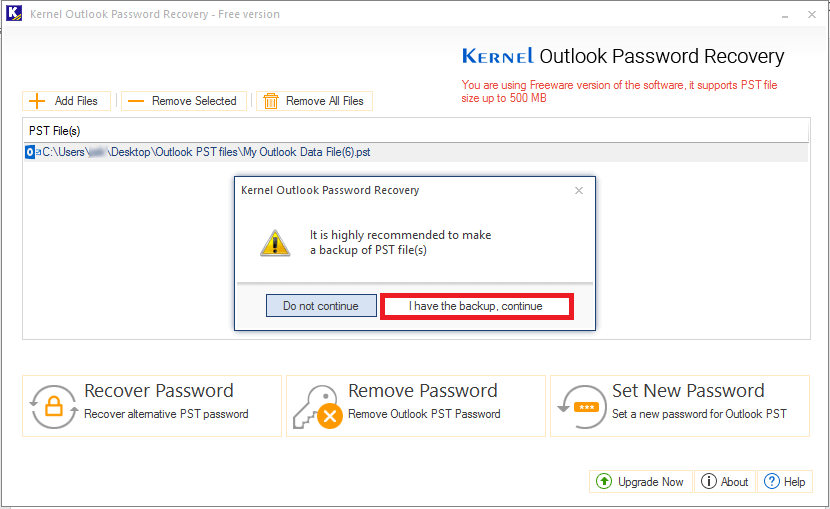 Step 3: Now, type the desired password of choice and verify it as shown. Click OK.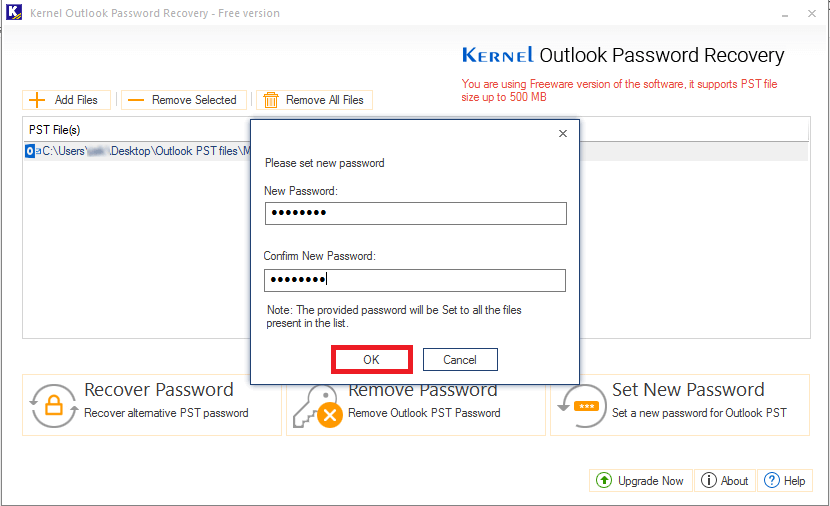 Step 4: On successful completion of the process, click OK and save the report in CSV format.
Final Words:
As we have seen a smooth and quick password recovery, we can clearly conclude that how efficiently and accurately this tool works. The software is totally free and offers to recover PST file up to 500 MB in size. You can simply use the software and save your time and effort. It is the most recommended software for password recovery as it gives the guaranteed outcome.