Various versions of Outlook, including Outlook 2016, 2013, 2010, and 2007, cater to the specific preferences of different organizations. It is crucial to maintain a backup of your Outlook data files, as unforeseen events like system crashes can lead to the loss of valuable Outlook data. Fortunately, there are multiple approaches available for backing up Outlook data. This article will guide you through the process of creating a backup for Outlook 2010, ensuring the safety of your important information.
1. Manually Copy the Outlook File
Outlook data within a computer is consolidated into a solitary file bearing the ".pst" extension. This particular file functions as a repository for various types of information, including emails, journals, notes, and contact details.
In Vista, Windows 7, Windows 8, and Windows 10, this file can be located via;
C:\Users\ <username>\Documents\Outlook Files

After locating the PST file, you can effortlessly duplicate it to a secure location, including an alternate drive, a CD-ROM, or a USB drive. To subsequently recover data from this file, access Outlook on your system and proceed with the following instructions:
Click the "File" tab, and then select "Open."
To begin, click on "Outlook Data File" and navigate to the folder where the PST file is located. If you encounter any errors when trying to open this file, simply right-click on the PST file properties tab and uncheck the "Read-only attribute" option.
2. Use Import/Export to Backup Data
The import/export feature within MS Outlook empowers users to effortlessly generate a backup of their data in a location of their choosing on their computer. To initiate this backup using the import/export function, simply adhere to the following steps:
The import/export feature within MS Outlook empowers users to generate a data backup in a location of their choice on their computer. To initiate this process in Outlook, navigate to the "File" tab and select the "Options" button from the menu. To create a backup using the import/export option, follow these steps:
Next, choose the "Advanced" option from this menu and then click on "Export" in the export section.
A fresh wizard will emerge on the screen. Choose "Export to a file" from the dropdown menu, and then click "Next."
In the following stage, choose "Outlook Data File" and then click on "Next."
Choose the folders you wish to back up, then proceed by clicking on the "Next" button. Note: You can select a single folder or all mailbox to export it to a PST file.
Next, navigate to the destination where you intend to save this backed-up data, and then click on the "Finish" button to finalize the procedure. Note: To establish a password-protected file, simply assign a password to it once you've selected "Finish."
Using the import/export option, you can swiftly generate a backup for Outlook 2010.
3. Use Professional Outlook Repair Tool
Kernel Outlook PST Repair is a helpful tool that is used to recover damaged/corrupt PST files, but it is also helpful in creating a backup of Outlook mailbox data to various platforms, such as Exchange Server, Office 365, Gmail, etc. One more advantage of this tool is that it is enriched with advanced filters, which allows users to backup selective data. Also, the user interface and working process of this tool are very simple and easy to understand.
To generate a backup using this tool, begin by uploading the PST file of your choice. Next, pick the platform of your preference for exporting this file.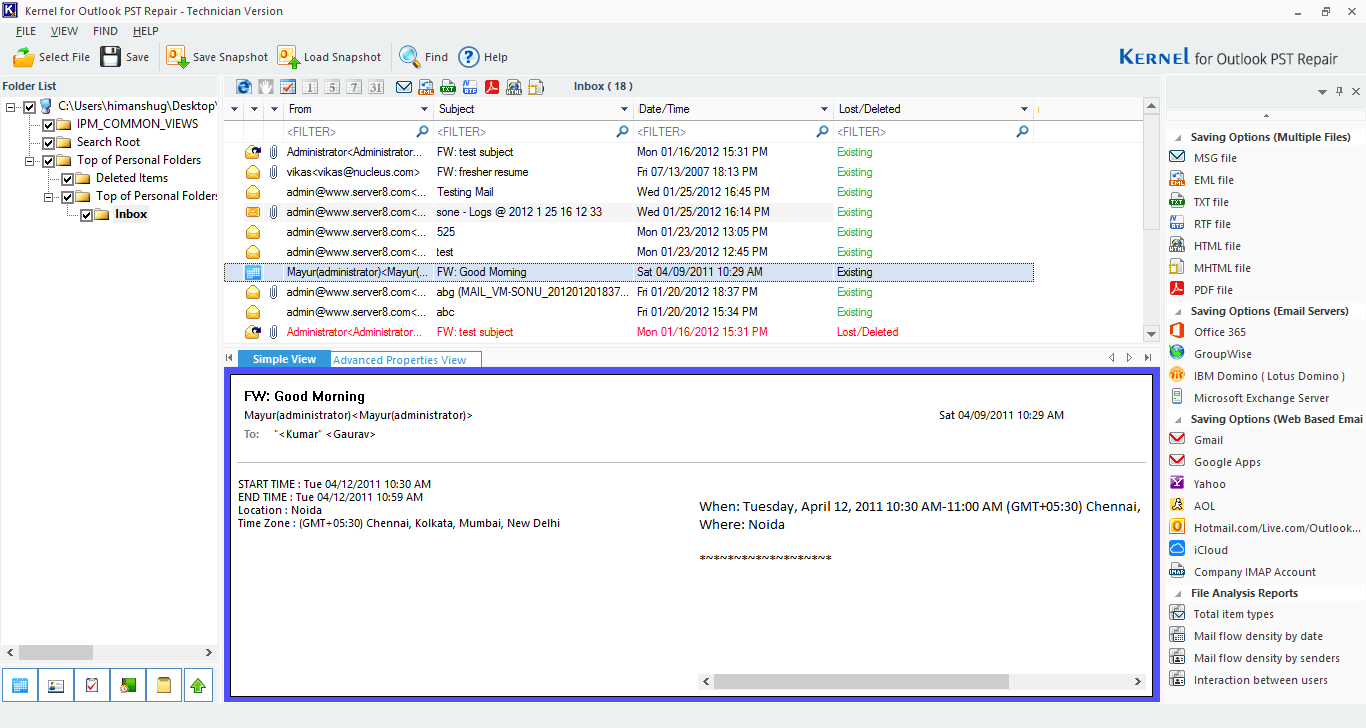 Note: This tool also enables you to save the PST file in various formats.
The three methods described earlier are ideal for generating a backup of Outlook 2010. Users have the freedom to select the approach that aligns with their preferences. However, we highly recommend opting for the Kernel for Outlook PST tool, as it serves as a comprehensive solution to address this concern.
Follow the provided steps to create a backup of your Outlook 2010 mailbox using the Kernel for Outlook PST tool.
Open the tool.

Once the tool is open, it'll be as shown below.

To initiate the backup process, please click the "Select File" button to choose the PST file you wish to back up.
The Source File Selection window will appear on your screen. Please select the "Browse" option to locate and open the PST file, and then proceed by clicking "Next." Note: To create backups for multiple PSTs, opt for the "Recover Multiple Files" choice instead of choosing the "Recover Single File" option.
Recognize the process-related details provided within the wizard interface and select the "Finish" option.
After successfully loading the PST file, the tool's user interface will refresh and present the entire mailbox content in a tree structure. To create a complete backup of your Outlook mailbox, select the mailbox folder and mark it with a check.
On the right side, select the PST file (MS Outlook) to initiate the backup procedure.
Select the PST file (MS Outlook) and then click Next.
In this step, you can either create a backup of specific mailbox items or reduce the size of the output file by applying filters. Click "Next" to proceed.
During this stage, you have the option to choose the PST file size for splitting. Simply click "Next" to proceed.
Please click on Browse to choose the location for saving the file and then click on Finish.
Done, click Ok.
You have effectively completed the backup of your Outlook PST file. Utilizing features such as PST file splitting and filters, you can exercise greater control over your backup preferences, specifying precisely which items you wish to preserve.