Read time 6 minutes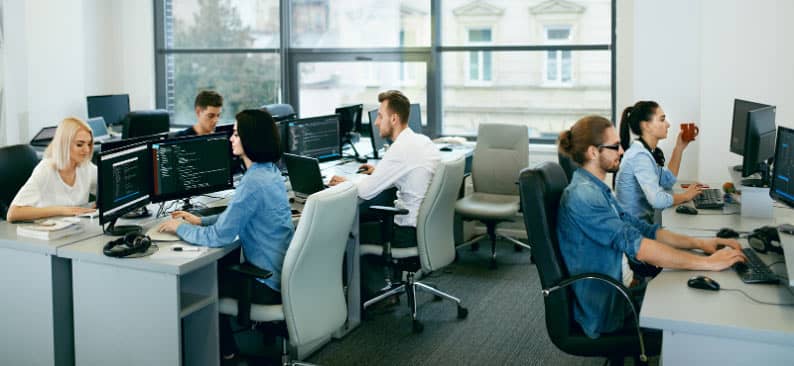 When it comes to the term employee pc monitoring, it is assumed as a negative impression. This is a misconception that monitoring employees show a lack of trust of the organization in its employees. However, the scenario is a bit different, the most common response might be negative, but on the brighter side, it helps organizations to grow and prosper.
To keep a proper track of employees and their activities, some organizations prefer using monitoring software. This monitoring software is linked to as many systems in the organization and keeps a proper track of what is happening at which system. These software are designed to monitor every activity going on the employee's systems and display it to the administrator. Just like any other important software, this software too come at a cost; however, this cost results in benefiting the company. In this blog, we are going to discuss the cost incur to the organization using monitoring software.
How these Software Benefit Organizations?
Everything you are going to invest your money at is important, and hence it makes it important to know its benefits too. So before moving any further, we first want to discuss the benefits of employee activity monitoring software. Let's get started:
Avoid Mistakes: Having a monitoring software allows you to have a look at the employees' systems and eventually results in letting you know the mistakes they might be making. Knowing the mistakes your employees are making can correct it at the spot and avoid many unwanted situations.
Brings Transparency: Employee desktop monitoring software brings transparency in the organization and builds trust in the mind of the Employers that everything is going fine. This transparency also results in better employee-employer relationships.
Skill Enhancement of Employees: Not directly, but monitoring software also helps to enhance employee skills. How? When you monitor employees, their work, you get to know about their mistakes or area of improvement, ultimately resulting in the enhancement of skill sets of the employees.
Accessibility: Employee monitoring software also increases the accessibility of data and work from any corner of the world. These monitoring software allows you to keep a check on every activity from where you are logged in.
Motivated Employees: Monitoring software can also increase the motivation of employees in the form of appreciation. As you keep a check on the work done by your staff, you will surely praise them for their capabilities and the tasks they do going a bit across their limits, which you will never know if you don't monitor them. So, the benefit of real-time desktop monitoring is the motivated employee as the motivated employees are the best assets a company can have.
Better Use of One's Capabilities: Keeping an eye over the work done by your staff, you can know your employees better, by knowing their unique skill sets. Monitoring allows you to closely observe your employees and knowing about their strengths and weaknesses at work. This allows you to put them at a better job, something they are best capable of doing.
Efficient Payroll Management: Monitoring software not only helps you keeping a proper check on your employees' work, but it also lessens the burden of management. When employees work for certain hours, the tool keeps a note of it, ultimately making the work timings clear and easy for the payroll team to process.
Avoid Security Hazards: Keeping an eye on the activities and work going on allows you to notice the activities that can bring problems to the organization. You can always point out those activities and make it right, hence avoiding any type of security hazard that may have occurred due to ignorance.
Betterment of Organization: If we keep on mentioning the benefits of monitoring software, it won't come to an end. But to summarize it, we can say that it works to make organizations better, enhance their work environment and capabilities.
Kernel for Employee Desktop Live Viewer
Kernel for Employee Desktop Live Viewer is a monitoring software that lets you keep an eye on the activities going on the screen of your employees. This is not just another monitoring software; its unique features and advanced technology makes it the first choice of organizations. Have a look at its unique features:
Be Invisible: The first and foremost feature that is worth describing about this tool is that it allows you to go totally inviable while monitoring employees. This feature helps you to monitor employees but keep this information confidential, making it a smooth way of managing things.
Viewing Authorization: The tool comes with a viewing authorization feature, with which you can pass on the viewing rights of all systems or selected systems to another admin. It can be installed in any PC or Laptop, and the access can be given to multiple admins.
Download Videos: The tool allows you to record and download the videos of what happening on one system. Taking the monitoring experience to another level, this tool allows employers to make and save the videos of the activities of employees' system, making it easily accessible at any point in time.
Remote Communication: To communicate a message to all systems on surveillance, you can send a personalize or default note at decided intervals.
Remote Commands: The tool allows you to remotely handle all the systems connected to your account. Although, you cannot make changes to the work going on, but you can restart or shutdown a system in the time of emergencies.
Real Cost of Monitoring Tool
After knowing the many benefits of Employee Computers Monitoring Software, now you might be thinking about how much it costs before deciding to get one for your organization. We have discussed a lot about the unique and advanced features of Kernel for Employee Desktop Live Viewer, but now let's discuss how affordable it is.
Having a lot of cool features doesn't make this too expensive; in fact, it comes at very reasonable prices, starting at just $29. Keeping in mind the flexible needs of organizations, we have launched various packages for this tool, depending on the requirement of different sized firms.
You can avail of the benefits of this tool for as little as one employee to the desired number of systems you want to monitor. However, we have listed the cost from 1 to 100 employees, ranging somewhere between $29-$999. Organizations needing this tool to monitor more than 100 employees can quote a request and get the exact amount for n number of employees. For a detailed rate chart, click here https://www.nucleustechnologies.com/buy-employee-desktop-live-viewer.php
Post-Purchasing Benefits
Once you buy the software, there are after-sales benefits that you can avail of free for a lifetime. The tool comes with a lifetime license with no expiry, without paying a single penny for it in the future. You get free technical support and eligible to avail of any upgrades in product releasing in the future. Isn't it a great deal? Quote a request now!
Conclusion:
In this blog, we have discussed the advantages of employee computer monitoring and the cost occurring in this activity. We have suggested Kernel for Employee Desktop Live Viewer is the best and the most affordable monitoring tool. You can take your organization to new heights of success with this tool. Don't believe it? Here is the solution, go for the Trial Version of the tool or buy it for as less as $29 to strengthen your belief.