Read time 6 minutes
Is your employees' performance degrading day by day? Are your employees working from home and hence you are doubtful about their work? Is your organization too big and hence you can't monitor each employee in person? Are you worried about how to take control of the situation?
Well! The answer to all your questions is one and yet very simple – using an powerful employee monitoring software. Using monitoring software can solve all your worries regarding the work you have assigned to your employees.
Employee Computer monitoring software has brought the revolution in the corporate world. With the help of these software, employers can have total control over the activities of their employees. This enhances the transparency between the employer and employee, thus encourages a positive work environment.
In this era of technological advancement where every company wants to put all its efforts to be at the top of the race, do you want to be left behind? Obviously Not! Employees are the backbones of any organization and knowing what they are doing will definitely guide you towards success.
What are the benefits of Employee Computer Monitoring Software?
When you install such software in your organization, you will have the total access to all of the systems, which will directly create an environment of transparency.
It provides you the power to control the actions for the betterment of the organization. If you observe that any of your employees have made any mistake, you can instantly make the changes.
It doesn't matter where your team is and which time zone they are working in, you will be able to monitor them anyhow.
Provides you a chance to understand your employees, their work style and capabilities better. This way you can find ways about how and where you can use the skills and abilities of your employees.
Such a tool won't only help you with the correction and improvement of work, but it also will decrease the workload falls on administration. The software provides you with the exact trace of work hours of your employees, which will lead to the efficient payroll management.
Every step you take with the tool will lead you to better productivity and profitability.
Employee Desktop Live Viewer by Kernel
If you are also looking to have such a monitoring software in your organization then why don't you opt for the best one? Employee Desktop Live Viewer by Kernel is a software designed for an organization's need for monitoring and surveiling the employees.
The Computer Monitoring software records the activities of the desktops in real time. Apart from various technically advanced features and the results, the tool is also very easy to use. It has been noticed that such monitoring software generally are very difficult to use, but this is not the case with this tool. Let's see how easy it is to use the tool by going through all the steps involved in the procedure.
The tool provides you with the three ways of Installation, i.e., Remote Agent Installation, Group Policy Installation, and Manual Installation.
Let's start with the Manual Installation
Start with clicking the Agent Configuration button.

Now click on the Create Setup and select For manual installation from the dropdown.

In the Create Setup window, provide a destination to the file and enter the IP Address in the Server Local IP section. You can use Server Global IP address if you want to monitor the agent system over the Internet, which is totally optional. Once everything is done, click on Ok.

In this step, you will get the confirmation of the creation of your Agent Installer, click on Ok.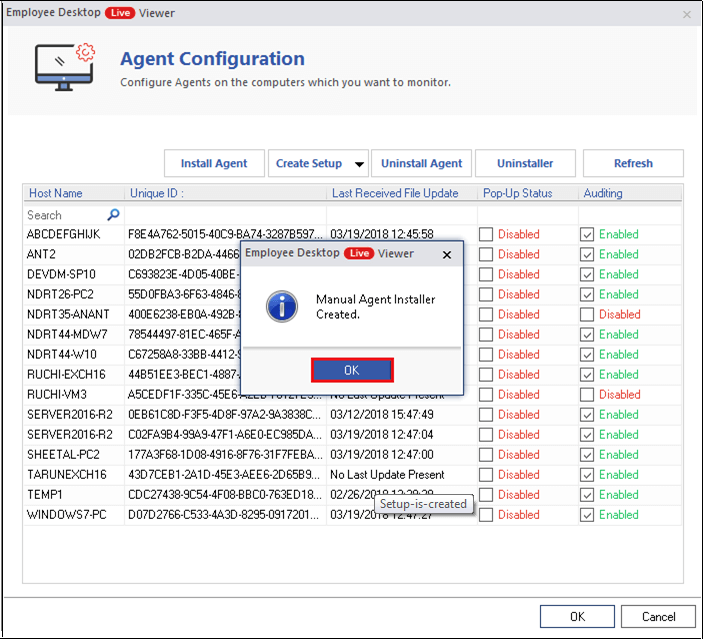 Once the process is successfully completed, you need to take the file to the agent system and install it there manually.
Why you should go for Employee Desktop Live Viewer?
There are many benefits of choosing Employee Desktop Live Viewer over any other
employee monitoring software. Here we are going to mention a few features and specifications of the tool; have a look:
Easy to use and friendly interface, which lets you move forward without confusion.
Incognito monitoring feature, so that you can monitor your employees while being totally invisible.
Option to Shut down, Turn Off and Restart employee systems when required.
Share viewing rights with other people.
Record all the employee activities on desktops.
Resumes recording even after restarting employee systems.
Monitor employees in your office premises as well as those working on remote PCs.
Download and save video recordings for offline viewing.
Monitor multiple systems at the same time on the same screen.
Above mentioned features are just a glimpse of this amazing tool. There are many more benefits of this tool which you will get to know once you will start using it.
Conclusion:
In this blog, we have discussed about how you can use a software to increase the productivity of your organization. Employee Desktop Live Viewer from Kernel provides you invisible monitoring so that your employees could not have any misconceptions about it. It provides you the uninterrupted surveillance and lets you monitor everything on a single screen. Not just you can monitor your employees over the internet but also in Offline mode due to its recording feature. Many organizations have used the tool and are happy with the results, are you ready to take a step towards success?