Read time: 7 minutes
The whole trend of a hustle culture is on the rise. Individuals are getting involved in various tasks simultaneously, whereas organizations always have multiple projects going on, which are divided among many employees. Everybody relies on excellent task management facilities to reduce confusion and create a better system. Since there are a few shared mailbox limitations in Office 365, it is better to handle tasks individually. Task management is about keeping track of all the ongoing projects during their life cycle, from planning to execution.
Microsoft 365 was quick to introduce a few constructive task management utilities. It has expanded all its applications to include better features of collaboration and communication. Professionals can make use of these utilities to successfully achieve efficient task management in Office 365-
Microsoft To-do
Microsoft Planner
Tasks in Microsoft Teams
Microsoft Lists
Microsoft Bookings
Let us understand these in detail-
Microsoft To-do
Microsoft To-do is a cloud-based application that aligns all the tasks on a priority basis in a single place so that users can plan and manage them well. This one is more suitable for an individual's task conduction.
Key features of this facility are:
Wider accessibility
It is available to use across web browsers, Windows, Android, and iPhones. You can access your to-do lists from any of these platforms.
My Day utility
This unique utility allows users to focus only on the tasks aligned for the present day. It is important to perform all the necessary tasks for the user.
Collaboration with Planner
This integration between the applications allows users to manage personal and professional tasks effectively.
Simple lists
All the added tasks are presented in a list format along with due dates and reminders, which is simple and easy to understand.
Easy sharing
Any list can be shared with colleagues, family, and friends to keep you always connected with them.
Microsoft Planner
In order to manage multiple projects simultaneously, you need a powerful tool, and Microsoft Planner happens to be exactly that.
It is a lightweight web-based application that allows users to create plans, distribute tasks, share documents, receive updates, communicate, and collaborate with other team members. Since employers cannot always attempt message tracing in Exchange Online, is it mostly suitable for groups working on various projects to work on this utility.
Key features of this facility:
Detailed tasks
When you add a task in Planner, it also keeps tabs on the start date, due date, progress, notes, attachments, and priority status.
Bucket feature
The Bucket feature enables users to separate their tasks into distinct categories according to their preferences. This will ensure clarity of which task belongs to which department.
Integration with Outlook and To-do
Planner integrates smoothly with To-do as well as Calendar. Hence, all the tasks will be pulled in automatically.
Visual bifurcation
It is loaded with aspects like the Planners web or Chart view, which present the status of the projects through pie charts and assorted color coding. This will give you an idea at a single glance.
Add checklist
A big project is always dependent on a vast number of minor tasks. These subtasks are called Checklist and can be added under a single tool panel.
Tasks in Microsoft Teams
If all your work revolves around Microsoft Teams, then you should add the Tasks application to it.
Tasks is a work management facility that combines all the user's work from To-do and Planner and simply centralizes all those in Teams.
Key features of this facility:
The My Tasks section contains all the tasks which have been assigned to you and divides them into separate categories like Tasks, Important, Planned, and Assigned to me.
All the tasks are presented in a clear List format. It even allows users to add filters or changes.
It sends a notification whenever tasks are assigned as well as unassigned to you through the Planner application.
Here, even a bulk edit is possible where multiple tasks can be edited all at once.
Microsoft Lists
If you need a fast, flexible, and straightforward method to track information, then Microsoft Lists should be your go-to application.
Lists is a smart work tracking and organizing application that can create a list from Excel, given templates, or scratch.
Key features of this facility:
Variety of lists
The users can enjoy many options of lists. They can begin with a blank sheet, an existing one, or an Excel sheet. There are a lot of templates available like event itinerary, travel requests, expense tracker, employee onboarding, etc.
Elaborate lists
Just like a table, it does contain rows and columns, but many other items can be added here like contacts, links, attachments, pictures, dates, filters, and pictures.
More viewing options
The viewing options are flexible for the members as it allows four options- Grid, Gallery, List, and Custom. The users can choose according to their preference and even adjust it further with conditional formatting.
Wide integration
The Lists can be instantly automated with some other Microsoft 365 applications like Teams, Power Apps, SharePoint, and Power Automate.
Apply rules
Certain rules can be applied to create automation in certain aspects, including reminders and notifications. The control of these rules lies with the owner.
Microsoft Bookings
Many professionals are always busy with calls and meetings. A cluster of schedules can create major confusion, and Bookings should be on top of your list to sort that out.
This simpler application in the Microsoft Office family helps individuals schedule and manage all their appointments.
Key features of this facility
Clarity of meetings
Its functioning is as easy as it can get. Book an appointment, reschedule it, and get reminders about it. This creates a clear picture in the pre-occupied mind of the user.
Highly customizable
It provides the flexibility to customize appointments across various departments with page structures and information.
Confirmation and reminders
The tool automatically sends confirmation and reminders of all the fixed calls and meetings.
Easy virtual meetings
Once an online meeting is booked on this platform, it creates a link on its own that all the other colleagues can join.
Integration with Office applications
This application is well supported by other Office suite applications like Outlook, Teams, Calendars, and more.
Take a backup of Office 365 data
Tasks protection is as important as task management. To keep the data secure from any kind of threat and risks, companies and individuals often rely on taking backup of their data on a regular basis. Since this is a complex and critical task, it must be conducted by a trusted utility. The Kernel Export Office 365 to PST software ticks off all the requirements. It involves a quick process where all the mailboxes can be saved into a suitable output format. Even certain filters can be applied to save the data selectively.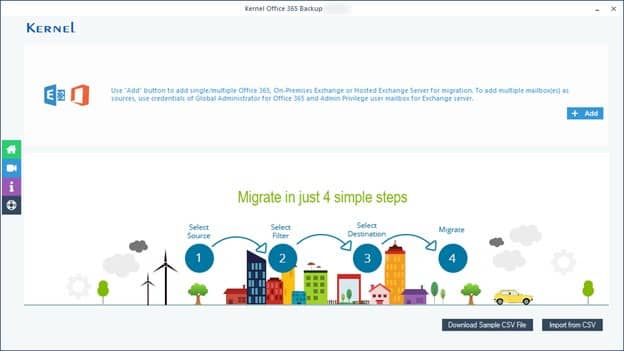 Conclusion
Task management can be managed in the smoothest manner when you are using Microsoft 365. It provides users with various facilities which have their own set of advantages. To begin with, To-Do, Planner, Lists, and Bookings are separate platforms designed to work, specifically on this. In addition, the Tasks in Microsoft Teams also help users to manage their tasks. In order to keep their data secure, users prefer using the this Office 365 Backup, which is a professional software which can also help them to retrieve and find old emails in Office 365.