Office 365 provides many advanced features to assist users in meeting their email management requirements. Message tracking is one such an inbuilt utility which allows tracking of the email flow in Office 365. It provides detailed information about the type of email, whether sent/received, etc. although the content within the email cannot be accessed using the message tracking feature. The details that you would get are sender/recipient names, message size, subject, send/receive date, time, delivery details, IP address, events information, Message ID, etc. The tool collects all this information from the stored logs of the message flow. The best aspect is users can get information not only regarding the successfully delivered/received messages but also regarding the purged or deleted messages.
Message Tracing in Exchange Online (Office 365)
The Message Tracing in Exchange Online has some improvements with the introduction of new, simpler Message Tracing option in the Security & Compliance Center.
Read Also: 6 Office 365 Compliance Features You Should Know
We are going to learn all the details, options, and filters which an Exchange Online user can use to trace the details of emails processed in the mailbox. The complete process of the new Message Tracing in Exchange Online is given below:
Login to Exchange Online with global administrator credentials. Navigate to Admin > Admin centers > Exchange.

Now, go to mail flow > message trace. In the opened page, you would find a message in yellow highlight. Read the message information and click Go to the new Message Trace now option.

The Office 365 Security & Compliance page will get opened. Here, select Message trace option under the Mail flow section.

To run message trace, click + Start a trace option.

The New message trace page will get opened. You can add filters for sent and received messages by adding sender and receiver email addresses in By these people and To these people respectively.
To add a time range, you can slide the bar to define the interval (from hours to days).

Note: The time duration of less than 10 days is the ideal one for quick results. And you can use Custom option and add Start date and End date, time for tracing the messages.


There are more search options which you can select in More search options drop-down. Here, search is shown according the Delivery status criteria.

More filter options are there, such as Message ID and Direction which you can utilize for in-depth filtering.

You can also choose the Report type from the given options for the message trace.


Once all the filters and settings are added, click Search to start the scanning process.

The results are shown along with the details of the email like Date, Sender, Recipient, Subject, Status, etc.

To get the detailed information about any message, just double-click on it. The information that you will get is Sender/Recipient information, Message status with complete information in words, Message events, Message ID, Message size, etc.

Export Message Tracing Result List
To save message details to the CSV format, select those messages in Message trace search results and select Export selected from the drop-down list of Export results on the top. The message details will get saved in the CSV file in the Downloads folder.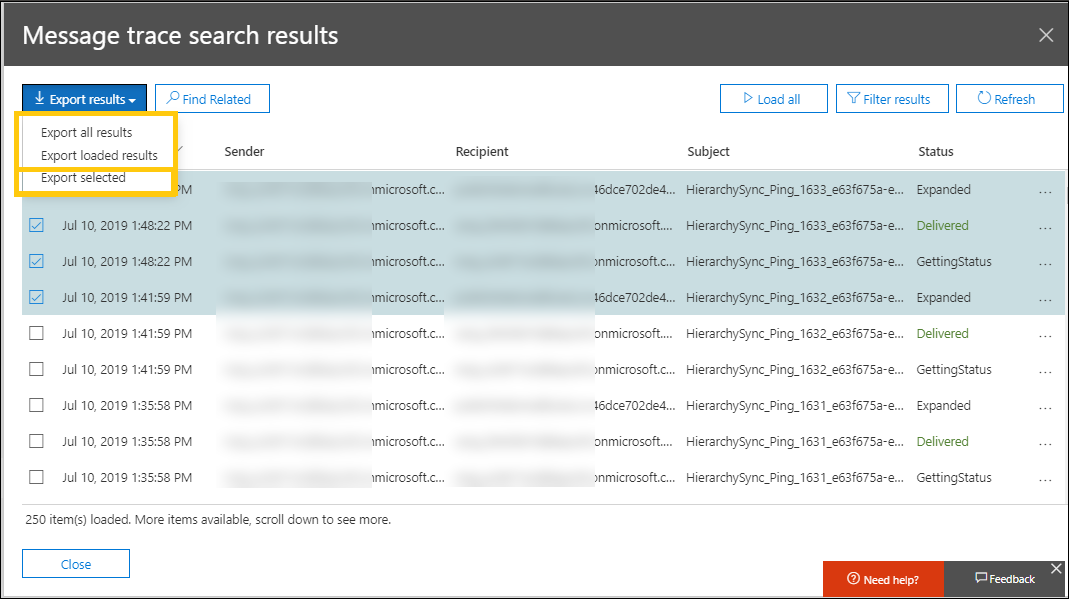 Saving Message Query
Also, you can save your message query by clicking on Save option.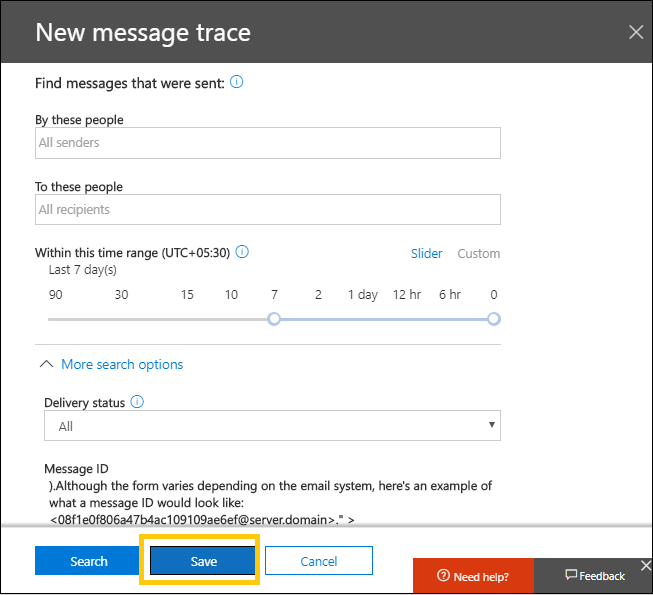 It will now show a confirmation message.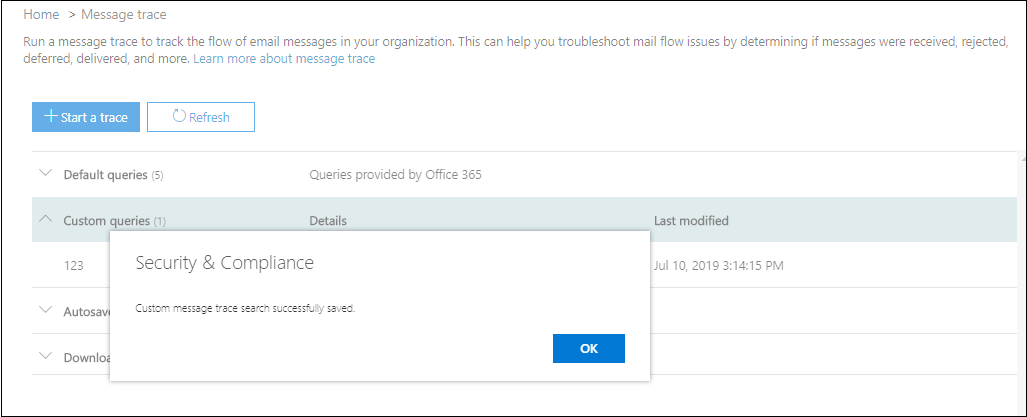 So, I hope users have got some idea about the Message Tracing feature of Office 365. If you have other requirements such as backup Office 365 mailboxes to PST for safeguarding your data, you can try Kernel Office 365 backup & Restore tool. It helps to backup Office 365 data to PST format. It backs up emails, contacts, calendars, tasks, etc. to PST files. Advanced filters and compatibility with all Office 365 plans/Outlook versions are its plus points.
Conclusion
Office 365 features are all amazing. Its Message Tracing feature with improvements (now in Security & Compliance) is discussed with all the details in this blog. A perfect third-party solution to backup Office 365 data to PST is also suggested.