Read time 6 minutes
Summary: AVI files, a popular video format introduced by Microsoft, are prone to corruption. Signs of corruption include playback errors, choppy video, no audio, and more. Corruption can result from storage issues, damaged indexes, bad sectors, and more. VLC Media Player can temporarily repair damaged indexes, but for a more permanent solution, consider professional tools like Kernel Video Repair, which supports various video formats. It allows you to repair corrupt videos with ease, providing a reliable solution for video file issues.
The term "Audio Video Interleave files" refers to a video file format that is frequently used to transfer audio and video data through the internet and other well-liked media. Microsoft first introduced this format. Because of its capacity for compression, AVI files are widely used. In comparison to other formats, it typically requires less compression space. Additionally, several OS platforms, including Windows, Macintosh, and Linux, support AVI files.
AVI files can become corrupt, much as other video file types. Whether they are kept on a hard drive, memory card, or USB flash drive, they are susceptible to corruption. When an AVI file becomes corrupt, none of the media players can play it.
What are the traits of a corrupt video file?
Identification of a corrupted AVI file is a task which is difficult to master. However, there are many traits that a corrupt video file shows. Some of them are mentioned below which will help you to identify a corrupt AVI file:
You are unable to play the video file with an error stating that your file fails to play.
Video is patchy, sluggish, flickering, or chapping.
It is unplayable with any media player.
There is distorted or no audio in the file.
Audio and video of the file don't sync.
There is no video, just audio.
Video stops playing after some time when you can see the remaining time.
Blurry, grainy, or pixelated video quality
The video is skipping the frames.
There are glitches in frames.
The video is showing incorrect duration.
Reasons for AVI Video File Corruption
An AVI file may get corrupt due to many reasons, and knowing those reasons are important as well. Knowledge about the reasons will help you in finding the right solution. In addition, it gives you a clear vision about what to avoid in the future and you will be able to adopt better video file handling practices. These are the reasons behind your AVI videos getting corrupt-
Corruption in the storage drive where the video file is saved
Corruption due to the damaged index
Bad sectors on the hard drive
Incomplete video file
Any interference while downloading or transferring the video file
Sudden power failure while editing the video
Any electromagnetic interference.
Virus or malware attack.
Fix AVI files using VLC media player-
VLC is not just a media player. It has various feathers to the cap in terms of added features. The damaged index of an AVI file can be temporarily fixed using the VLC media player. VLC provides an option to repair the damaged index as soon as you launch the affected .avi file. You can also enable the "Always Fix" option from the VLC media player's preference setting to run the automatic repair whenever you play corrupted files.
Moreover, it can repair MP4, corrupt M4V video files and it also repair corrupt FLV video files.

Instant Solution
Try automated tool Kernel Video Repair to repair inaccessible or corrupt AVI, MP4, MOV, MPEG, MJPEG, MTS, M4V video file.
Steps to Enable Automatic Repair in VLC Media Player:
Step 1: Install VLC Media Player on your system.
Step 2: Click Tools from the Menu bar and Go to "Preferences".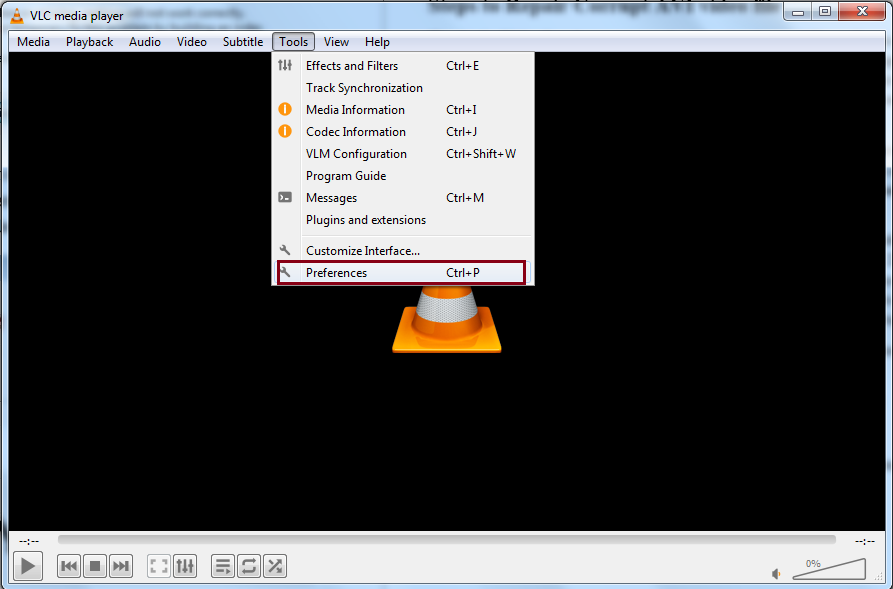 Step 3: Go to the "Input/Codecs" tab, and in Damaged or incomplete AVI file, select "Always fix" and then click on the Save button.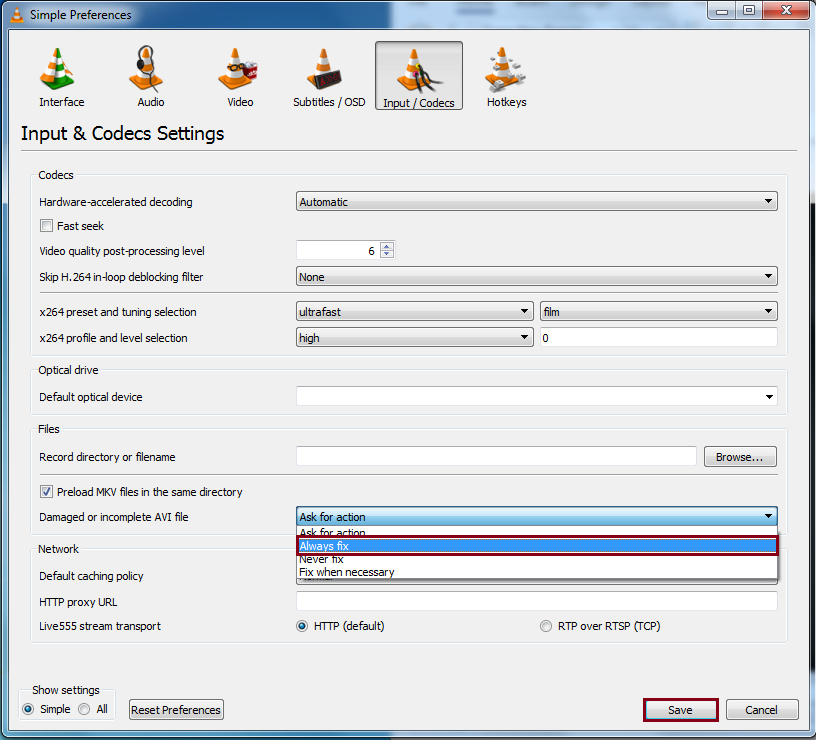 Now, if you open any damaged or corrupt AVI file through VLC, the application will automatically fix the damaged index and play the file for you.
VLC doesn't provide a permanent solution for the damaged index; instead, it only fixes the issue while playing the video.
Since VLC is not capable of providing a competent solution to repair damaged AVI files, you can seek some professional tools for video repair.
Fix AVI files using professional help-
Kernel Video Repair is one of the most prominent tools to repair video files of almost all formats be it MP4, MOV, MPEG, MJPEG, MTS, M4V, etc. You can repair corrupt videos irrespective of their file size and format. Just download the trial version of the tool and repair MP4 or damaged videos free. If you like the performance of the tool, you can easily upgrade to the premium version by purchasing it online. Here is how the tool works:
Launch the tool and click the '+' sign to navigate to the folder containing the corrupt video file. Select the file and click on the 'OK' button.
Select the corrupt video files and click OK.
The tool has uploaded the video files. Click Repair Files.
Choose where you want to save the recovered video files.
You can visit the recovered video files at your mentioned location. Click Close.

The repaired file gets saved at the specified location.
Conclusion
This article aims to assist users looking for practical solutions to AVI video file corruption problems. However, VLC is useful, and you can use this media player program to resolve low-level corruption concerns. Even VLC appears to be useless if your.avi format videos are severely degraded. For AVI file repair, you may always utilize Kernel Video Repair.