Read time 13 minutes
Summary:
This article discusses the importance of repairing corrupt MP4 video files, commonly used for capturing memories and entertainment. It outlines the signs of video file corruption and its reasons and offers manual methods like using VLC Player. However, it highlights the limitations of these methods and recommends a professional Kernel
Video Repair tool
for efficient and reliable MP4 file repair.
MP4 is a digital multimedia container format that stores video and audio, along with other data such as subtitles and still images. It is a widely accepted format for downloading and streaming video and audio content. However, these files can become corrupt for various reasons, and it can be frustrating not being able to play them. The long quest of online search doesn't help users find the proper method that can help them recover corrupted video content. Read along! Here, let's walk through a couple of approaches that can fix the issues of .mp4 video file corruption, cannot play the video file error, and sort the codecs problem.
The long quest of online search doesn't help users in finding the right method which can help them to recover corrupted video content. Read along! Here, let's walk through a couple of approaches that can fix the issues of .mp4 video file corruption, cannot play the video file error, and sort the codecs problem.

When Do You Realize That MP4 File Are Corrupted?
There have been instances where the users have not realized that their videos have gone corrupt. A delayed fix can result in a heavy loss of data forever. These are some quick indicators that help you to find corruption-
Video unable to play.
Only audio is playing and no video.
Choppy/ blurry /flickering video.
Audio and video not synchronized.
No audio.
Video is lagging
Black screen.
Computer freezes when video is played.
Video file is broken.
Problem with video codec/ proper codec is not installed.
Format is not supported by your computer.
Main Reasons for MP4 Video Not Playing Issues
The corruption can be due to the video file itself, its storage medium, or the device it is playing on. Hence, there can be several reasons for your MP4 video not playing. All main reasons are listed below-
Sudden shutdown of camera
Incorrect conversion of video formats
A bad internet connection
Incomplete media download or transfer
Error reading or writing data
Sudden system shutdown
Error downloading video
The use of unreliable video editors
Malware or virus attacks
Corrupt video headers
Low battery during video recording
Having a faulty, improper, or unauthorized media player
Unexpected stopping of media player or it is forced to stop.
Bad sectors on Hard disk
Already affected/infected files in the folder can also corrupt other files.
Points to Keep in Mind to Avoid MP4 Corruption
Here are the points that one must keep in mind to avoid any future MP4 video file corruption.
Always back up the video file before making any changes.
Each time ensure that the PC or laptop is running under optimal conditions and has a consistent electrical connection and continuous supply.
Keep updating OS and always keep antivirus software.
Always try to keep backup using USB, DVD, CD, cloud storage, etc. So, if by accident the hard drive gets corrupted, then there would be several options for restoring your video file. Let's see top five free MP4 repair methods that can fix corrupted video files.
Method 1. Repair Corrupt MP4 Video with VLC Media Player
VLC Media Player is a multi-tasker application. Apart from performing its primary function of playing multimedia files, it can also fix minor corruption issues. It provides in-built index repair features that instantly resolve the issue and repair movie file indexes.
In VLC, the option to fix AVI video files is given built-in, which can be enabled or disabled manually. Therefore, below you must change the format of the corrupt MP4 video file and try to fix MP4 file automatically using VLC. Follow the steps below:
Step 1: Right-click on the corrupt MP4 video file and select "Rename".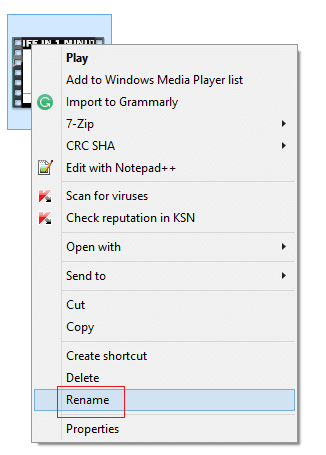 Step 2: Change the file format to ".avi" as shown below and press Enter.

Step 3: Launch VLC >> Click on Tools and select "Preferences".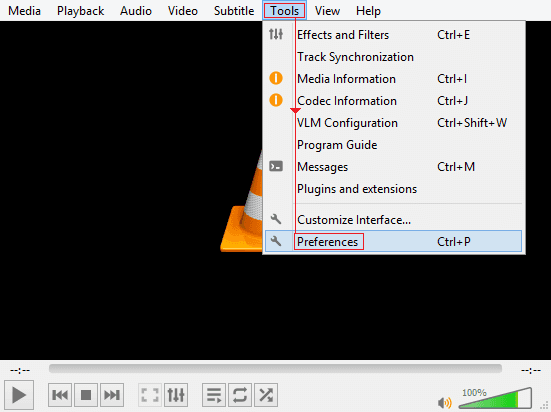 Step 4: Switch to the "Input/Codecs" section; Inputs/Codecs "Settings" window will open.

Step 5: In the Files section, select "Always fix" in the "Damaged or incomplete AVI file" option and click Save.

Step 6: Now, try playing the corrupt .mp4 video file with VLC; it should run.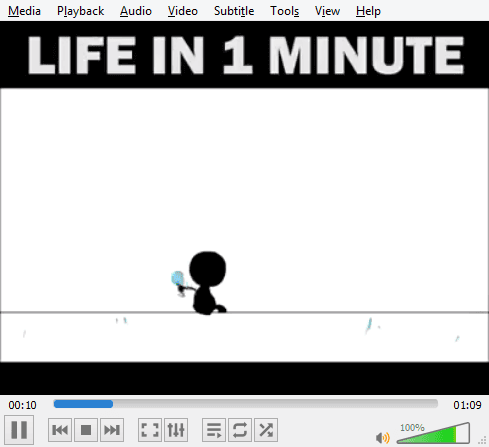 Method 2. Repairing MP4 Video Files via Transcoding in VLC
Transcoding MP4 files in the VLC player helps videos to play on unsupported media players. Here is how to transcode MP4 using VLC.
Step 1: Open the VLC Media Player.
Step 2: Tap on "Convert/Save." from the Media menu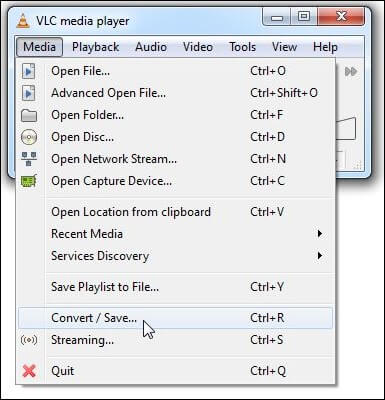 Step 3: Click Add to browse for the MP4 video that needs to be transcoded.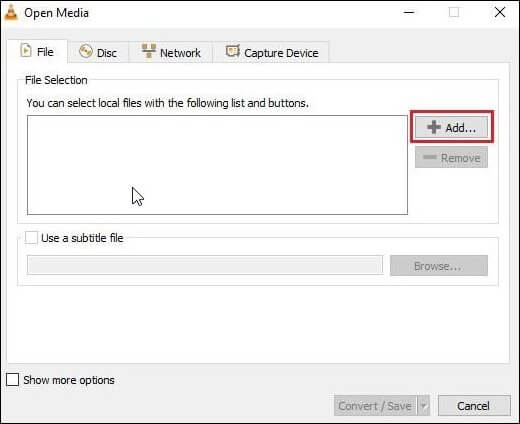 Step 4: Tap on Convert/Save. Choose a file name and the desired file location within the Convert window. Choose the preferred input codecs from the Profile list for your video file. Select the Edit Selected Profile button to change the profile settings for a specific profile. Additionally, you can create new profiles or delete existing profiles. Tap on "Start" now.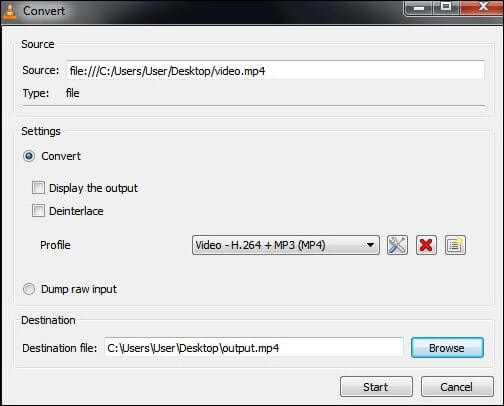 Step 5: Restart your system and play MP4 videos.
Method 3. Increasing Cache Values in the VLC Player
The method fixes fully damaged MP4 files and video lags, and stutters associated with MP4 files. In VLC, increase the Cache values by following these steps:
Step 1: Open VLC Media Player and click the "Tools" option.

Step 2: In the Tools menu, tap on Preferences.

Step 3: In the option Show Settings, two options come up: Simple and All. "Click" on All.

Step 4: Now, tap on the option Input/Codec and select the Advanced option.

Step 5: Against the File caching(ms) option, you will have to increase the cache value to 1000.

Step 6: Tap on Save and restart the VLC player.
Method 4. Changing the Video Output Settings in VLC
VLC is a technical media player with the inbuilt ability to repair corrupted videos. With a change in the Video Output Settings in the VLC Media Player, you can quickly fix your MP4 video.
Step 1: Open VLC Media Player and tap on Tools.

Step 2: Go to Preferences and click on Video.

Step 3: Change the Output settings Automatic to DirectX (DirectDraw) video output under the Video Settings.

Step 4: Tap on Save and restart the VLC player.
Method 5. How to repair MP4 Videos on Mac via QuickTime
QuickTime media players are also useful for checking damaged and corrupt video files on Mac especially an MOV video file. Your MP4 videos can be inspected in detail and then played with the same media player.
Here are the steps you need to take to check your video with the QuickTime player:
Step 1: Play the MP4 video in QuickTime.
Step 2: Choose the Window tab and tap on Show Movie Inspector. A detailed description of the MP4 video will come up.
Step 3: The video will show a black screen if it is a corrupted video.
Step 4: Clearly, the MP4 file is corrupted. Click the Edit option under the QuickTime menu.
Step 5: Choose Preferences and then click QuickTime Preferences. Tap on the Update button to update your player.
Step 6: Restart your QuickTime media player.
Limitations of Free (Manual) Methods
Lack of reliability
Time-consuming
Require technical knowledge
Risk of data loss or damage
Limited features and no technical support
Method 6. Use A Professional Best MP4 Repair Tool
As we discussed, manual methods have several limitations and cannot deal with severe multimedia corruption issues. In this situation, a professional tool proves to be convenient. Video repair tool is an advanced video repairing software that can repair your severely corrupt movie files, music videos, and other video format files within a few minutes. It can convert batch files simultaneously and export your videos to HD.
With an intuitive GUI and ease of accessibility, the whole process of repairing and recovering corrupt MP4 video files becomes a piece of cake.
The software doesn't put any restrictions on multimedia file formats – MP4, AVI, FLV, MPEG, WebM, and more, You can go ahead with a small or big-sized corrupted .mp4 video file(s). MP4 Repair is capable of repairing video files irrespective of their file size and format. For instance, you can load movie files of high-definition video graphics with ease without hampering the integrity of data. It is well compatible with all the versions of the Windows systems without installing any further extensions.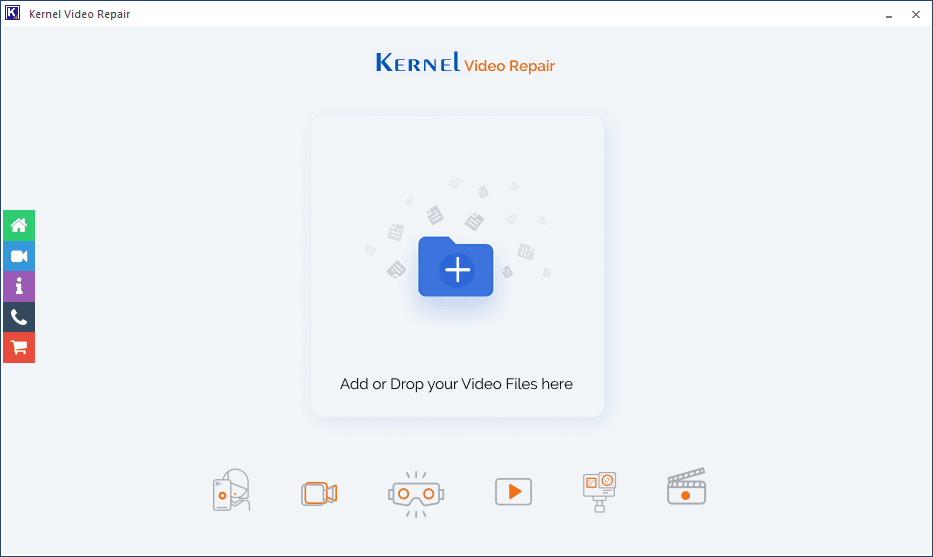 Compatibility is one big thing for desktop tools and application software, not all run on the wide range of Windows operating systems, and if some do, then additional installations are required like Microsoft.Net Framework or the latest version of Microsoft Windows. But that's not the thing with this tool; it is made available to download on any version of Windows OS you're using – Windows XP to Windows 11.
Below are other pluses which are bundled within the software:
Repair multiple files at same time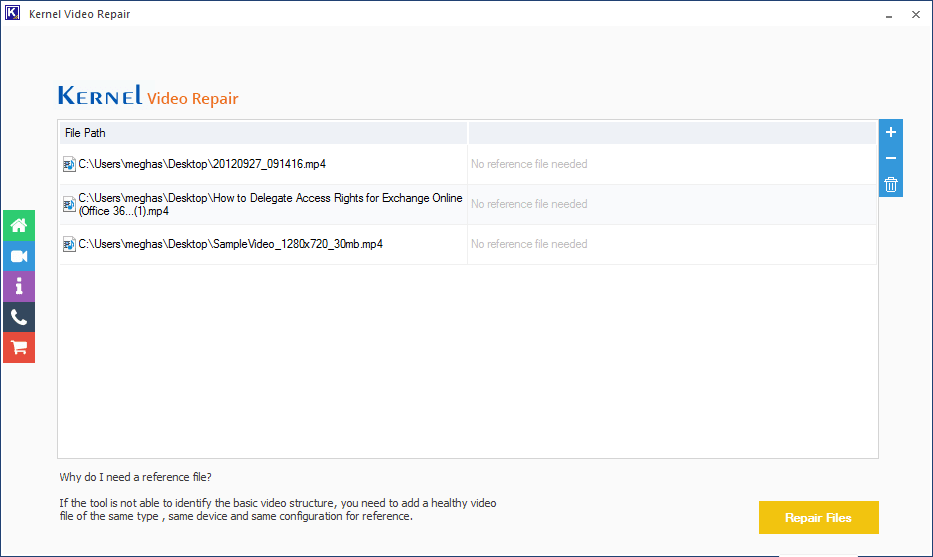 Save Recovered Multimedia File Wherever You Want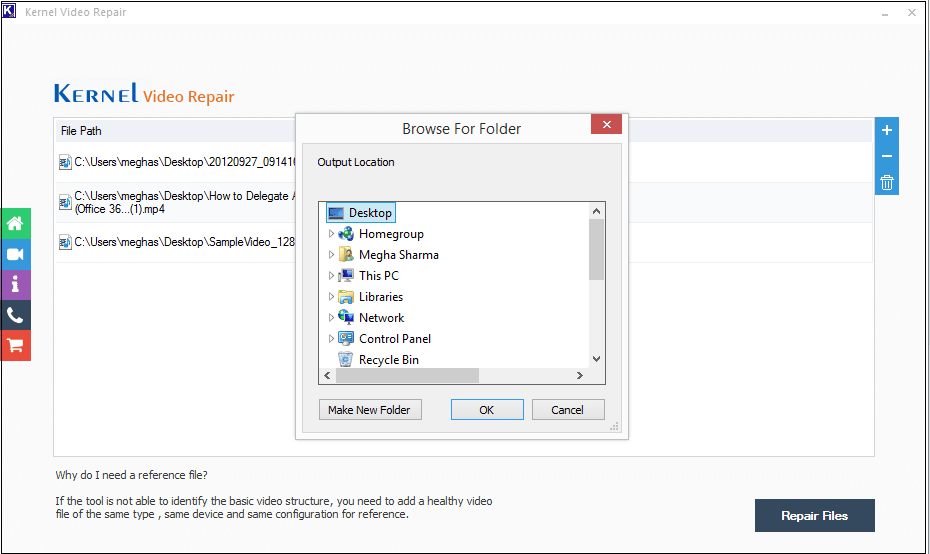 Conclusion
This blog discussed how to fix corrupt MP4 files by following various methods. Go through all the manual solutions to repair corrupted MP4 videos if they don't work properly, with the help of an advanced third-party tool to instantly fix the severe corruption issues. The result will be surprising; you will get your essential video in any format. Sometimes, converting a video can also fix the corruption issue if it is occurring due to a wrong file format. So, with a professional video converter tool, you can easily convert MP4 to other formats easily.
Repair Corrupt MP4 Video with Kernel Video Repair.